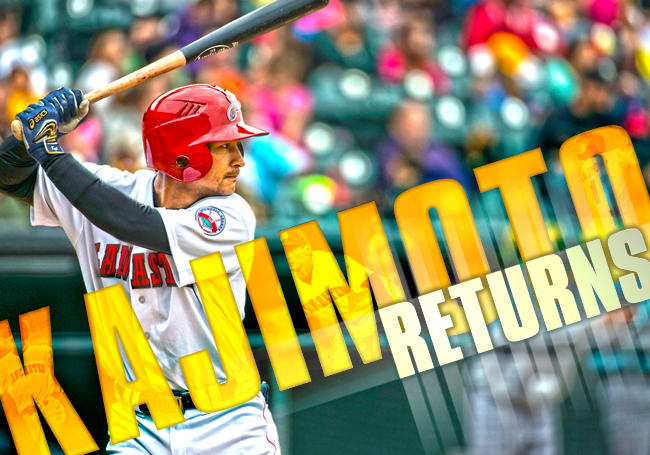 Joined by Fellow Japan Native Fujie in 2016

(Lancaster, Pa., March 29, 2016) - Yusuke Kajimoto, the man with perhaps the biggest hit in the history of the Lancaster Barnstormers franchise, has signed to spend his third season with the Lancaster Barnstormers, it was announced today by manager Butch Hobson.

In addition, the Barnstormers have signed right-handed pitcher Hitoshi Fujie, a veteran of (seven) seasons in the Japanese Major Leagues.

Kajimoto, 32, made a permanent mark in the annals of the Barnstormers with a pinch hit grand slam in Game Four of the 2014 Division Series against Somerset. With Lancaster five outs away from elimination, Kajimoto took a 3-1 offering from Patriots' left-hander Danny Herrera over the boards in left field, lifting the Barnstormers to a 4-3 lead they held. Lancaster would win the decisive fifth game the following afternoon and sweep Sugar Land in the finals for the second Atlantic League crown in club history.

During the regular season in 2014, the switch hitter batted .283 with four homers and 36 RBI. In his return in 2015, Kajimoto batted .211 through the 4th of July but climbed to .242 by season's end. The versatile former Japanese Major League hit .293 in his last 46 games to bring his overall average to .242 for the season. He hit three homers and drove in 33. In a game at Bridgeport on August 28, he performed a baseball rarity, tripling in consecutive innings.

"Kaji is a fan favorite," said Hobson. "He is simply a very good player at a number of different positions in the infield and in the outfield."

Fujie, 30, spent six seasons with the Yokohama Bay Stars of the Japanese Central League. In two of those seasons, he posted earned run averages under 2.00, going 3-0 with a 1.58 ERA in 47 appearances in 2011 and 3-1 with a 1.59 ERA in 2013.

Last season, Fujie moved to the Pacific League, appearing in two games for the Tohoku Rakuten Golden Eagles. He has a 12-14 record and 4.17 ERA overall in 166 games. Fujie has not started a game since 2010.

"Fujie is an experienced big league guy in Japan," said Hobson. "We're hoping that he can come in and help us out just like Wata (Shunsuke Watanabe) did."

The Barnstormers have had two players previously announced sign with foreign squads. LHP Greg Smith is going to Taiwan, and OF Sean Halton is headed to the Class AAA Mexican League. These transactions put the current roster at 23.

About the Lancaster Barnstormers

The Lancaster Barnstormers are entering their twelfth season as a member of the Atlantic League of Professional Baseball. Home games are played at Clipper Magazine Stadium in downtown Lancaster, Pennsylvania. Please call 717.509.HITS (4487) or visit LancasterBarnstormers.com for more information.

About the Atlantic League of Professional Baseball (ALPB)

The Atlantic League is the most innovative league in professional baseball and a gateway to Major League Baseball. In the league's 18-year history, over 34 million fans have attended ALPB games and more than 800 players have joined MLB organizations. The Atlantic League emphasizes winning baseball games, showcases the talent of top-caliber players and offers affordable family entertainment to metropolitan markets serving nearly 15% of the US population. ALPB clubs serve the communities of Bridgeport and New Britain, Conn., Lancaster and York, Pa., Central Islip, N.Y., Bridgewater, N.J., Waldorf, Md., and Sugar Land, Texas.

For more information, please visit www.atlanticleague.com.

###