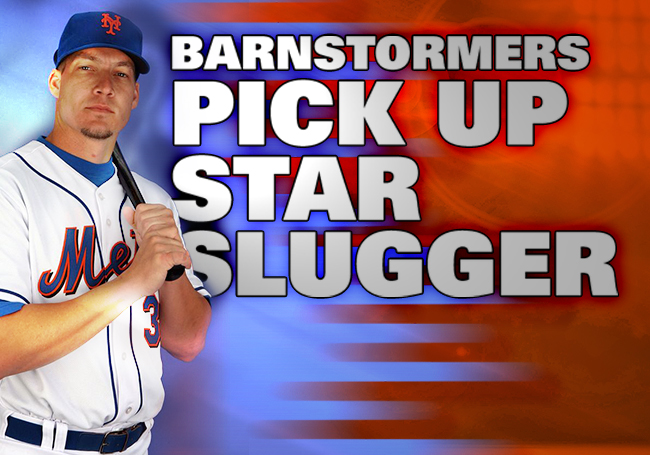 Mike Jacobs Rejoins Former Roommate Peeples in Lancaster

(Lancaster, Pa., March 25, 2016) - First baseman Mike Jacobs, who went on to prominence as a premier Major League slugger in the latter stages of the last decade, has been signed to a 2016 contract, it was announced today by manager Butch Hobson.

Jacobs, 35, has 100 Major League home runs to his credit, including a career-high 32 with the Florida Marlins in 2008.

After making an immediate Major League impact with 11 homers in 30 games with the New York Mets late in 2005, Jacobs was traded, along with two others, to the Marlins in exchange for established star Carlos Delgado following that season. He hit .262 with 20 homers in 2006 and .265-17-54 the following year before having his career season in '08.

Within the first week of that season, Jacobs would hit his only career walkoff home run, off Pittsburgh's Franquelis Osoria and his only career grand slam, off the Pirates' Paul Maholm the following evening. He would have three multiple-homer games for the Marlins that summer and finished just outside of the National League's top 10 in both home runs and RBI (93).

He was dealt to Kansas City for RHP Juan Carlos Oviedo for the 2009 season. He returned to the Mets in 2010 and also played for Arizona in 2012.

The California native signed initially with the New York Mets in 1999 and was a teammate (and roommate) of Barnstormers' baseball operations manager and bench coach Ross Peeples in 2002 in the Mets' organization.

"I think the guys will really like his personality and his competitive spirit in the locker room and on the field," Peeples said.

A catcher at the time, Jacobs put up respectable numbers in his first four seasons but had monstrous seasons at Class AA Binghamton in both 2003, when he hit .329 with 17 homers and 81 RBI and in 2005, an MVP season in which the lefty banged out 37 doubles and 25 home runs to go along with a league-leading 93 RBI.

He hit .299 with 19 homers and 97 RBI at Class AAA Reno in 2014, his last season in the United States. Last year, in the Mexican League, Jacobs hit .276 with 14 home runs and 83 RBI at Oaxaca.

"Jacobs is a proven left-handed power hitter," said Hobson. "We are glad to have a bat like that in our lineup to drive in some runs. That only adds to what we have already done."

About the Lancaster Barnstormers

The Lancaster Barnstormers are entering their twelfth season as a member of the Atlantic League of Professional Baseball. Home games are played at Clipper Magazine Stadium in downtown Lancaster, Pennsylvania. Please call 717.509.HITS (4487) or visit LancasterBarnstormers.com for more information.

About the Atlantic League of Professional Baseball (ALPB)

The Atlantic League is the most innovative league in professional baseball and a gateway to Major League Baseball. In the league's 18-year history, over 34 million fans have attended ALPB games and more than 800 players have joined MLB organizations. The Atlantic League emphasizes winning baseball games, showcases the talent of top-caliber players and offers affordable family entertainment to metropolitan markets serving nearly 15% of the US population. ALPB clubs serve the communities of Bridgeport and New Britain, Conn., Lancaster and York, Pa., Central Islip, N.Y., Bridgewater, N.J., Waldorf, Md., and Sugar Land, Texas.

For more information, please visit www.atlanticleague.com.

###