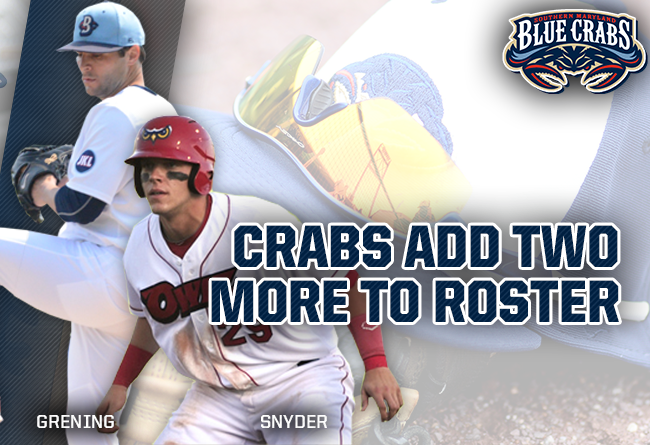 Grening to Return as Snyder Joins the Blue Crabs For the First Time

(Waldorf, Md., March 22, 2016) - The Southern Maryland Blue Crabs have announced the signings of RHP Brian Grening and Infielder Michael Snyder to the upcoming 2016 roster.

Grening is joining Southern Maryland for the third consecutive season while Snyder is set to make his Atlantic League debut this April.

Brian Grening is a Newport Beach, California native who will be entering his fourth Atlantic League season, having pitched for Southern Maryland the last two seasons, and Lancaster in 2013. Last season, Grening served in a dual role in both the starting rotation and the bullpen. He compiled a record of 4-9 with a 4.49 ERA in 28 games and 19 starts overall. Grening, 30, was drafted by the Cleveland Indians in the 38th round of the 2008 MLB Draft out of Cal Poly.

Michael Snyder, 25, is a corner infielder who played with double-A Arkansas in the Los Angeles Angels of Anaheim in 2015. A Tacoma Washington native, Snyder was drafted by the Angels in the 23rd round of the 2012 MLB Draft out of Florida Southern College. He went on to spend four seasons in the Los Angeles organization, making it as high as the double-A level. He is also the brother of former Boston Red Sox and Blue Crab Brandon Snyder.

"I'm very excited about our two new additions," said Blue Crabs Manager Jeremy Owens. "Grening stepped up for us last year in both the starting staff and bullpen. Snyder is a young corner infielder who can really hit, and will serve us well in the field with his defense."

About the Southern Maryland Blue Crabs

The Blue Crabs play 140 regular season games in the Atlantic League of Professional Baseball Clubs. The Blue Crabs play at Regency Furniture Stadium in Waldorf, Maryland with affordable family fun. The franchise will look to open its ninth season on Thursday April 21st, 2016. Please call 301-638-9788 or visit http://www.somdbluecrabs.com for more information and to reserve your seat at the ballpark today!

About the Atlantic League of Professional Baseball (ALPB)

The Atlantic League is the most innovative league in professional baseball and a gateway to Major League Baseball. In the league's 18-year history, over 34 million fans have attended ALPB games and more than 800 players have joined MLB organizations. The Atlantic League emphasizes winning baseball games, showcases the talent of top-caliber players and offers affordable family entertainment to metropolitan markets serving nearly 15% of the US population. ALPB clubs serve the communities of Bridgeport and New Britain, Conn., Lancaster and York, Pa., Central Islip, N.Y., Bridgewater, N.J., Waldorf, Md., and Sugar Land, Texas.

For more information, please visit http://www.atlanticleague.com.

###