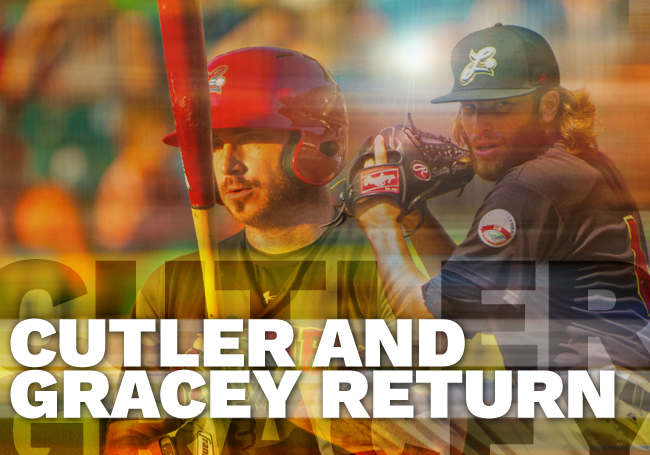 Catcher Cutler Also Back in Lancaster

(Lancaster, Pa., March 18, 2016) - Right-handed pitcher Scott Gracey, voted by fans as the Barnstormers' Player of the Year in 2015, has been signed for a second season in Lancaster by manager Butch Hobson, it was announced today.

Also returning to Clipper Magazine Stadium for the 2016 season will be catcher Charlie Cutler, who played a big role in Lancaster's second half surge last summer.

With the signings, the Barnstormers now have 20 players under contract with spring training arriving in less than three weeks.

Gracey, 29, posted a 5-0 record and 1.93 ERA in 53 regular season appearances for the Barnstormers in 2015. He was credited with 20 holds. The Albuquerque native only yielded six hits to the first batter he faced in his 53 appearances. From May 14 thru September 17, the right-hander surrendered only five earned runs in 45 innings of work for a 1.00 ERA.

He beat out fellow relievers Pete Andrelczyk and Marcus Walden, shortstop Lance Zawadzki and outfielder Brian Cavazos-Galvez for the Player of the Year honors.

After not recording any saves during the regular season, Gracey notched one in the second game of the playoff series against Southern Maryland.

Prior to coming to Lancaster, Gracey spent seven seasons in the Toronto Blue Jays organization. His best season was 2013 when he went a composite 8-1 with a 2.70 in 41 appearances at Class A Dunedin, Class AA New Hampshire and Class AAA Buffalo.

"Gracey was just phenomenal last year," said Hobson. "He just dominated with his cutter-curveball combination."

Cutler, 29, joined the Barnstormers on July 24. The Barnstormers were 40-16 after Cutler was activated and 24-10 with him in the lineup. The lefty batter hit .222 with six doubles and 16 RBI in his 34 games. In the second last game of the season, Cutler capped a four-run rally in the bottom of the ninth, tying the game against Long Island at 5-5. The Barnstormers would go on to win, 8-7.

A former University of California Golden Bear, Cutler signed with St. Louis in 2008. He later played in the Pirates, Cubs and Angels organizations. The San Francisco native hit a combined .306 over his eight seasons with affiliated clubs, including a .380 mark at Class AAA Salt Lake in 2015. He has walked nearly as often (234) and he has struck out (243) in his playing career.

"Cutler is an experienced catcher," Hobson said. "He didn't have the year he wanted to have offensively for us, but he still is a .300 career hitter. And I think he was a .300 hitter for us behind the plate, and that's where it really matters."

The Lancaster Barnstormers are entering their twelfth season as a member of the Atlantic League of Professional Baseball. Home games are played at Clipper Magazine Stadium in downtown Lancaster, Pennsylvania. Please call 717.509.HITS (4487) or visit LancasterBarnstormers.com for more information.

About the Atlantic League of Professional Baseball (ALPB)

The Atlantic League is the most innovative league in professional baseball and a gateway to Major League Baseball. In the league's 18-year history, over 34 million fans have attended ALPB games and more than 800 players have joined MLB organizations. The Atlantic League emphasizes winning baseball games, showcases the talent of top-caliber players and offers affordable family entertainment to metropolitan markets serving nearly 15% of the US population. ALPB clubs serve the communities of Bridgeport and New Britain, Conn., Lancaster and York, Pa., Central Islip, N.Y., Bridgewater, N.J., Waldorf, Md., and Sugar Land, Texas.

For more information, please visit www.atlanticleague.com.

###