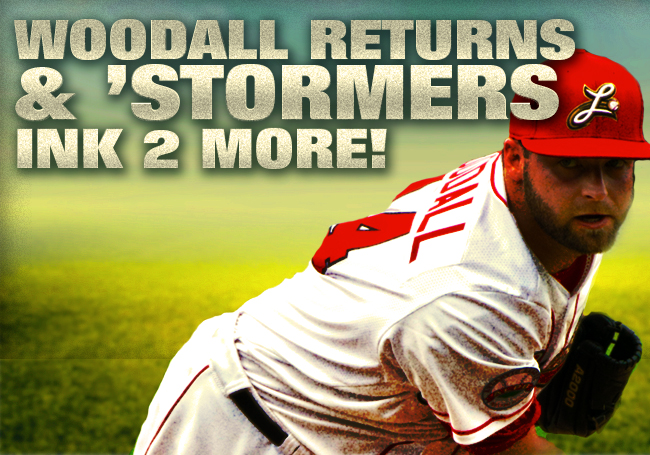 Two Return from 2015, Two Join for 2016

(Lancaster, Pa., March 17, 2016) - The Lancaster Barnstormers have made major strides toward filling out their 2016 Opening Day pitching staff with the addition of four right-handers, it was announced today by manager Butch Hobson.

Bryan Evans and Bryan Woodall, who both opened the 2015 season in Lancaster before heading elsewhere, will be returning in 2016. Lancaster has also added Justin Jackson, a former infielder/outfielder, who was a supplemental first round draft choice for Toronto in 2007, and well-traveled right-hander Mike Lee.

The signings give Hobson 11 pitchers and 18 players overall on contract for the 2016 season.

Evans, 29, was Lancaster's Opening Night starter in 2015. The right-hander from California went 1-2 with a 6.04 ERA in five starts with his lone win coming on May 8 with seven shutout innings against Southern Maryland. He was signed by the Colorado Rockies and went 6-5 with a 3.33 ERA for Class AA New Britain. Ten of his 12 starts for the Rock Cats were "quality" starts, including a 12-strikeout effort against Altoona (Pirates) on June 3.

Prior to joining the Barnstormers, Evans spent seven seasons in the Miami Marlins system, reaching Class AAA New Orleans where he was 5-8 in 2014.

"Bryan is a strike thrower who had a really good year at Double-A after leaving us last year," said Hobson. "We're really glad to have him back."

Woodall, 29, opened the 2015 season in Lancaster's bullpen but took on a starting role after Evans' departure. He finished with a 3-4 record and 3.54 ERA before leaving for Taiwan. Nine of his final 10 starts with Lancaster were quality starts, and he ended with back-to-back shutout efforts against York, totaling 14 innings of work. His ERA over those 10 starts was 1.86.

The product of Auburn University spent the first seven seasons of his career with the Arizona Diamondbacks, reaching Class AAA Reno in both 2012 and 2013. He was used exclusively as a reliever until 2014.

"Woodall keeps the ball down in the zone which plays well in our park," said Hobson. "He's a real bulldog on the mound."

Jackson is the fourth former first round pick for the Toronto Blue Jays signed by the Barnstormers over the past two seasons. The 45th player taken overall in 2007, Jackson, now 27, played a variety of infield and outfield positions for the Blue Jays through 2012 but batted ,230 in 624 games. The Blue Jays took his strong arm and moved him to the mound for 2013.

He was acquired by Atlanta last season. After starting at Class AA Mississippi, the Asheville, NC native went to Class A Carolina. He was 3-1 with six saves and a 2.05 ERA in 27 appearances for the Mudcats. He yielded only 10 hits in his final 28 1/3 innings.

"Jackson throws hard but is working on his secondary pitches," Hobson said. "He had some success last year, and I think there is a lot of upside with him."

Lee, 29, signed with Boston as the Red Sox' eighth round pick in 2008. He reached Class AA Portland in 2011 and returned there in 2012. After a short stint with Rockford in the Frontier League, he went to the Atlanta Braves. They gave him his first taste of Class AAA with a start late in 2013. He was with Arizona and Toronto in 2014 and spent last season in the Blue Jays' organization battling back from an injury.

"Lee is a big righty who throws 94-96 when he is working out of the pen," Hobson said. "He's been a starter for much of his career, but he wants the chance to go out there for an inning and put everything into it."

The Lancaster Barnstormers are entering their twelfth season as a member of the Atlantic League of Professional Baseball. Home games are played at Clipper Magazine Stadium in downtown Lancaster, Pennsylvania. Please call 717.509.HITS (4487) or visit LancasterBarnstormers.com for more information.

About the Atlantic League of Professional Baseball (ALPB)

The Atlantic League is the most innovative league in professional baseball and a gateway to Major League Baseball. In the league's 18-year history, over 34 million fans have attended ALPB games and more than 800 players have joined MLB organizations. The Atlantic League emphasizes winning baseball games, showcases the talent of top-caliber players and offers affordable family entertainment to metropolitan markets serving nearly 15% of the US population. ALPB clubs serve the communities of Bridgeport and New Britain, Conn., Lancaster and York, Pa., Central Islip, N.Y., Bridgewater, N.J., Waldorf, Md., and Sugar Land, Texas.

For more information, please visit www.atlanticleague.com.

###