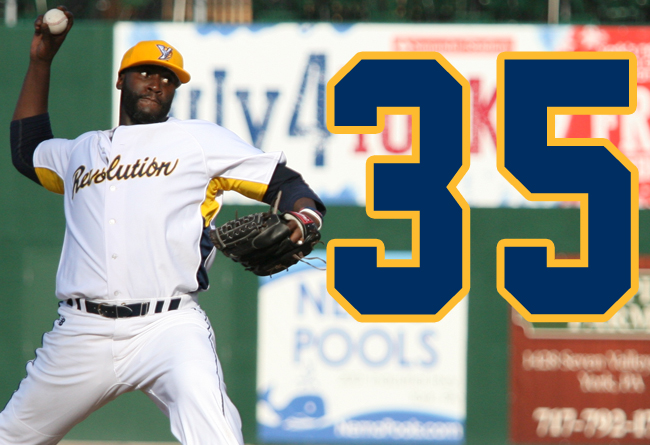 The Greatest Pitcher in Revolution History to Be Honored on May 14

(York, Pa., March 2, 2016) - Corey Thurman spent parts of eight seasons in the Atlantic League, all with York. In that time, he was twice crowned a champion and three times an all-star, but his greatest honor still awaits him. Prior to the game on Saturday, May 14, Thurman's number 35 will be retired by the Revolution and will forever hang in PeoplesBank Park.

"For someone to have their number retired, they need to be more than just a great competitor on the field. They need to embrace the community and Corey did, and continues to do, exactly that," said Eric Menzer, team president. "He helped establish the presence of the Revolution in York. We're thrilled to be honoring Corey for what he's meant to this organization and the York community."

Thurman himself was understandably excited when told of the upcoming honor. "Having my jersey number retired is a great honor that represents the kids I coach in baseball and in life, the amazing fans from York who have always supported me, and lastly my family that have been by my side through it all! This achievement is a testament to the hard working people of York as well as my former teammates I have played beside over the years! I can't wait to see number 35 on the wall!"

The evening will conclude with a post-game inside the park firework show, a spectacle the Revolution will present every Saturday night during the 2016 season.

Thurman is the franchise's all-time leader in wins (66), strikeouts (667), and innings pitched (980.1) while ranking second in Atlantic League history in the same categories. He was selected out of high school in the 4th round of the 1996 MLB draft by the Kansas City Royals. Claimed by the Toronto Blue Jays, he made his MLB debut on April 5, 2002. He also pitched for Toronto in 2003.

Thurman's number will be the fourth retired by the team, but the first for a player who actually took the field for the Revolution. Other retirees include former Revolution manager Andy Etchebarren (8), Orioles Hall of Famer and former member of the York White Roses Brooks Robinson (5), and Hall of Famer Jackie Robinson (42), whose number is retired throughout professional baseball.

Tickets to Corey Thurman's jersey retirement and all other Revolution home games can be purchased online at yorkrevolution.com, over the phone at (717)-801-HITS (4487), or in person at the Apple Chevrolet Ticket Office, which is open Monday-Friday from 10 AM-5 PM.

The York Revolution Professional Baseball Club is a member of the Atlantic League of Professional Baseball, and Atlantic League Champions in 2010 and 2011. 2016 will be the Revolution's 10th anniversary season at 5 Brooks Robinson Way. PeoplesBank Park hosts all 70 home games in addition to myriad events through the entire calendar year. For tickets or more information, please call 717-801-HITS (4487) or visit the Revolution online at YorkRevolution.com.

###