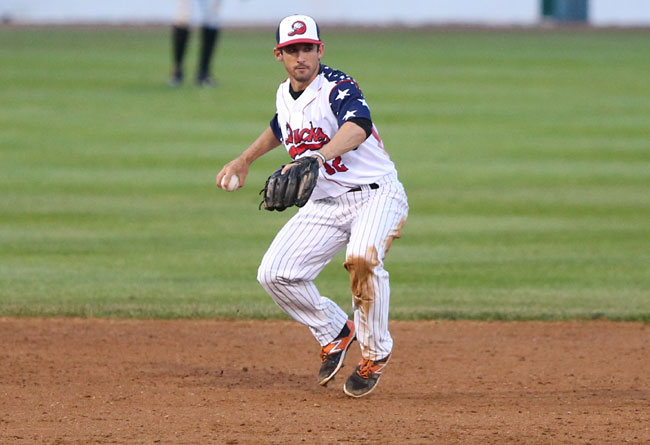 Dan Lyons returns for sixth season on Long Island

(Central Islip, N.Y., Feb. 8, 2016) – The three-time Atlantic League champion Long Island Ducks today announced the signing of shortstop Dan Lyons. The 2015 Rawlings Gold Glove Defensive Player of the Year will begin his sixth consecutive season with the Ducks.

"Dan turned in a marvelous season both offensively and defensively last year," says Ducks President/GM Michael Pfaff. "We enjoy having his presence in our lineup and in the Long Island community each season."

Lyons put together the best season of his Ducks career in 2015. At the plate, he posted career-highs and ranked fourth in the Atlantic League with a .301 batting average and 73 runs batted in. He also finished second in the league in slugging percentage (.462), third in runs scored (74), total bases (215), and on-base percentage (.375) and fourth in triples (7) and extra-base hits (46). The 31-year-old posted career-best totals with 11 home runs, 140 hits and 131 games played as well. He was selected to play in the Atlantic League All-Star Game, chosen as one of the league's End-of-Season All-Stars and voted by fans as the Ducks/Delmonte-Smelson Most Valuable Player.

In the field, the Minnesota native compiled the highest fielding percentage (.976) and recorded the second-most assists (355) and putouts (183) among all shortstops with at least 100 games played. He committed just 13 errors in 124 games and continued to display impressive range all over the field. Because of his efforts, Lyons received the Atlantic League's inaugural Rawlings Gold Glove Defensive Player of the Year Award and was named as the shortstop on the league's first-ever Red, White and Blue All-Defensive team.

The University of Minnesota alum first joined the Ducks in 2011. In five seasons with the club, he has totaled a .262 batting average, 493 hits, 233 RBI, 279 runs, 83 doubles, 28 triples and an .827 stolen base percentage in 571 games. His 28 triples rank eighth in Atlantic League history, just nine shy of Chris Walker's (Camden, York) all-time record. Defensively, he has accrued a .967 fielding percentage, playing all but 10 games in the field. The 2012 Atlantic League Championship Series MVP has played in 27 postseason games as well, amassing a .271 batting average with 10 RBI and 16 runs scored. Lyons was originally drafted by the Washington Nationals in 14th round of the 2007 amateur draft.

The Long Island Ducks are members of the Atlantic League of Professional Baseball and play their home games at Bethpage Ballpark. For further information, call (631) 940-DUCK or visit www.liducks.com.
###