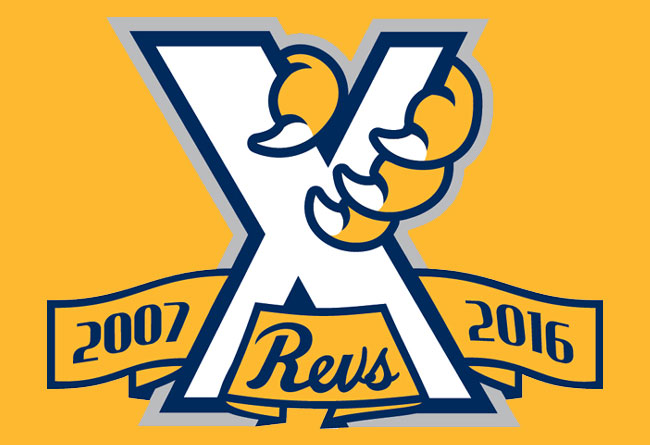 The 25 greatest players in the history of York Revolution baseball to be honored at the 2016 home opener on April 28

(York, Pa., Feb. 1, 2016) - Five starting pitchers, seven relievers, a starter at each position and four additional "bench" position players have been selected to the York Revolution 10th Anniversary Team, constructed as a typical team would be. Of the 25 players honored, 14 were a part of one or both of York's Atlantic League Championship clubs in 2010 and 2011. Criteria for being nominated were mixed; longevity with the Revolution and placement on the franchise's all-time stat rankings were weighted the most heavily, as well as great individual single-seasons. Brief tenures with the team that led to significant Major League playing time were also considered.

The York Revolution 10th Anniversary Team will be honored in a special ceremony prior to this year's home opener, Thursday, April 28 against the Sugar Land Skeeters at PeoplesBank Park. Several of the players who have retired from playing will be there in person, and others may still be active with York. Players able to attend in person will be announced closer to the start of the season. The first player signings for 2016 are due to be announced on February 5.

Fan voting for the York Revolution 10th Anniversary Team began in August 2015, and with equal parts input from that voting, tenured front office staff and past and present coaching staff, the top 25 on-field contributors in Revolution history were selected.

YORK REVOLUTION 10th ANNIVERSARY TEAM

Starting Pitchers
RHP Corey Thurman: All-time leader in wins, strikeouts and innings pitched…second all-time in Atlantic League wins with 66…longest tenured player in club history (2008-2015)…went a combined 37-14 from 2010-2012, leading the Revolution to two championships…named 2011 club co-Most Valuable Player along with Chris Nowak, a season where he went 13-3 with a 3.33 ERA.
LHP Chris Cody: Second to only Thurman in career wins and strikeouts…led the Atlantic League in strikeouts in 2013 with 139…named 2013 club Most Valuable Player.
RHP Matt DeSalvo: Dominated the 2010 postseason, posting a 1.02 ERA in 3 starts, all Revolution wins…struck out 108 batters in 106.1 innings in 2011, and helped propel the Revs to a second consecutive championship while appearing out of the bullpen during the postseason.
LHP Ryan Feierabend: Established single-season Revolution ERA record (2.71), in 18 starts and 113 innings in 2012…picked off a whopping 11 runners in 2012…completed six-year MLB comeback in 2014 by appearing in six games for the Texas Rangers.
RHP Shawn Hill: One of three players to go from York to MLB in a single season…became first former Rev to earn a winning decision in an MLB game on 9/29/12 vs. the Yankees in Toronto…established Revolution-record 27.2 inning scoreless streak in 2012.

Relief Pitchers
RHP Stephen Penney: Second-longest tenured pitcher in team history (2012-2015)…all-time Revolution games pitched leader…posted 178 strikeouts and just 50 walks and 10 home runs allowed in 220 games pitched over four seasons…named 2015 club Community Outreach Player of the Year.
LHP Ronnie Morales: Appeared in an Atlantic League record 70 games in 2011.
RHP Sean Stidfole: Penn State Baseball alum…appeared in a then-Atlantic League record 68 games in 2010 before that mark was eclipsed by Morales…posted 2.72 ERA with 107 strikeouts in 128 appearances and 125.2 innings with York.
RHP R.J. Rodriguez: Saved 31 games in three seasons with the Revolution, the club's all-time saves leader until 2014.
RHP Michael Nix: Saved 18 games for the 2011 Champion Revolution, a single-season franchise record at the time.
LHP Ian Thomas: Began 2012 season with York before contract was purchased by Atlanta Braves…made MLB debut on Opening Day 2014 for Atlanta…struck out Bryce Harper swinging for first MLB K…became first Rev to pitch for two MLB teams following trade to Los Angeles Dodgers in May 2015.
LHP Scott Rice: Began 2011 season with York…became oldest Major League rookie (31) during 2013 season after making MLB debut with New York Mets on Opening Day…105 MLB games pitched for Mets in 2013-2014 is most experience of any former Revolution player in MLB.

Position Players
Salvador Paniagua, Catcher: Longest tenured position player in team history (2011-2015)…was an Atlantic League All-Star in 2013, batting .279 with 14 home runs and 54 RBI…ranks second in team history in games played (362).
Chris Nowak, First Base: All-time franchise home run leader with 59…won team triple crown in 2011 despite joining Revs in June and playing in only 84 games…led Revolution to a championship that year with 25 homers and a .330 average…named 2011 club co-Most Valuable Player along with Corey Thurman…hit single-season record 34 home runs and drove in a league-high 107 runs in farewell 2012 campaign…named 2012 club Most Valuable Player.
Keoni DeRenne, Second Base: The elder statesman of the 10th anniversary team, one of just two "original Revs" from the inaugural 2007 club elected to the team…339 games for York and a .276 average between 2007-2009…named captain of the 2010 Revs before contract was purchased by Philadelphia Phillies…named 2007 club Community Outreach Player of the Year and 2009 club Most Valuable Player, the only player in Revs history to win both awards.
Vince Harrison, Third Base: Batted over .500 in 2011 Atlantic League Championship Series as York beat Long Island 3-1 and was named ALPB Postseason MVP…hit .327 with 10 homers and 61 RBI in 115 games that season…defensive stalwart at Brooks Robinson's position on grounds partially named for the Hall-of-Famer.
Liu Rodriguez, Shortstop: Tied for second-longest tenured position player behind Paniagua (2009-2012)…best York season was championship year of 2010, batting .296 with 57 RBI in a Revs career-high 121 games…served as player-coach, still appearing in 65 games in 2012 in final year as a transition to coaching career.
James Shanks, Left Field: Tied with Liu Rodriguez for second-longest tenured position player (2010-2013)…narrowly missed Atlantic League Player of the Year honors in 2010 title season to teammate Scott Grimes (.325/19 HR/86 RBI)…second on York's career hits list, surpassed by Andres Perez in 2015.
Scott Grimes, Center Field: 2010 Atlantic League Player of the Year, scored a staggering 138 runs that season, the most in all of professional baseball including anyone playing a 162-game MLB season, also a single-season ALPB record for runs scored…45 home runs and 69 steals in three seasons with York (2010-2012), primarily as a leadoff hitter…named 2010 club Most Valuable Player.
Val Majewski, Right Field: Member of the 2010 and 2011 championship teams, had his contract purchased by the Oakland A's and Texas Rangers in each season respectively…returned to club in 2011 after time with Rangers to help lead the Revs to their second title…destroyed ALPB pitching that season to tune of .317/11 HR/48 RBI, slugging .498.
Andres Perez, Designated Hitter: Has been in lineup at first, second and DH for York in three full seasons with team (2012-13, '15)…all-time franchise leader in hits, doubles, extra-base hits, RBI, and games…52 home runs place him second on that list, just eight from surpassing Chris Nowak as franchise champ…was snubbed as 2012 Atlantic League Player of the Year (.314/23 HR/86 RBI)…2015 Revolution triple crown winner (.291/16 HR/92 RBI)…named 2015 club Most Valuable Player.
DH Jose Herrera: Dominated Atlantic League pitching at age 37 in 2010 (.337/10 HR/87 RBI/.389 OBP/.468 SLG), reached 30 doubles for second time in 21-year career that season, collecting 41 extra-base hits in leading Revolution to title…still hit .283/9 HR/59 RBI in 86 games in age-38 farewell season in 2011.
OF Jason Aspito: Original "Revs Home Run King," career 42 homers with York stood #1 until 2012…one of only two "original Revs" from inaugural 2007 team selected to 10th Anniversary team…batted .294/24 HR/105 RBI in finest Revolution season in 2008, 24 homers was single-season high until broken by Nowak in 2011, 105 RBI was also a single-season franchise high until bested by Nowak in 2012…named 2008 club Most Valuable Player.
1B Chad Tracy: Posted fourth-best single-season Revolution home run total in 2014 (23, tied with Andres Perez from 2012)…also led Atlantic League in RBI in farewell 2014 campaign (97)…overall hit .277 with 32 home runs and 134 RBI in 192 games with York in 2013 and 2014.
INF/OF Eric Patterson: Most versatile player in Revolution history, both in the field and in the batting order…set Atlantic League record with 17 triples in 2014…overall, hit .278 with 38 home runs, 79 doubles, 29 triples, 182 RBI, and 52 steals over 309 games for York (2013-2015)…played all three outfield positions as well as second base and shortstop with York.

The York Revolution Professional Baseball Club is a member of the Atlantic League of Professional Baseball, and Atlantic League Champions in 2010 and 2011. 2016 will be the Revolution's 10th anniversary season at 5 Brooks Robinson Way. PeoplesBank Park hosts all 70 home games in addition to myriad events through the entire calendar year. For tickets or more information, please call 717-801-HITS (4487) or visit the Revolution online at YorkRevolution.com.
###