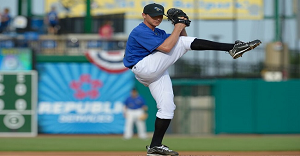 By Bob Wirz
Left-handers really do draw attention, and not just Scott Kazmir, only three years removed from the Sugar Land Skeeters, who will receive a reported $48 million in his new three-year contract with the Los Angeles Dodgers.
Although not as high a profile signing, the Texas Rangers have inked free agent southpaw Donnie Veal, who showed he still has major talent when he struck out 26 Atlantic League hitters in only 18.2 innings spread over 20 appearances with Long Island last summer. His 1.45 earned run average got noticed along with the mere 13 hits the 31-year-old allowed before he went to the Dominican Republic this offseason and posted a 1.69 ERA in 17 outings.
Veal did not get a major league spring training invitation with his new deal although it seems unlikely the Rangers will not give him a look at that level since he already has appeared in 105 big-league games since '09, primarily with the Chicago White Sox.
Heart-Warming Story Included in New Signings
The most heart-warming signing of the offseason may well be that of 25-year-old outfielder Zach Collier, who rebounded from the second heart surgery of his life during spring training last year to hit .277 with seven homers, 34 RBI and 13 steals in 63 second-half games with Lancaster.
Collier first had heart surgery in his sophomore season in high school although he went on to be a first round draft choice of Philadelphia in 2008. The left-handed hitting and throwing Collier signed with Washington, and has been assigned to Triple-A Syracuse, NY.
"This is one of the most exciting (signings we have had through the years) considering everything Zach has been through," praised Barnstormers manager Butch Hobson.
Another quartet of onetime Atlantic Leaguers has joined new organizations in an effort to get to (or back to) the majors. This includes right-hander Tim Stauffer, who went from Sugar Land to the parent New York Mets in a period of weeks late last season with Arizona, 2015 Long Island lefty Andrew Barbosa with Atlanta and third baseman-first baseman Marquez Smith (Camden, '12) and RHP Jon Velasquez (Camden, '12-13), who join Collier with Washington.
Onetime New York Mets lefty reliever Scott Rice (York, Long Island, Newark) and righty Tim Dillard (Lancaster) have gotten new contracts from their 2015 organizations. Rice is with Arizona and Dillard with Milwaukee.
Non-Roster Count Up to Six
The most recent major league spring training invite for a former Atlantic Leaguer belongs to right-hander Logan Kensing (Bridgeport, 2011), who will train with Detroit. He was in 19 games with Seattle last season, building his career total to 154 appearances and a 10-10 record and 5.80 ERA.
The count of former Atlantic Leaguers with non-roster major league invitations is at six, and seems certain to grow.
Canham Gets Managing Job
Mitch Canham is only 31, but the 2012 Long Island catcher has turned in his backstop equipment to become a minor league manager. He will lead Seattle's Midwest League team in Clinton, IA.
Previously the chief spokesman for Commissioners Bowie Kuhn and Peter Ueberroth, Bob Wirz has been writing extensively about the Atlantic League and Independent Baseball since 2003.