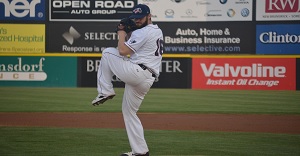 Somerset starter Lucas Irvine was another player sold to a major league organization recently, and the 26-year-old right-hander already has started returning dividends for the Arizona Diamondbacks.
He hurled 6.2 innings without allowing an earned run in his debut for Visalia in the California League, giving up just four hits and a walk and striking out five.
Irvine had not been in a major league organization since playing for a Tampa Bay rookie league team four years ago.
"My initial reaction was, 'Yeah, this is the call you've been waiting on,' but then the emotions kick in," he told MyCentralJersey.com. "This is a family atmosphere here (in Somerset), and I've been in this locker room from day one, I haven't missed a start. I've got a lot invested here, and this place is very special to me, and I didn't want to jump ship on these guys and leave in the wrong way to help some other team in the playoffs that I've had nothing to do with. He had been 6-8 with a 3.41 ERA in 22 starts for the playoff-bound Patriots although he was more highly regarded than the record would indicate.
Previously the chief spokesman for Commissioners Bowie Kuhn and Peter Ueberroth, Bob Wirz has been writing extensively about the Atlantic League and Independent Baseball since 2003.