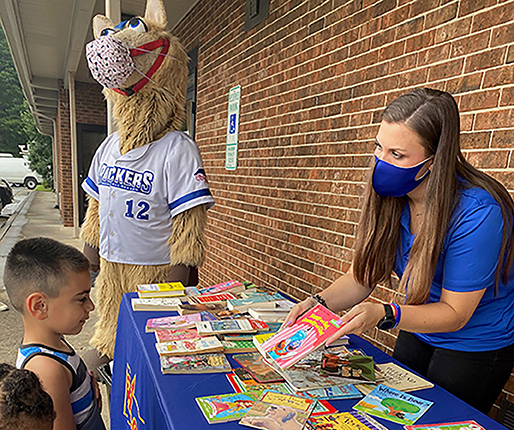 HIGH POINT, NC – The High Point Rockers in partnership with The United Way of Greater High Point and L.E.A.P (Literacy Empowers All People) made a special pop-up appearance with their mascot HYPE at the Triad Food Pantry on Friday, August 21st from 10:30 – 11:30 to hand out free books. The address is 279 Eastchester Dr. Come get a book!
The Rock N' Read program was designed to help combat summer reading loss and to increase book access for children during the summer by providing free books for K-12 school aged youth. The goal is to distribute a minimum of 1,000 books to area youth. The initiative is done in conjunction with United Way of Greater High Point, High Point L.E.A.P and the High Point Rockers.
About High Point Baseball, Inc
High Point Baseball aka the High Point Rockers began their inaugural season in the Atlantic League in 2019 with their home opener on May 2, in a brand new approximately $36M downtown ballpark, Truist Point, originally named BB&T Point. Enhancing the rich baseball history in North Carolina, High Point Baseball is part of the fastest growing family sport in America. High Point Baseball is committed to providing superior customer service and quality, affordable family entertainment experiences for the Triad of North Carolina. With seven players having their contract purchased and earning the 2019 Ballpark of the Year as well as Mascot of the Year (HYPE, The Rocking Horse), the High Point Rockers have built a fun and competitive atmosphere in both High Point and the Atlantic League.
About the Atlantic League of Professional Baseball (ALPB)
With eight teams in the Mid-Atlantic and Texas, the ALPB is a leader in baseball innovation and a player gateway to Major League Baseball. Through its exclusive partnership with MLB, the Atlantic League tests Major League Baseball rules and equipment initiatives. The Atlantic League has sent more than 950 players to MLB organizations while drawing more than 42 million fans to its affordable, family-friendly ballparks throughout its 23-year history. For more information, please visit www.AtlanticLeague.com.