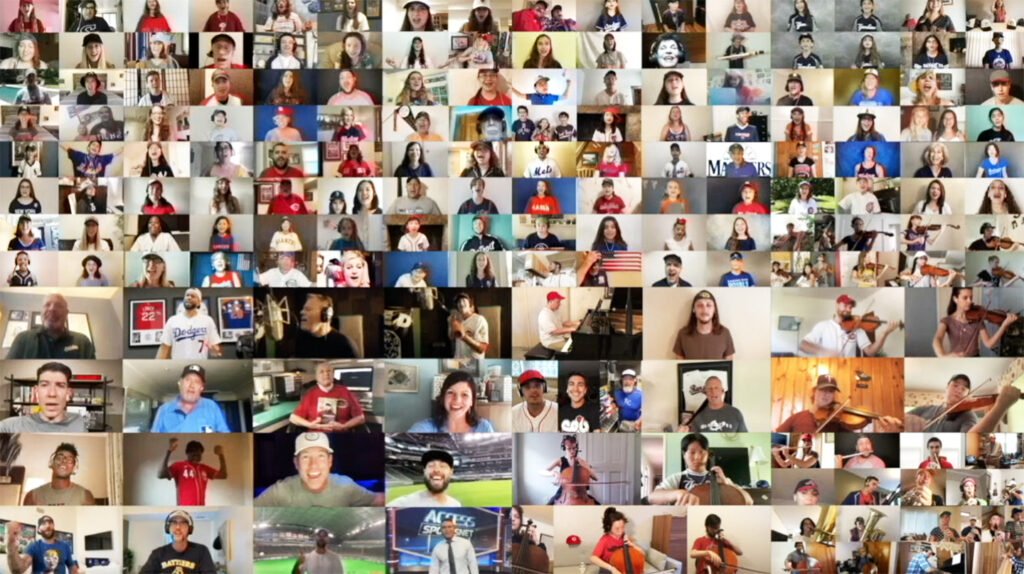 By John Lott, The Athletic
In 2008, Harrison Sheckler was already an accomplished pianist and a devoted baseball fan at age 12. That was the year he began writing letters to former big-league players, asking them short questions about their careers.
As time passed, he received more than 500 handwritten replies. Some left phone numbers, inviting him to call and chat. "I was super nervous as a kid to talk to them," he recalls. But he did. Sheckler was nothing if not precocious, whether at the keyboard or on the phone with Wally Westlake, an old outfielder from the 1950s
Sheckler is 24 now, pursuing his master's degree in piano performance at Brooklyn College. This spring, as Major League Baseball lurched toward its mini-season, he decided to combine his twin passions in an ambitious project. His goal: to give baseball fans a touch of melodic relief from the pandemic blues.
But he needed help. So he sent an Instagram message to Bronson Arroyo, a retired MLB All-Star who fronts two rock bands.
They set out to amass a virtual choir to perform the oldest baseball song in the book. Arroyo was the lead singer for their 200-member, socially distanced backup band.
Some of the performers were classically trained. Most were rank amateurs who had never sung in public. Every single one was a baseball fan.
And, of course, everyone knew Take Me Out to the Ball Game.
With Arroyo in the studio and Sheckler doing the grunt work, they finished the job in time for Opening Day. Here is the result.
And this is how it all came together.
---
The letters
Before we get to the tale of how a 24-year-old piano player in Iowa combined 200 mini-performances into a three-minute video – a remarkable yarn in itself – it's important to understand the true origin story here. That's the story of Harrison Sheckler and how he eventually came to connect with Bronson Arroyo.
As a kid, Sheckler's baseball curiosity awakened when his grandmother bought a cache of 2,000 baseball cards and gave them to him and his cousins. His great-grandfather was a Cubs fan so he became one too. Then he started writing those letters, sometimes to the stars – Hall of Famers Yogi Berra and George Kell were among those who replied – but primarily to players on the fringes of baseball history.
"Some of them would write me back with one-word answers and some of them would write back three-page letters, just off of four questions I asked them," he says with a tinge of excitement, which is how he often sounds.
"I wasn't writing to the big names. I was writing more often to people that only played a couple years. I just loved hearing their stories."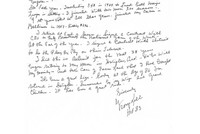 A portion of the letter from Hall of Famer George Kell. (Courtesy Harrison Sheckler)
Meanwhile, shortly after starting lessons at age 6, he began to win piano competitions. From Grade 6 on, he was home-sc/hooled so he could organize his days around his many interests. He played baseball, football, and golf. He was on the swim team. He was an Eagle Scout.
Then he moved to Cincinnati and became a Reds fan while studying piano performance at the University of Cincinnati College-Conservatory of Music. He also became a fan of Arroyo, the Reds' righty with the trademark stiff-legged delivery.
Sheckler also knew that Arroyo, even before he retired in 2017, had launched a second career as a rock musician. The pitcher and his band covered a lot of Pearl Jam songs; his voice reminded many of Eddie Vedder. (Black is Arroyo's favourite song, and when Pearl Jam played it at Fenway Park in 2016, Vedder brought Arroyo onstage to join in.)
Arroyo is a serious musician with an array of contacts in the baseball world. That's why, when Sheckler decided to form a baseball-themed choir, his first call went to a man he knew only from watching him on the mound at Great American Ball Park.
---
The lead singer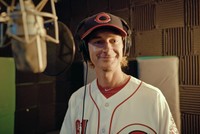 Bronson Arroyo in the studio. (Courtesy Harrison Sheckler)
Sitting at home in Charles City, Iowa, on a pandemic-forced break from his studies in Brooklyn, Sheckler had this vision: baseball players would form the core vocal group in his new video.
His collaborator didn't quite get it at first.
"I thought it would be something a little smaller, where there would be maybe 10 people," Arroyo recalls.
Not quite, Scheckler replied. Check out this little video, which I put together back in May, and you'll see what I have in mind.
The enormity of the production actually eased Arroyo's mind. He was impressed with Sheckler's credentials, but he'd wondered how tuneful the song would sound when sung by a handful of ballplayers. With skilled engineers blending their vocals with hundreds of others from fans, nobody's false notes would stand out.
"I wasn't going to have to rely on people being quality musicians," says Arroyo. "I wasn't going to need Ryan Dempster or Jonny Gomes to sing the song perfectly."
So he set to work enlisting baseball buddies. Dempster was an early recruit. The former Cubs pitcher and British Columbia native is a natural entertainer, and he brought his famed Harry Carey impression to the opening.
Arroyo also brought in former outfielder Gomes, former Reds infielder Scooter Gennett, current Reds outfielder Aristides Aquino and Reds broadcaster Jim Day. (Understandably, Cincinnati is well represented in the video.)
Sheckler did the rest, assembling more baseball folks along with the instrumentalists and fans. Their ages ranged from five to 77.
"He did all the legwork over Instagram," Arroyo says. "I don't know if he sleeps. He was doing a ton of work."
Of the hundreds of players and ex-players Sheckler contacted, 22 submitted videos. (They're listed at the end of this story.) Many more replied too late to be included, he says.
Using his contacts in the academic music community, Sheckler spread the word that he needed instrumentalists to form a full orchestra – brass, strings, and woodwinds. And he put out a casting call on social media for fans of all ages to join in. He urged everyone to wear the colours of their favourite baseball teams.
Sheckler with his collection of letters from players. (Courtesy Harrison Sheckler)
Later, Arroyo discovered that the word had spread further than he ever imagined. He started hearing from folks he knew in the music industry who figured he'd keep them in the loop about his projects. Some knew musicians who were involved and were curious about the casting process.
"Harrison had blasted the world so hard with this information that it was coming back around full circle to me from friends of mine saying, 'You never said anything about this project,'" he says with a chuckle. "I just said I thought Harrison had enough on his plate without me adding people."
Arroyo concentrated on delivering a hit as the leadoff batter.
"I knew from what Harrison had done in the past that he was going to put out a quality product," he says. "I just wanted to make sure I sang it down good for him so he felt like the beginning of the song went off well."
---
The final cut
Only Arroyo and Day did their parts in a studio. Everyone else used their cell phones.
Sheckler sent everyone a recording of his piano accompaniment. They listened through earbuds from a separate device and sang along into their phones. Then they sent their raw audio to Sheckler, who dispatched it to audio engineers Armin Meyer and Grant Bayer, whom he'd met while they were music students in Cincinnati. It took them 21 hours to clean up the audio.
Then Sheckler combined the edited audio and individual videos to make the final product. It took him 150 hours using iMovie, the same basic software he'd used to produce the video of You'll Never Walk Alone.
"I have no background in editing videos. But I gave it a shot and I think it turned out OK," he says.
And along the way, he widened his circle of friends.
He recruited retired umpire Dale Scott through a private message on Twitter. Scott was enthusiastic about the idea, agreeing to don his gear and add an emphatic grace note to the end of the video.
Christopher Smith, the principal trumpeter for the San Diego Symphony, was among the classically trained musicians who answered the call. He's seen playing with Petco Park in the background.
Psychologist Susan Dellinger saw the casting call and got in touch. She's 77 and the granddaughter of Hall of Famer Edd Roush, who played for the Reds in the Black Sox World Series of 1919. Dellinger wrote a book about that, which she's holding in the video.
Sheckler also contacted ESPN baseball insider Jeff Passan, told him he was working with Arroyo and asked whether he'd join the chorus. Passan said he'd love to.
The kid from Iowa suddenly had gone from admiring baseball fan to a bit of a baseball insider himself.
"I'm just so excited that all of these people were involved. I'm just giddy," Sheckler says.
Take Me Out to the Ball Game was written in 1908 in Tin Pan Alley style, which is the way Sheckler plays it in the video. (He obtained the original score from the Library of Congress.) In normal times, it's often sung by big crowds during the seventh-inning stretch. And for Arroyo, it's as much a part of baseball as hot dogs and beer.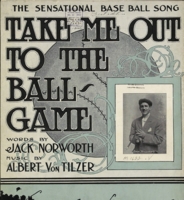 The original sheet music. (Library of Congress)
"It's something that we kind of take for granted," he says. "You always know it's there at the ballpark and you've been singing it since you were a little kid, but it's almost always off in the periphery. This gave me a chance, and I think the pandemic gave us a chance, to really think about what baseball means to the country or to anyone who has enjoyed playing the game or watching the game. The way Harrison played it on the piano gave it that old-timey feel, which I really enjoyed."
Let's give the last word to that kid from Iowa who first reached out to ballplayers when he was 12 and did it all again during the pandemic of 2020, hoping to give baseball-starved fans a rousing, three-minute lift.
"When you finally get the final product and you see everyone together, having fun and showing their love for baseball, a certain nostalgia comes back," Sheckler says. "I remember my first baseball game when I was young and then you see the five-year-olds dressed up in their team's gear and they're excited about baseball, and the older generation's excited about baseball too – it just puts a smile on your face.
"Actually, that was the comment I heard most about the video – 'It just gave me a big smile for the day.' That just makes my heart full."
---
The MLB singers
Aristides Aquino, Reds outfielder
Brian Anderson, Brewers TV announcer
Bronson Arroyo, former MLB pitcher
Jenny Cavnar, host, Rockies pre/postgame shows
Vince Cotroneo – A's broadcaster
Chase d'Arnaud, former MLB infielder
Ryan Dempster, former MLB pitcher
Jim Day, Reds announcer
Susan Dellinger, granddaughter of Hall of Famer Edd Roush
Randy Dobnak, Twins pitcher
Nick Goody, Rangers pitcher
Scooter Gennett, former MLB infielder
Jonny Gomes, former MLB outfielder
Jerry Hairston Jr., former MLB utility player
Jeff Frey, former MLB infielder
James Loney, former MLB first baseman
Nick Martinez, former MLB pitcher, currently in Japanese baseball
Jeff Passan, ESPN analyst
Buddy Reed Jr., A's prospect
Bret Saberhagen, former MLB pitcher
Dale Scott, former MLB umpire
Matt Strahm, Padres pitcher
Click here for the video link: https://www.youtube.com/watch?time_continue=1&v=MlwII9fQlwU&feature=emb_logo
https://theathletic.com/1972600/2020/08/05/how-a-piano-student-and-a-former-mlb-pitcher-took-200-fans-out-to-the-ball-game/