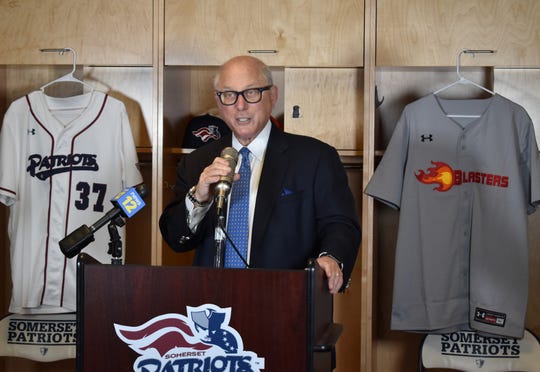 As chairman emeritus of the Somerset Patriots, who have donated approximately $6 million to local nonprofits since their inception more than two decades ago, Steve Kalafer's generocity appears boundless.
The organization Kalafer founded will continue its benevolence during the coronavirus pandemic, bringing America's favorite pastime back to New Jersey for a limited summer engagement through the Somerset Professional Baseball Series.
A 12-game schedule, pitting the Somerset Patriots and the New Jersey Blasters, will be conducted at a financial loss to the organization over six consecutive weekends beginning July 17 at TD Bank Ballpark in Bridgewater.
"We are not doing this for the money," Kalafer said during a press conference held inside the Patriots locker room on Tuesday morning.
"We lose money on every pitch that is thrown during this series. This [is] our full community commitment to make certain everybody knows the Somerset Patriots are alive and well and willing to meet their commitment for affordable family entertainment to the fans.
"We are going to put smile back on the faces of our fans. You are going to hear the crack of the bat, the sizzle of the hot dog, the opening of a cold Coca-Cola and beer during this time"
The first pitch for all games, which will be played on Fridays and Saturdays, is 7:05 p.m. Tickets go on sale Thursday.
In hosting the series, Somerset will adhere to Centers for Disease Control and Prevention safety protocols, as well as guidelines Gov. Phil Murphy's administration has established for outdoor gatherings, which currently limit attendees to 500 people.
The total number of individuals allowed inside TD Bank Ballbard will include players, coaches umpires and staff. Spectators must wear masks and practive social distancing. Players will be routinely tested for COVID-19.
"The most important aspect of our program is the safety, security and welfare of not only our fans, but of the community, our players and our staff" Kalafer said. "This is a plan that has been carefilly vetted by healthcare professionals.