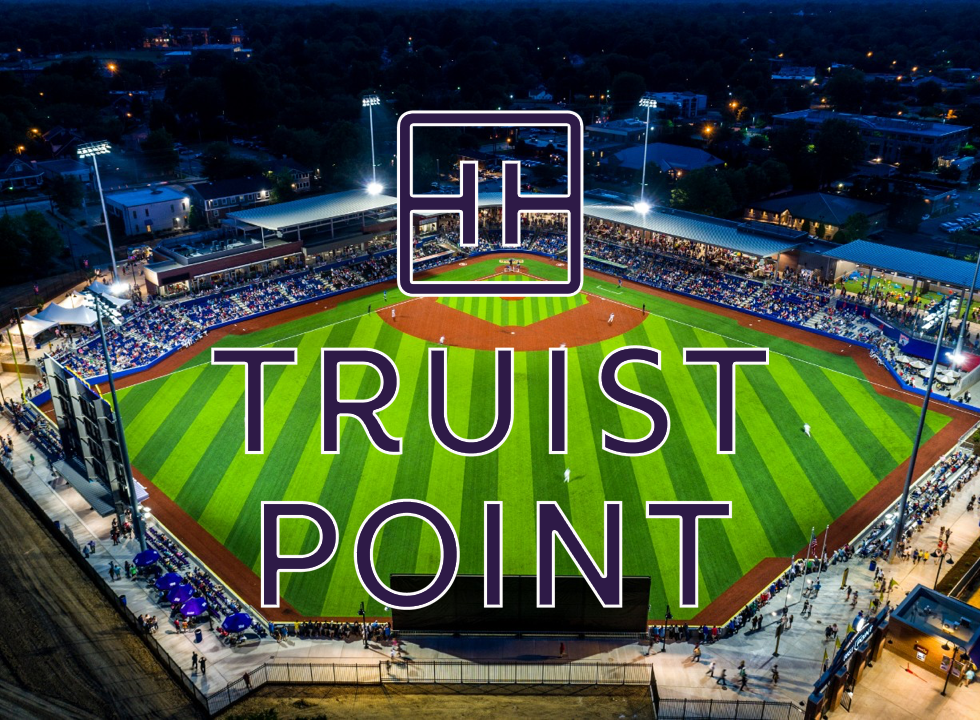 HIGH POINT, N.C. - The High Point Rockers, along with Truist announced today that the teams home stadium of BB&T Point will officially be rebranded as Truist Point this summer. The transition comes as a contribution of its naming rights partnership with the independent Atlantic League franchise.
"A ballpark is built to foster a community spirit and build lasting memories," noted Pete Fisch, Rockers Team President. "BB&T Point has done just that, and we look forward to continuing that tradition as Truist Point. Together through out partnership with Truist, we will develop more opportunities to bring our community together in Downtown High Point."
The new rebranding will include updating signage throughout the stadium, including indoor and outdoor signage, new street banners, and staff apparel. The new Truist logo and signature Truist Purple will begin going up at BB&T Point ballpark in coming weeks. The brand transition will begin in late June and with expected completion by the end of the summer.
Truist Point, originally named BB&T Point, opened on May 2, 2019 in front of more than 5,000 fans for the first ever High Point Rockers home game. The $36M downtown stadium was named the 2019 Atlantic League Ballpark of the Year and was built to enhance the rich baseball history in North Carolina while providing a superior family-friendly, affordable entertainment expirience for the Piedmond-Triad region.
The High Point Rockers and Truist will work together to deliver new programs that will benefit the High Point community.
"Truist Point will contine to be a catalyst in High Point's downtown revitalization, but most importantly our partnership with the Rockers provides a platform to build better lives that can have a positive impact for generations" said John Risinger, market president for Truist.
About Truist
Truist Financial Corporation is a purpose-driven financial services company committed to inspire and build better lives and communities. With 275 years of combined BB&T and SunTrust history, Truist serves approximately 12 million households with leading market share in many high-growth markets in the country. The company offers a wide range of services including retail, small business and commercial banking; asset management; capital markets; commercial real estate; corporate and institutional banking insurance; mortgage; payments; specialized lending and wealth management. Headquartered in Charlotte, North Carolina, Truist is the sixth-largest commercial bank in the U.S. with total assets of $506 billion as of March 31, 2020. Truist Bank, Member FDIC. Learn more at Truist.com
About High Point Baseball, Inc
High Point Baseball aka the High Point Rockers began their inaugural season in the Atlantic League in 2019 with their home opener on May 2, in a brand new approximately $36M downtown ballpark named BB&T Point. Enhanching the rich baseball history in North Carolina, High Point Baseball is part of the fastest growning family sport in America. High Point Baseball is committed to providing superior customer service and quality, affordable family entertainment experiences for the Triad of North Carolina. With seven players having their contract purchased and earning the 2019 Ballpark of the Year as well as Mascot of the Year (HYPE, The Rocking Horse), the High Point Rockers have built a fun and competitive atmosphere in both High Point and the Atlantic League.
About the Atlantic League of Professional Baseball (ALPB)
With eight teams in the Mid-Atlantic and Texas, the ALPB Is a leader in baseball innovation and a player gateway to Major League Baseball. Through its exclusive partnership with MLB, the Atlantic League tests Major League Baseball rules and equipment initiatives. The Atlantic League has sent more than 950 players to MLB orginizations while drawing more than 42 million fans to its affordable, family-friendly ballparks throughout its 23-year history. For more information, please visit www.atlanticleague.com