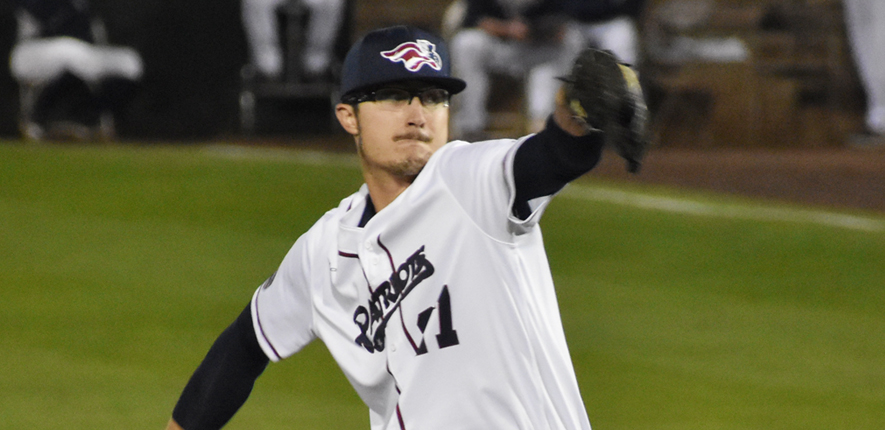 January 30, 2020, Bridgewater, NJ- The Somerset Patriots have re-signed right-handed relief pitcher Taylor Wright for the 2020 season.
"I really enjoyed my time in Somerset last year," said Wright. "Everyone from the clubhouse to the coaches and players made me feel welcomed. It was a dream come true to follow my passion for baseball and to come over to Somerset and play at such a high level."
Wright enters his second season with the Somerset Patriots and second in the Atlantic League. The 6'5" righty appeared in four games with the Patriots at the end of the 2019 season after he was acquired from the Evansville Otters (Frontier League) for future considerations. Wright recorded one save and posted a 2.25 ERA (one run over 4.0 innings pitched) while striking out four without allowing a walk across his four Somerset appearances.
The Berwyn, Pennsylvania native began the 2019 season – his first in professional baseball – with the Otters after participating in Somerset's open tryouts. Wright impressed with a 3-0 record, a 0.92 ERA and 18 saves over 38 relief appearances in his time in Evansville. Additionally, Wright yielded just five earned runs over 48.2 innings pitched while striking out 56 batters.
The Brown University alumnus won the Frontier League's Jason Simontacchi Award for his standout 2019 season, which recognized the league's Rookie of the Year.
"We had the privilege of being joined by Taylor Wright at the end of last season," said Somerset Patriots manager Brett Jodie." He is back again this year to build on what he was working on. Taylor has a very high ceiling. He is really excited to learn and grow as a pitcher and has shown signs of being something special. He fits in great in the clubhouse and will also fit in nicely in a variety of roles on our pitching staff. We can't wait to get him in camp and start working together."
Wright enjoyed a three-year stint on Brown's baseball club, where he made 38 appearances (5 starts), totaling 69.2 innings of work.
The Somerset Patriots will be back in action on Friday, May 1st for Opening Day at TD Bank Ballpark. Stay up to date on all the team news throughout the offseason online; on all of our social media platforms, and on our mobile app. For more information, visit www.somersetpatriots.com.