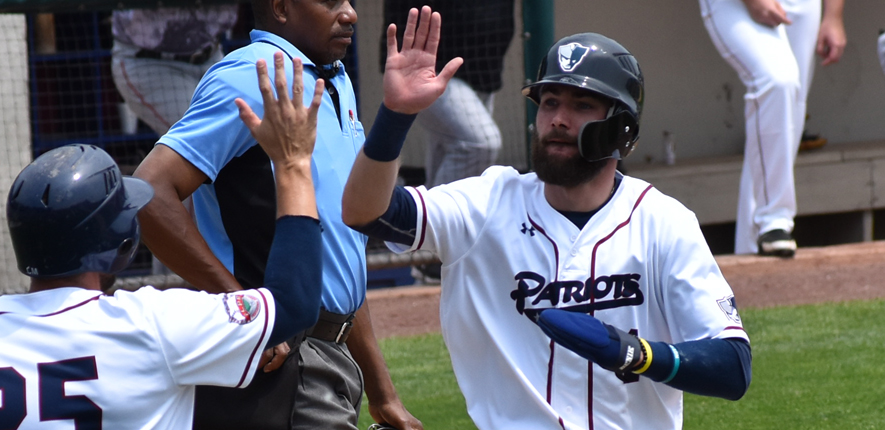 January, 20, 2020, Bridgewater, NJ - The Somerset Patriots have re-signed Atlantic League All-Star outfielder Justin Pacchioli for the 2020 season.
"I'm honored to get another opportunity to come back and do whatever I can to try and bring back a championship to Somerset," said Pacchioli. "Getting to put that jersey on and compete is something I love doing. I wouldn't want to do it anywhere else than with the Patriots family."
Pacchioli enters his fourth season with the Somerset Patriots and fourth in the Atlantic League. The speedy outfielder hit .282 with one home run, 19 RBI and a career-high 38 stolen bases over 79 games with the team last year. He missed the final month of the season due to injury, but did finish his campaign on a 20-game on-base streak stretching across all of August. He hit .308 in August with a .393 on-base percentage and was 15-for-15 in stolen base attempts.
The Easton, Pennsylvania native led the team and finished tied for fourth in the league in stolen bases last year despite missing the last month of the season. Pacchioli led the league in stolen base percentage (.927) and ranked second in the league in steals at the time of his last game (August 22nd).
Pacchioli has been known for his speed throughout his Somerset tenure. The Lehigh University alumnus has led the team in stolen bases in each of his three seasons in Somerset: each time also ranking in the top six in the league. Additionally, he enters 2020 fourth all-time in Patriots history in steals (107), trailing only Scott Kelly (114), Michael Warner (116) and Billy Hall (209).
"We are extremely excited to be joined again by Pacchioli," said Somerset Patriots manager Brett Jodie. "Justin has been a consistent player for us the past three years. He can track just about anything down in the outfield and truly has a good arm to throw out runners trying to take an extra base. 'Patch' also gives you an outstanding at-bat every time he steps in the box. He is devastating to the opponent when he gets on base because of his speed. Pacchioli will be a huge part of this team and we are happy to welcome him back."
The 27-year old hit .280 in Somerset in 2018 with 25 RBI and 50 runs scored. Additionally, he led the team in stolen bases (34) and ranked sixth in the league despite playing in only 87 games. Four of the five players ahead of him in the league played at least 30 more games during the regular season.
Pacchioli hit .281 with 30 RBI, 61 runs and 35 stolen bases (fourth in the league) over 97 games in his first year in Somerset (2017) before he finished the season in the Boston Red Sox organization with High-A Salem. He earned an All-Star Game selection that year by hitting .345 in the first half of the season with a .453 on-base percentage. At the time, "Patch" was only eight plate appearances shy of qualifying for the league leaders. Had he been qualified at the time, both stats would have led the Atlantic League.
The versatile outfielder has also showed off an impressive glove in his time in the Atlantic League. He has committed just five errors across 536 chances (.991 fielding percentage) in his three seasons in Somerset. That includes just one error over 202 chances (.995) in 2017 and one error over 178 chances (.994) in 2018.
"Patch" has hit .281 over 263 games in his three seasons in a Somerset uniform with nine triples, 74 RBI, 107 steals, 164 runs and a .372 on-base percentage. The triples and stolen bases lead the Patriots over this stretch, while the runs rank second.
Pacchioli took off the 2016 season prior to joining Somerset for personal reasons after he spent his first season in professional baseball in the San Diego Padres organization. A 10th-round draft pick by the Padres in 2015, Pacchioli played in 58 games with short-season Tri-City that year and posted a .245 average with 14 RBI and 19 stolen bases. His 19 steals led the team and ranked seventh in the Northwest League that year.
The Somerset Patriots will be back in action on Friday, May 1st for Opening Day at TD Bank Ballpark. Stay up to date on all the team news throughout the offseason online; on all of our social media platforms, and on our mobile app. For more information, visit www.somersetpatriots.com.