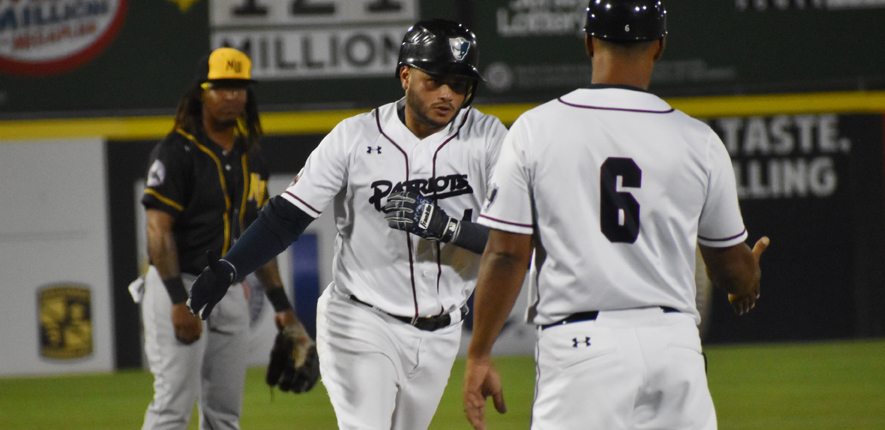 Bridgewater, NJ- The Somerset Patriots have re-signed All-Star catcher Yovan Gonzalez for the 2020 season.
"I'm ready for another year with the Patriots family," said Gonzalez. "I'm really excited to be back. Can't wait to wear that uniform and give my 110% again. We've got a big year ahead!"
Gonzalez enters his fifth season with the Somerset Patriots and his fifth in the Atlantic League. He was the second-longest tenured player on the team last year and continues as one of the longest-tenured active players in the entire league this season. Last year, Gonzalez hit .263 with three home runs and 26 RBI over 82 games as the team's primary catcher.
The Puerto Rico native enjoyed a notable 2017 season with the Patriots in which he finished second on the team in hitting (.291), including a .325 batting average in the first half of the year. That helped Gonzalez earn a selection as the Liberty Division starting catcher in the 2017 All-Star Game played at TD Bank Ballpark.
Only Alfredo Rodriguez (365 games) and Scott Kelly (349 games) have played more games in a Somerset uniform than Gonzalez (310 games) since he joined the team in 2016. Offensively, the popular backstop ranks second on the team in hits (279) and third in RBI (117) dating back to the beginning of his Patriots tenure.
"Yovi" owns a .270 average with eight home runs and 117 RBI over 310 games across four seasons in Somerset.
Additionally, Gonzalez has always excelled defensively. He ranked second among Atlantic League catchers in assists (52), third in caught stealing percentage (.343, min. 500 innings) and fourth in innings (652.0) last year. He also committed the least amount of errors (3) and allowed the least amount of passed balls (6) among catchers (min. 500 innings).
The former Cincinnati Reds farmhand was the only catcher in the league in 2018 to not record an error (min. 500 innings) despite missing a month's worth of action. He also led the league in fielding percentage among catchers in both 2016 and 2017 (minimum 650.0 innings), including just two errors over 659 chances in the 2017 season.
"It is always important to bring guys back that understand what Somerset is about, and that is Yovan," said Somerset Patriots manager Brett Jodie. "Great team guys that are unselfish, work hard and take pride in making those around them better. We have just that in the return of Yovan Gonzalez. Yovan wants to win. He enjoys working with the pitchers whether before the game, during games, or on an off day. Yovan will be one of our team leaders and we are extremely excited to have him back in 2020."
Gonzalez spent the first seven years of his career in the Reds organization, including Triple-A service in Louisville in 2013.
The Wabash Valley College alumnus has always excelled defensively throughout his career. He has thrown out 32.3% of potential base-stealers (222-686) over his career, including two seasons (2009, 2011) of over 50%. Additionally, Gonzalez holds a career .992 fielding percentage behind the plate.
He has 23 home runs and 233 RBI over 629 minor league games in his professional career.
The Somerset Patriots will be back in action on Friday, May 1, for Opening Day at TD Bank Ballpark. Stay up to date on all the team news throughout the offseason online; on all of our social media platforms, and on our mobile app. For more information, visit www.somersetpatriots.com.