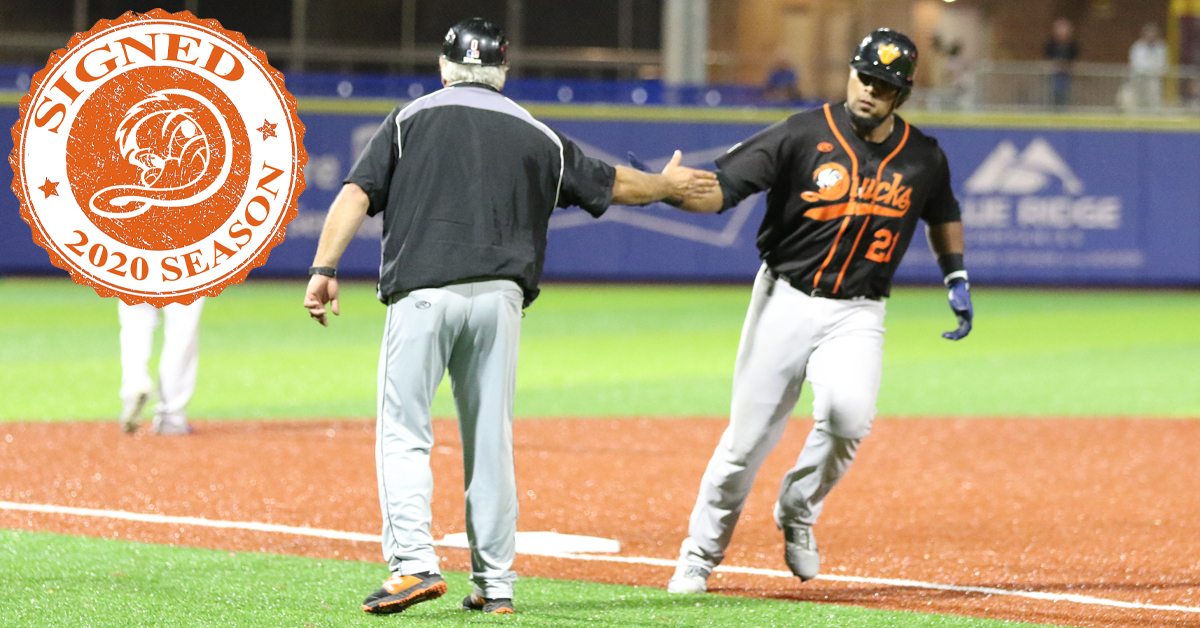 (Central Islip, N.Y., Jan. 7, 2020) – The Long Island Ducks today announced the signing of infielder Deibinson Romero. The 2019 Atlantic League Championship Series Most Valuable Player returns for his second season with the Flock, third in the Atlantic League and 15th in professional baseball.
"Deibinson was an important part of our Championship-winning roster in 2019," said Ducks President/GM Michael Pfaff. "We are happy to have him back on Long Island and eager to continue building our team for the upcoming season."
Romero joined the Ducks on June 25, 2019, after playing 43 games to begin the year with the New Britain Bees. He went on to play 66 regular season games with the Flock and batted .268 with 11 home runs, 46 RBIs, 33 runs and 15 doubles. The 33-year-old was also selected to play in the Atlantic League All-Star Game, held at York's PeoplesBank Park on July 10. Overall, Romero batted .267 with 14 homers, 58 RBIs, 45 runs, 104 hits and 20 doubles during the 2019 season.
During the playoffs, the third baseman turned in a performance for the ages. He led all Atlantic League players with 11 RBIs and ranked third with a .357 batting average. He led all Ducks players with three homers, 20 total bases, a .714 slugging percentage and a 1.078 OPS. In the Atlantic League Championship Series against Sugar Land, the Dominican Republic native led all players with RBIs (9) and tied for the lead in total bases (15) and home runs (2). He also ranked second in the league in slugging (.833), OPS (1.288) and hits (8). Upon the Ducks winning the Atlantic League Championship, Romero was named the Championship Series MVP, as voted upon by league executives and media.
Prior to joining the Ducks, Romero earned ALPB All-Star honors with the Bees in 2018 and won the Home Run Derby prior to the All-Star Game, held at Long Island's Bethpage Ballpark. He played 120 games that year and led all Bees players with 18 home runs, 71 RBIs and 27 doubles while adding 61 runs and 113 hits. Additionally, he was named the league's Co-Player of the Month for April/May. Previously, the righty hitter spent nine seasons in the Minnesota Twins organization and one year each in the Pittsburgh Pirates and New York Yankees systems, reaching the Triple-A level with all three. He earned Post-Season All-Star honors on three occasions in the Twins organization (2006, 2007, 2012). Romero was originally signed by the Twins as a non-drafted free agent in 2004.
The Long Island Ducks are members of the Atlantic League of Professional Baseball and play their home games at Bethpage Ballpark. For further information, call (631) 940-DUCK or visit www.liducks.com.