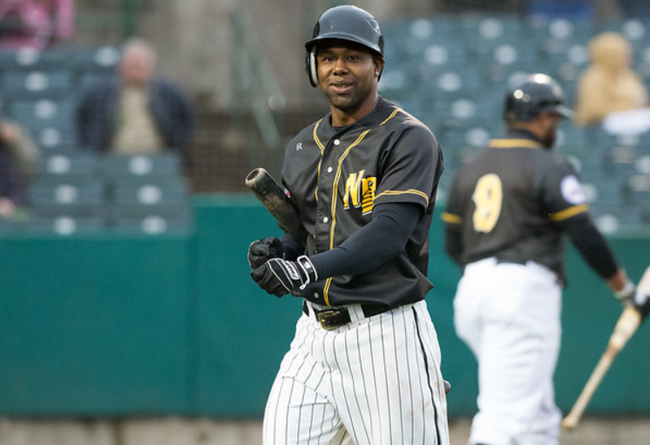 Former New Britain Bee Alejandro De Aza earlier this season | Wesley Bunnell | Staff
By: Ryan Chichester

The New Britain Bees lost their best offensive presence last month when the contract of center fielder Alejandro De Aza was purchased by the Minnesota Twins organization. De Aza, who left the Bees after posting the Atlantic Leagues' second-highest batting average up to that point (.346), was assigned to Triple-A Rochester in his first taste of affiliated ball this season.

The 35-year-old De Aza took some time to adjust to his new surroundings, but the former major league veteran has since took off, proving that the Twins' decision to pluck him from the Atlantic League was a good one, while the Bees can celebrate the success of their former teammate, while also missing his consistent production at the top of their lineup.

De Aza caught up with the Rochester Red Wings on July 17, while the team was in the midst of a week-long road trip and began to settle into his new role. He wasted no time getting into the hit column with a two-run single in his first game against the Norfolk Tides, but went hitless in his next seven at-bats to begin his minor-league campaign with a 1-for-11 clip, including four strikeouts. He got back in the hit column in his fifth game with the team, going 1-for-3 on the day, and then took off.

Over his next 16 at-bats, De Aza racked up nine hits and his first extra-base hit in the form of a double during a 3-for-5 effort in his first home series with Rochester. In his first game following that torrid four-game stretch, De Aza smacked his first home run, which was a tease for a surprising power surge that began at the end of the month.

On July 30 at Buffalo, De Aza went 1-for-4 with a home run and two RBI, then returned home for a series with the Scranton-Wilkes Barre Railriders, where he smashed a home run off of Yankees top prospect Deivi Garcia, then hit two more the following day to highlight a 3-for-4 performance that included nine total bases and three RBI. Two games later at Pawtucket, De Aza went 2-for-3 with a double to continue his hot hitting and raise his slugging percentage to a remarkable .613.

Through 18 games and 65 at-bats at the Triple-A level entering Wednesday, De Aza is slashing .323/.408/.600 with five home runs, somehow keeping pace with the production he maintained in the Atlantic League. It will be a hard level to maintain, but De Aza's current OPS of 1.008 suggests the Twins added a valuable piece for their Triple-A affiliate, especially given his performance in the clutch. De Aza's OPS with runners in scoring position sits at 1.068 and four of his five home runs have been hit with two outs in the inning. What's even more impressive is the lefty's production against southpaw pitching, which he has torched for a 1.411 OPS in 16 at-bats.

It's a small sample size, but De Aza has made an immediate impact on his new team, and for now, it looks like his place in affiliated ball is safely secured.

http://www.bristolpress.com/BP-New+Britain+Bees/355976/former-new-britain-bees-outfielder-de-aza-continuing-strong-hitting-with-twins-triplea-affiliate