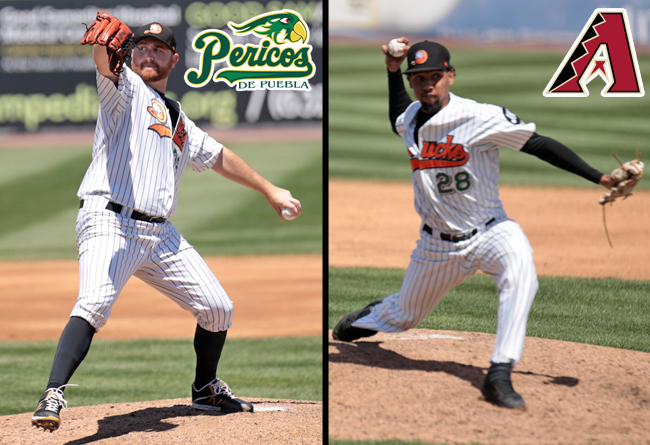 Left-hander to join Mexican League, righty headed to Diamondbacks organization

(Central Islip, N.Y., May 22, 2019) – The Long Island Ducks today announced the contracts of left-handed pitcher Bennett Parry and right-handed pitcher Jose Cuas have been purchased. Parry will join Pericos de Puebla of the Mexican League, while Cuas heads to the Arizona Diamondbacks organization.

"Both Bennett and Jose have done a terrific job for us this season," said Ducks Manager Wally Backman. "We wish them the best of luck in their new opportunities."

Parry has made five starts with Long Island this season. He has posted a 1-0 record with a 3.38 ERA and 32 strikeouts to just 12 walks in 26 and two-thirds innings of work. The southpaw has struck out seven or more batters in three consecutive starts and has a pair of quality starts this season. This marks the second time Parry has had his contract purchased during his time with the Ducks. In 2018, the San Diego native went 6-1 with a 2.86 ERA and 116 strikeouts in 14 starts before having his contract purchased by the Chinatrust Brothers of the Chinese Professional Baseball League.

Cuas, who has been assigned to the Single-A Hillsboro Hops, has appeared in 10 games with the Ducks this season, allowing a run in just one of those outings. In 12 and two-thirds innings this season, he has given up just one run on five hits and four walks while striking out 16 batters, compiling a 0.71 ERA in the process. The righty has struck out at least one batter in eight of his 12 games and has pitched more than one inning on four occasions. Dating back to last season, Cuas has allowed a run in just one of his past 16 appearances.

Parry and Cuas become the fifth and sixth members of the 2019 Ducks roster to have his contract purchased by a Major League or foreign organization, with Cuas being the fifth to join an MLB club. They join right-hander pitcher Tim Adleman (Detroit Tigers, May 11), infielder Ivan De Jesus Jr. (Chicago White Sox, May 7), right-handed pitcher Tim Melville (Colorado Rockies, May 3) and left-handed pitcher Jon Niese (Seattle Mariners, April 25).

The Long Island Ducks are members of the Atlantic League of Professional Baseball and play their home games at Bethpage Ballpark. For further information, call (631) 940-DUCK or visit www.liducks.com.

About the Atlantic League of Professional Baseball (ALPB)

With eight teams in the Mid-Atlantic and Texas, the ALPB is a leader in baseball innovation and a player gateway to Major League Baseball. Through its exclusive partnership with MLB, the Atlantic League tests Major League Baseball rules and equipment initiatives. The Atlantic League has sent over 900 players to MLB organizations while drawing more than 40 million fans to its affordable, family-friendly ballparks throughout its 22-year history.

For more information, please visit www.AtlanticLeague.com.

###