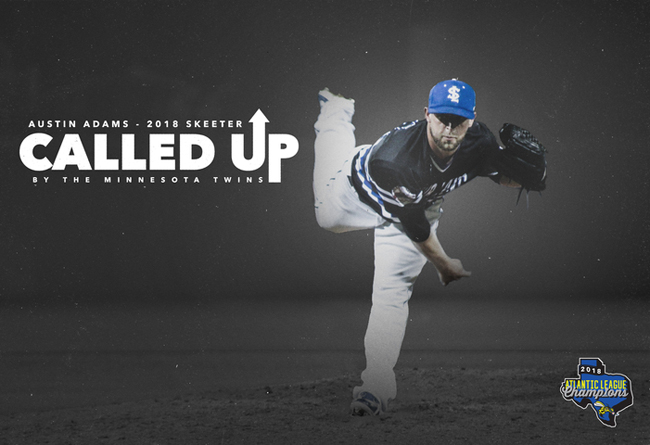 Adams becomes seventh player to appear in MLB after appearing with Skeeters

(Sugar Land, Texas, May 20, 2019) - Former Skeeters right-hander Austin Adams on Friday had his contract selected by the Minnesota Twins from Triple-A Rochester, becoming the seventh player in Skeeters history to appear in the Majors after appearing with the Skeeters.

Adams made his return to the Major Leagues on Saturday, throwing two scoreless innings of relief against the Seattle Mariners. The 32-year-old joined the Skeeters in 2018, going 3-0 with a 2.22 ERA and a save in 30 relief appearances. The Minnesota Twins purchased Adams' contract in August 2018 and assigned him to Double-A Chattanooga. Adams was one of 14 players from the Skeeters 2018 roster to have his contract purchased by an outside professional baseball organization, which was a franchise record.

The other six players in Skeeters history to appear in the Majors after appearing with the Skeeters were left-hander Scott Kazmir (Skeeters - '12; CLE - '13, OAK - 2014-15, HOU - '15, LAD - '16), left-hander Jason Lane (Skeeters - 2012-13; SDP - '14), outfielder Ryan Langerhans (Skeeters - 2013-14; TOR - '13), right-hander Tim Stauffer (Skeeters - '15; NYM - '15), left-hander Hunter Cervenka (Skeeters - '15, '18; ATL - '16, MIA - 2016-17) and left-hander Dan Runzler (Skeeters - 2015-16, '18; PIT - '17). Kazmir was selected as an American League All-Star in 2014 with the Oakland A's after appearing with the Skeeters in 2012.

Adams made his Major League debut with the Cleveland Indians in 2014 and appeared with the Indians from 2014-16. Including his appearance with the Twins this year, Adams has gone 2-0 with a 6.08 ERA in 54 Major League outings (60.2 IP). The Indians selected Adams in the fifth round of the 2009 MLB Draft out of Faulkner State College (Montgomery, AL).

The Skeeters, winners of the 2018 Atlantic League Championship, begin their eighth season of play in the Atlantic League of Professional Baseball at Constellation Field. Individual tickets, season tickets and mini plans for the 2019 season are currently available and can be purchased by visiting sugarlandskeeters.com, the TDECU Ticket Office at Constellation Field, or by calling the Skeeters at 281-240-4487.

All Skeeters home games can be streamed live on the Skeeters Youtube page or can be listened to live by visiting sugarlandskeeters.com.

Visit SugarLandSkeeters.com and follow us on Facebook, Instagram and Twitter (@SL_Skeeters) for all the latest team news and the latest on events to be hosted at Constellation Field.

About the Sugar Land Skeeters

The Skeeters play at Constellation Field, a state-of-the-art stadium located at the intersection of State Highway 6 and U.S. Highway 90A in Sugar Land. The Skeeters are a member of the Atlantic League of Professional Baseball (ALPB) and play 140 regular season games. The Skeeters Baseball Foundation promotes youth education and healthy activities lifestyles by providing support to culturally, racially and economically diverse areas of the community. For more information please call 281-240-4487 or visit sugarlandskeeters.com.

About The Atlantic League of Professional Baseball (ALPB)

With eight teams in Texas and the Mid-Atlantic, the ALPB is a leader in baseball innovation and a player gateway to Major League Baseball. Through its exclusive partnership with MLB, the Atlantic League tests Major League Baseball rules and equipment initiatives. The Atlantic League has sent over 900 players to MLB organizations while drawing more than 40 million fans to its affordable, family-friendly ballparks throughout its 22-year history.

For more information, please visit www.AtlanticLeague.com.

###