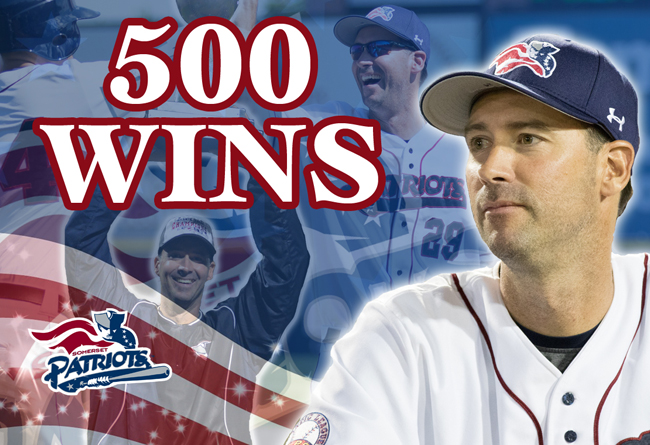 (Bridgewater, N.J., May 17, 2019) - As the most storied franchise in Atlantic League Baseball, the bar is set high every year for one thing and one thing only, a championship. For Brett Jodie, his legacy as a winner, a competitor and a Somerset Patriot has been cemented for quite some time. Now, he passes another milestone on his way to an already legendary career in red, white, and blue.

500 wins is an example of the excellence and dedication that Jodie has put forth in his seven years at the helm. For Jodie, 500 wins is not just about him.

"It means we've had a lot of good players. Great staff. A lot of loyalty to let me be here long enough to accomplish that goal," Jodie said. "It's very much a team-oriented thing and that means a lot. 500 team victories. It's not about me, it's about the guys and what they do every day."

A sixth-round pick in the 1998 MLB draft, Jodie began his career with the New York Yankees, spending four years in the minors before finally getting his crack at the major leagues in 2001 with the San Diego Padres.

He has service in "The Bigs" with the Padres and Yankees in 2001, throwing in eight games and striking out 13 batters over his 25 innings.

After that he moved onto to the Atlantic League, where he joined the Patriots in 2003. He dominated for Somerset, going 12-5 with a 3.78 ERA across 24 starts. As one of the workhorses in the rotation, he helped lead the Patriots to their second title in team history.

Jodie got his first taste of winning in 2003, and only wanted to be a part of it some more.

"The ultimate goal is a championship. You can't duplicate that feeling. It's such a feeling of elation that you can't recreate. To win and to win with that group and to celebrate. You talk about that and rekindle it. And that's where it lives, and it makes it all worth it. You hope you're rewarded for all your hard work."

His contract was bought out the following year by the Boston Red Sox, but unfortunately would not participate in the 2004 season due to a torn labrum. In an attempt to recapture the magic he found in Somerset, he returned to the team for the 2005 season. Clearly hindered by injuries, he was only able to make ten starts for the team, and ultimately retired as a player following that season.

From one position to the next, he joined on board as the team's pitching coach in 2006. Jodie learned firsthand from the best. Former Major Leaguer and Cy Young Award winner Sparky Lyle was the team's manager at the time. Lyle was the first manager in Patriots history and would go on to lead them to championships in 2001, 2003, 2005, 2008, and 2009.

"Sparky did such a good job to prepare me for it. He made my job as a pitching coach so much easier. He would tell me from day one, 'they're yours.' And to give me that kind of responsibility and respect me enough to trust me and let me do my thing was huge. He was very trusting. He put you in your place and let you do your thing. That's what I really appreciated from him. Whether right or wrong I got to see how he did things."

One thing remained constant with Jodie was winning, both as a player and coach. Since 2006 he would be a part of 989 wins, with 500 of them coming as a manager.

"500 wins is no joke. Especially how fast he's done it and the age he's done it at. Some guys wish they could get 500 wins that fast with that kind of success," Lyle said. "I hope we get a big cake for him and throw it in his face because he definitely deserves it."

In 2012, Lyle stepped down as the manager for the Patriots, handing the reigns over to Jodie with the utmost confidence.

"I knew he would continue the culture. He has a great mind, an amazing baseball guy. Knows the ins and outs of the game," Lyle added. "He doesn't want players coming in and out of the team like a revolving door. He knows the best ways to build chemistry and keeping the team together for the long haul."

Jodie's first season was a complete success, as the 90-49 record would prove to be the best mark in a Patriots single season. Somerset would come up short though, losing 3-2 in the championship game.

The following seasons would be much of the same, as Jodie notched 85- and 89-win totals in 2014 and 2015. Jodie would finally get to the top in 2015. His first career championship as a manager would be captured with a 3-1 series victory over the Southern Maryland Blue Crabs.

His legacy with the Patriots would be further cemented in history. Three championships as a pitching coach, and now one as a manager puts Jodie in a rare booth, sitting right across from Manager Emeritus Sparky Lyle. In addition, Jodie has led Somerset to six straight postseasons, every year he has managed the team.

One thing that has stuck out for Jodie is the different type of culture the Patriots, and his coaching staff embodies.

"It's not fake. People see that I really care. People see that the front office cares and ownership cares. It's real and unique. Let's have fun playing the game we love in a comfortable environment," Jodie said. "Everyone involved here from top to bottom, goes together to accomplish that goal. There's a lot of time and effort that goes into that goal. It doesn't just happen overnight."

Now in his seventh season, Jodie is pushing the heights of winning and building a comfortable environment each day. 500 wins down, and plenty more to go.

###