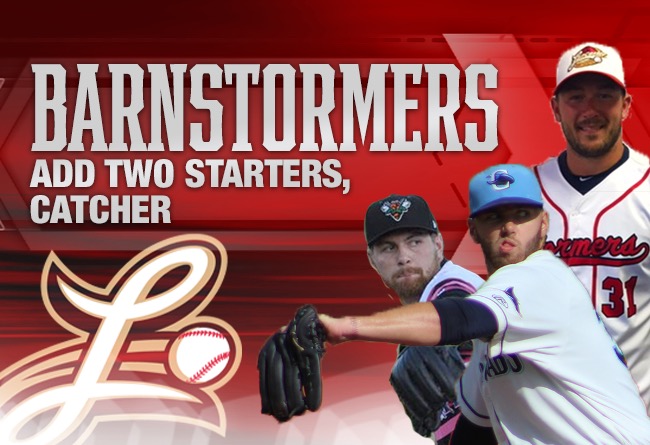 Roster nears completion

(Lancaster, Pa., April 1, 2019) - Jake McCasland, who threw a no-hitter in the South Atlantic League in 2016, will join the Lancaster Barnstormers for the 2019 season, it was announced today by manager Ross Peeples.

In addition, the Barnstormers have signed another right-handed starter in Brandon Lawson and catcher Brian Mayer from the Atlantic League Showcase, held this weekend at Tigertown in Lakeland, Florida.

McCasland, 27, fired his no-hitter in the second game of a doubleheader against the Delmarva Shorebirds (Orioles) on July 17 of that season. The right-hander from New Mexico nearly threw a perfect game, missing it because of his own fielding error with two outs in the third inning. He struck out five in the effort.

That 2016 season was a stellar campaign overall as McCasland finished 8-5 with a 1.69 ERA and was less than three innings shy of winning the SAL ERA title.

Last year, in his sixth season in the San Francisco Giants organization, McCasland went 4-7 with a 4.66 ERA for the Class AA Richmond Flying Squirrels. He is 21-28 in his career with a 4.18 ERA, walking 149 and striking out 366 in 407.1 innings of work.

"Jake is a big, strong kid that can throw out of the bullpen or as a starter," said Peeples. "He has a good arm and a great idea of how to pitch."

Lawson, 24, spent three seasons in the Tampa Bay farm system after being drafted out of the University of South Florida. He had a brilliant first season at Hudson Valley, posting a 6-1 record and 2.03 ERA. He got to Class AAA Durham for one appearance in 2017. Last year, the Florida resident split time between Class A Charlotte (FL) and Class AA Montgomery. He was a combined 6-7 with a 4.15 ERA, walking 34 and striking out 78 in 112.2 innings of work.

Following the season, the Rays sent Lawson to the Arizona Fall League, but he was released this spring.

"Lawson has really good Pitch Ability," said Peeples. "We are looking forward to him being one of our starting pitchers and being able to get deep into some games."

Mayer, 25, is a product of the University of Delaware. He has appeared in 30 games in the Can-Am League and Frontier League over the past two seasons. The right-handed hitter was one of nearly 300 players from around the county, including some with Major League experience, who attended the inaugural Atlantic League Showcase, held this weekend at Tigertown in Lakeland, Florida.

"Mayer is a hardworking kid that will do anything you ask of him," said Peeples. "Just being able to put on a uniform means a lot to him."

About the Lancaster Barnstormers

The Lancaster Barnstormers are headed into their fifteenth season as a member of the Atlantic League of Professional Baseball. Home games are played at Clipper Magazine Stadium in downtown Lancaster, Pennsylvania. Please call 717.509.HITS (4487) or visit www.lancasterbarnstormers.com for more information.

About the Atlantic League of Professional Baseball (ALPB)

With eight teams in the Mid-Atlantic and Texas, the ALPB is a leader in baseball innovation and a player gateway to Major League Baseball. Through its exclusive partnership with MLB, the Atlantic League tests Major League Baseball rules and equipment initiatives. The Atlantic League has sent over 900 players to MLB organizations while drawing more than 40 million fans to its affordable, family-friendly ballparks throughout its 22-year history.

For more information, please visit www.AtlanticLeague.com.

###