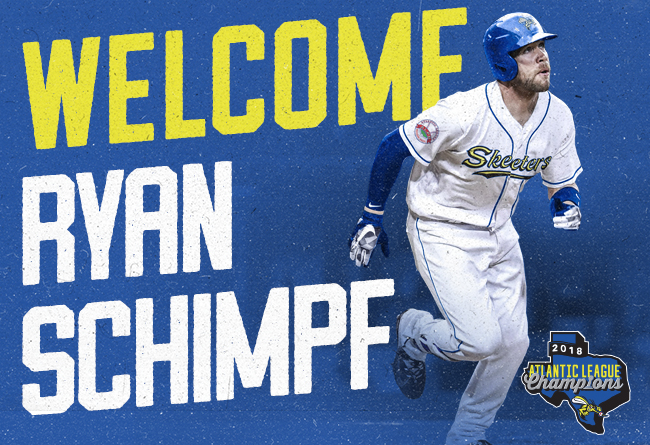 Former LSU and San Diego Padres standout headed to Sugar Land

(Sugar Land, Texas, March 29, 2019) - The Skeeters today announced they've signed former Major League infielder and former Louisiana State University standout, Ryan Schimpf.

Schimpf, 30, appeared in five games for the Los Angeles Angels in 2018, going 1-for-5, with the hit being a two-run home run. He played in additional 30 games with Triple-A Salt Lake (LAA), hitting .178 with three home runs and 13 RBIs in 33 games. He made his Major League debut with the San Diego Padres in 2016 and also appeared with them in '17.

While with the Padres in 2016, Schimpf hit nine home runs in the month of July, setting the franchise's rookie record for most home runs in a calendar month. It also set the record for most home runs by a rookie second baseman in July. Schimpf went on to be selected as the National League's Rookie of the Month for July.

Schimpf finished out the 2016 campaign with 20 home runs, which were third-most on the Padres, despite playing in just 89 games. Schimpf notched 2.0 wins above replacement, which was third-best on the Padres that year, to go with a slash line of .217/.336/.533 and 51 RBIs. Schimpf appeared in 53 games with the Padres in 2017 and hit .158/.284/.429 with 14 home runs and 25 RBIs.

The Toronto Blue Jays selected Schimpf in the fifth round of the 2009 MLB Draft out of LSU. He spent seven seasons in the Blue Jays Minor League system, peaking at Triple-A, before signing with the Padres in November 2015. He was selected as an MiLB.com Organizational All-Star with the Blue Jays from 2012-15.

Through 10 professional seasons, Schimpf has appeared in 1,007 games and has hit .246/.340/.475 with 188 home runs and 559 RBIs. He's made 441 of his professional appearances at second base, also making 299 appearances at third base.

While at LSU, Schimpf, a native of Covington, La., was a member of their 2009 College World Series Championship team while also being selected 2009 College World Series All-Tournament Team. Schimpf was selected to the All-Southeastern Conference Second Team in 2009 and finished his LSU career in the top 10 in home runs and triples in school history.

The Skeeters, winners of the 2018 Atlantic League Championship, open the 2019 season on April 25 at Constellation Field against the Southern Maryland Blue Crabs. Season tickets and mini plans for the 2019 season are currently available and individual tickets will soon be made available. To purchase season tickets or mini plans, or for more information on ticketing, please visit sugarlandskeeters.com or call the TDECU Ticket Office at 281-240-4487.

Visit SugarLandSkeeters.com and follow us on Facebook, Instagram and Twitter (@SL_Skeeters) for all the latest team news and the latest on events to be hosted at Constellation Field.

About the Sugar Land Skeeters

The Skeeters play at Constellation Field, a state-of-the-art stadium located at the intersection of State Highway 6 and U.S. Highway 90A in Sugar Land. The Skeeters are a member of the Atlantic League of Professional Baseball (ALPB) and play 140 regular season games. The Skeeters Baseball Foundation promotes youth education and healthy activities lifestyles by providing support to culturally, racially and economically diverse areas of the community. For more information please call 281-240-4487 or visit sugarlandskeeters.com.

About The Atlantic League of Professional Baseball (ALPB)

With eight teams in Texas and the Mid-Atlantic, the ALPB is a leader in baseball innovation and a player gateway to Major League Baseball. Through its exclusive partnership with MLB, the Atlantic League tests Major League Baseball rules and equipment initiatives. The Atlantic League has sent over 900 players to MLB organizations while drawing more than 40 million fans to its affordable, family-friendly ballparks throughout its 22-year history.

For more information, please visit www.AtlanticLeague.com.

###