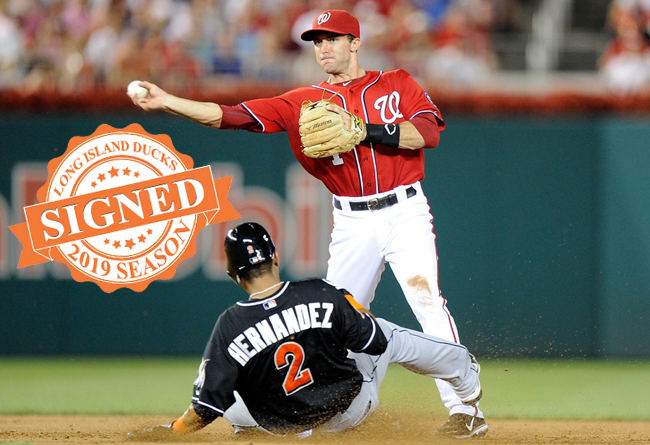 Ninth player with Major League experience added to 2019 roster

(Central Islip, N.Y., March 28, 2019) – The Long Island Ducks today announced the signing of infielder Steve Lombardozzi. The former Major Leaguer enters his first season with Long Island, second in the Atlantic League and 12th in professional baseball.

"Steve is a veteran player who has excelled at every level," said Ducks Manager Wally Backman. "He is terrific defensively, can play multiple positions and can swing the bat well."

Lombardozzi spent six seasons at the game's highest level, including three with the Washington Nationals (2011-13) and one apiece with the Baltimore Orioles (2014), Pittsburgh Pirates (2015) and Miami Marlins (2017). He appeared in 291 MLB games, compiling a .260 batting average, five home runs, 52 RBIs, 75 runs, 207 hits, 33 doubles and five triples. Defensively, he accrued a .987 fielding percentage while playing four different positions (second base, third base, shortstop and left field). The Minnesota native returned to Major League Baseball in 2017 after playing in the Atlantic League with the Southern Maryland Blue Crabs during the 2016 campaign. In 40 games, he posted a .367 batting average, a .401 on-base percentage, 20 RBIs, 21 runs and 61 hits.

The 30-year-old spent the 2018 season with the Triple-A Nashville Sounds in the Oakland Athletics organization. He played 120 games, hitting .243 with 42 RBIs, 67 runs, 100 hits, 15 doubles, 51 walks and a .993 fielding percentage. The St. Petersburg College alum previously earned back-to-back MiLB.com Organization All-Star selections with the Nationals organization in 2010 and 2011 and received an MiLB Gold Glove in 2011. He earned South Atlantic League Post-Season All-Star honors in 2009 after hitting .296 with 58 RBIs, 90 runs, 147 hits, 26 doubles and a .987 fielding percentage with the Hagerstown Suns. Lombardozzi was originally selected by the Nationals in the 19th round of the 2008 amateur draft.

The Long Island Ducks are members of the Atlantic League of Professional Baseball and play their home games at Bethpage Ballpark. For further information, call (631) 940-DUCK or visit www.liducks.com.

About the Atlantic League of Professional Baseball (ALPB)

With eight teams in the Mid-Atlantic and Texas, the ALPB is a leader in baseball innovation and a player gateway to Major League Baseball. Through its exclusive partnership with MLB, the Atlantic League tests Major League Baseball rules and equipment initiatives. The Atlantic League has sent over 900 players to MLB organizations while drawing more than 40 million fans to its affordable, family-friendly ballparks throughout its 22-year history.

For more information, please visit www.AtlanticLeague.com.

###