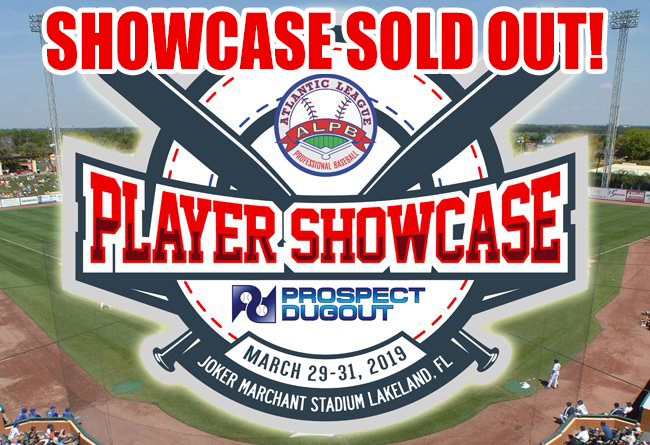 Over 250 players registered for three-day event in Lakeland, Fla.

(Lancaster, Pa., March 22, 2019) – The Atlantic League of Professional Baseball and Prospect Dugout (PD) announced today that the Player Showcase being held March 29th-31st at the TigerTown Complex in Lakeland, Fla. has sold out. More than 250 players have registered for the event, exceeding the league's initial forecasts.

"We are happy and grateful for the unforeseen demand for our event," said Atlantic League President Rick White. "We are looking forward to hosting highly skilled players and providing them the opportunity to advance their professional careers."

Showcase registrations have now been closed for the event. A limited number of spots will be held for players with qualifying Major League Baseball or Triple-A experience (minimum 150 at bats or 50.0 innings pitched). Please contact [email protected] for additional details.

Scouts from several organizations around Major League Baseball and representatives from other professional minor leagues have confirmed they will be attending the event. MLB clubs may sign a player at any time during the event, and at the conclusion of the showcase, each ALPB club will sign at least one Showcase player to a 2019 contract.

The event will be designed and produced by ALPB managers and coaches in conjunction with Prospect Dugout experts and is closed to the publics. Following is the format for the event:

Friday: Warm up and extended pro-style workout/evaluations, including 60-yard dash, fielding, throwing, batting practice; pitcher bullpen sessions

Saturday: Cut downs and live game situation, with umpires; pitchers one inning or no more than 30 pitches

Sunday: Live game situation, with umpires; pitchers one inning or no more than 30 pitches; ALPB player draft and signings at the conclusion of the Showcase

About Prospect Dugout Prospect

Dugout provides exposure, information, and instruction for baseball players seeking to transition to the next level of diamond sports development. PD resources benefit professional, college, high school, and youth baseball players. Founded in 2015, Prospect Dugout connects diamond sports players and coaches around the world. A digital resource initially built to help aspiring high school players get exposure for college, Prospect Dugout now directly impacts all levels of baseball, including Major League Baseball.

About the Atlantic League of Professional Baseball (ALPB)

With eight teams in the Mid-Atlantic and Texas, the ALPB is a leader in baseball innovation and a player gateway to Major League Baseball. Through its exclusive partnership with MLB, the Atlantic League tests Major League Baseball rules and equipment initiatives. The Atlantic League has sent over 900 players to MLB organizations while drawing more than 40 million fans to its affordable, family-friendly ballparks throughout its 22-year history.

For more information, please visit www.AtlanticLeague.com.

###