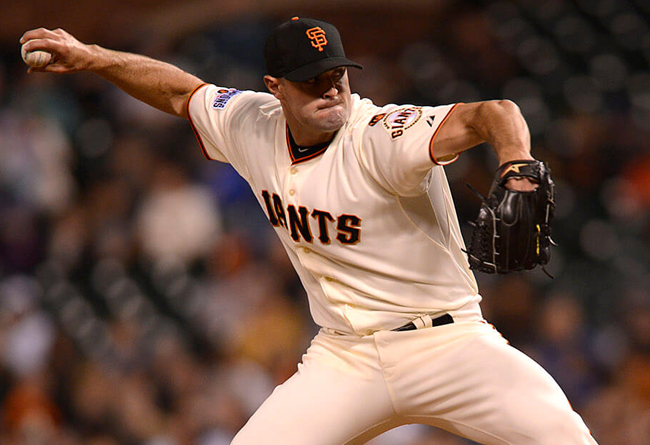 (Bridgewater, N.J., March 21, 2019) - The Somerset Patriots today announced the signing of Major League right-handed pitcher Mike Broadway for the 2019 season.

"I'm excited to get to work," said Broadway. "I've heard good things about the Patriots and the Atlantic League. I'm looking forward to it. I'm ready to get started."

Broadway enters his first season with the Somerset Patriots and first in the Atlantic League. The 6'5" righty appeared in 25 games spread across two seasons (2015-'16) as a relief pitcher for the San Francisco Giants. There, Broadway struck out 17 batters and finished seven ballgames over 22.2 innings of work.

The Paducah, Kentucky native was originally a fourth round draft pick by the Atlanta Braves in 2005. He spent the first seven years of his professional career in the Braves organization before making stops with the San Diego Padres, Washington Nationals and ultimately the Giants. His best professional season came with Triple-A Sacramento (Giants) in 2015, where he went 2-0 with a 0.93 ERA, 13 saves and 64 strikeouts over 48.1 innings of work, earning a mid-season promotion.

Nicknamed "Bone Crusher," Broadway has since spent time back in the Nationals organization, along with the Tampa Bay Rays and Kansas City Royals systems. He most recently split his 2018 season between Double-A Montgomery (Rays) and Triple-A Omaha (Royals). He combined to go 6-3 with two saves and 61 strikeouts over 49.1 innings in his two 2018 stops.

"Mike will be a very nice addition to our bullpen in 2019," said Somerset Patriots manager Brett Jodie. "Mike is a righty who can pitch in a variety of roles for our team. We look for Broadway to be a potential late-inning guy for us. He has a bunch of high-level experience, which makes him mature and capable to handle whatever he may encounter in our league. We have received great reports on Mike and feel he will not only be a great asset to our staff, but also a great person in our locker room."

The Pope County High School (Golconda, Illinois) alumnus has won 37 games with 30 saves and 552 strikeouts over his 14-year minor league career, mainly as a relief pitcher.

The Somerset Patriots will be back in action on Friday, April 26th for Opening Day at TD Bank Ballpark. Stay up to date on all the team news throughout the offseason online; on all of our social media platforms, and on our mobile app. For more information, visit www.somersetpatriots.com.

About the Atlantic League of Professional Baseball (ALPB)

With eight teams in the Mid-Atlantic and Texas, the ALPB is a leader in baseball innovation and a player gateway to Major League Baseball. Through its exclusive partnership with MLB, the Atlantic League tests Major League Baseball rules and equipment initiatives. The Atlantic League has sent over 900 players to MLB organizations while drawing more than 40 million fans to its affordable, family-friendly ballparks throughout its 22-year history.

For more information, please visit www.atlanticleague.com.

###