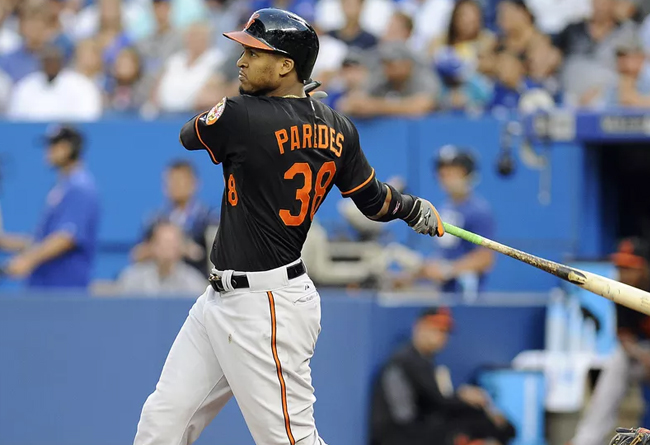 (Bridgewater, N.J., March 19, 2019) - The Somerset Patriots today announced that six-year Major Leaguer Jimmy Paredes has been signed for the 2019 season. He was acquired in a trade with the Lancaster Barnstormers for a player to be named later.

"I'm feeling good; ready to starting playing again," said Paredes. "I can't wait to until I get to Somerset with the team and we get started."

Paredes enters his first season with the Somerset Patriots and second in the Atlantic League. He briefly appeared in 21 games with Lancaster last year, slashing .363 with three home runs and 14 RBI over 21 games.

The Dominican Republic countryman spent parts of 2011-2016 in the Major Leagues, split between five different teams. He broke into the "bigs" with the Houston Astros in 2011 after he was acquired in a trade with right-handed pitcher Mark Melancon from the New York Yankees for 1B/OF Lance Berkman. Paredes spent three seasons with the Astros before he split 2014 between the Kansas City Royals and Baltimore Orioles.

His best season in the Majors came in 2015 with the Orioles, where he hit .275 over 104 games with 10 home runs and 42 RBI. Paredes then played seven games with the Blue Jays to begin 2016 before finishing the season with 76 games in a Philadelphia Phillies uniform.

The switch hitter hit .251 with 20 home runs, 100 RBI and 19 stolen bases over 332 games at the big league level.

"We are thrilled to be joined by Jimmy Paredes this year," said Somerset Patriots manager Brett Jodie. "Paredes is a true professional switch hitter who brings a lot of experience to our lineup. He will be a nice presence and a tough out in the middle of our batting order. Jimmy can play a variety of positions for our club and we are excited to get him here to see where he fits best."

Paredes was named a Mid-Season All-Star three separate times in his minor league baseball career (2009, 2011 and 2012). His best minor league season came as a part of that 2012 campaign where he hit .318 with 13 home runs, 59 RBI and 37 stolen bases over 124 games with Triple-A Oklahoma City.

The 30 year-old owns a .289 average with 54 home runs, 345 RBI and 190 stolen bases over 10 professional seasons in minor league baseball.

The Somerset Patriots will be back in action on Friday, April 26th for Opening Day at TD Bank Ballpark. Stay up to date on all the team news throughout the offseason online; on all of our social media platforms, and on our mobile app. For more information, visit www.somersetpatriots.com.

About the Atlantic League of Professional Baseball (ALPB)

With eight teams in the Mid-Atlantic and Texas, the ALPB is a leader in baseball innovation and a player gateway to Major League Baseball. Through its exclusive partnership with MLB, the Atlantic League tests Major League Baseball rules and equipment initiatives. The Atlantic League has sent over 900 players to MLB organizations while drawing more than 40 million fans to its affordable, family-friendly ballparks throughout its 22-year history.

For more information, please visit www.atlanticleague.com.

###