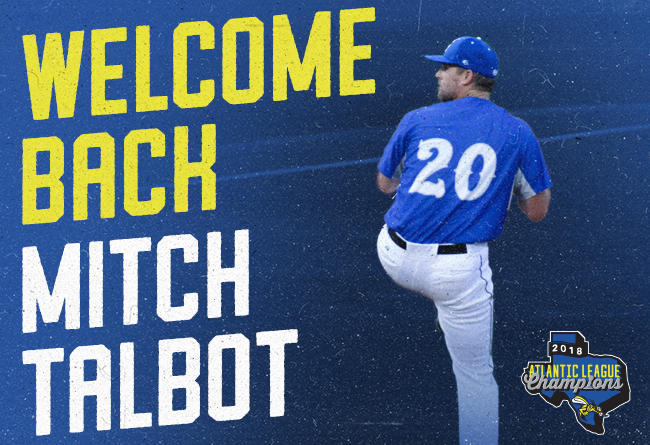 (Sugar Land, Texas, March 6, 2019) - The Sugar Land Skeeters today announced that they've re-signed former Major League right-hander Mitch Talbot.

Talbot, 35, made five starts for the Skeeters in 2018, going 3-1 with a 1.93 ERA, before having his contract purchased by the Cleveland Indians. Talbot made 18 appearances (17 starts) with Triple-A Columbus last season and went 4-5 with a 2.52 ERA and 1.158 WHIP.

The Cedar City, Utah native made his Skeeters debut in 2017 and went 9-3 with a 3.30 ERA in 21 games. His ERA was the second-lowest of Skeeters pitchers with at least 100 innings pitched that season.

Talbot made his Major League debut with the Tampa Bay Rays in 2008 and also appeared with the Cleveland Indians from 2010-11. Through three Major League seasons, Talbot is 12-19 with a 5.30 ERA in 43 games (232.2 IP). In 2010, he was second on the Indians with 10 wins, third with 159 ⅓ innings pitched and third with 88 strikeouts. His 10 wins in 2010 also placed him second amongst American League rookies.

The Houston Astros drafted Talbot in the 2002 MLB Draft out of Canyon View High School (Cedar City, Utah). Talbot pitched four seasons in the Astros farm system before being traded to the Tampa Bay Rays, with three-time MLB All-Star Ben Zobrist, in July 2006. He was then traded to the Cleveland Indians in December 2009.

Along with the Astros, Rays and Indians, Talbot has also pitched at the affiliated level with the Miami Marlins and New York Mets. He's pitched at the professional level with the Hanwha Eagles and Samsung Lions of the Korea Baseball Organization as well. Talbot first joined the Atlantic League in 2014 with the Long Island Ducks.

Talbot is set to enter his 16th season at the professional level. Through 345 career appearances at the professional level, Talbot is 127-101 with a 3.92 ERA and one save in 1,814 ⅓ innings pitched.

The Skeeters, winners of the 2018 Atlantic League Championship, open the 2019 season April 25 at Constellation Field against the Southern Maryland Blue Crabs. Season tickets and mini plans for the 2019 season are currently available and individual tickets will soon be made available. To purchase season tickets or mini plans, or for more information on ticketing, please visit sugarlandskeeters.com or call the TDECU Ticket Office at 281-240-4487.

Visit SugarLandSkeeters.com and follow us on Facebook, Instagram and Twitter (@SL_Skeeters) for all the latest team news and the latest on events to be hosted at Constellation Field.

About the Sugar Land Skeeters

The Skeeters play at Constellation Field, a state-of-the-art stadium located at the intersection of State Highway 6 and U.S. Highway 90A in Sugar Land. The Skeeters are a member of the Atlantic League of Professional Baseball (ALPB) and play 140 regular season games. The Skeeters Baseball Foundation promotes youth education and healthy activities lifestyles by providing support to culturally, racially and economically diverse areas of the community. For more information please call 281-240-4487 or visit sugarlandskeeters.com.

About The Atlantic League of Professional Baseball (ALPB)

With eight teams in Texas and the Mid-Atlantic, the ALPB is a leader in baseball innovation and a player gateway to Major League Baseball. Through its exclusive partnership with MLB, the Atlantic League tests Major League Baseball rules and equipment initiatives. The Atlantic League has sent over 900 players to MLB organizations while drawing more than 40 million fans to its affordable, family-friendly ballparks throughout its 22-year history.

For more information, please visit www.AtlanticLeague.com.

###