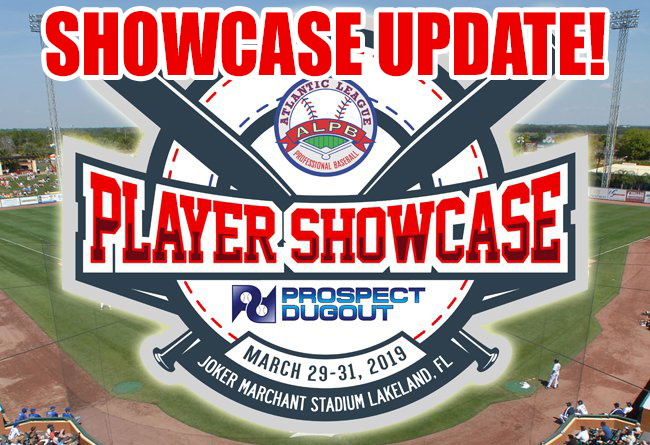 Sign up soon to take advantage of pre-registration pricing

(Lancaster, Pa., March 5, 2019) – Pre-event player registrations for the Atlantic League's Player Showcase in Lakeland, Fla. have been increasing at a rapid rate. Through Sunday, March 3, player registrations have more than doubled ALPB forecasts. The Showcase will take place Friday, March 29th, through Sunday, March 31st, at TigerTown's Joker Marchant Stadium and will be presented and co-produced by Prospect Dugout (PD).

"We have been overwhelmed by player responses to date and hope players will sign up before all spots are taken," said Atlantic League President Rick White. "This is a great opportunity for them to earn a contract with a professional ballclub, and we look forward to watching them take the field."

The Atlantic League will hold spots for AAA and MLB free agents, including those released late in Spring Training. "Our goal is to attract the best players possible," said White, who continued, "We want to be fair to those high-level players who would naturally gravitate to the Atlantic League."

Over two dozen Major League Baseball clubs are expected to attend the Player Showcase. Representatives from other professional minor leagues, including the Mexican League, Frontier League, American Association and Can Am league have requested credentials. The event is closed to the general public.

Due to the showcase nearing capacity, pre-registration for the event will close on Friday, March 15th. Those interested in signing up at the early bird rates of $150 or $250, depending on previous playing experience, are encouraged to register today by CLICKING HERE. Following March 15, players will still be permitted to register via the Prospect Dugout website at the rate of $350.

"There has been a tremendous amount of excitement building among ballplayers, ALPB managers and MLB organizations regarding the Player Showcase," said Prospect Dugout Co-Founder Craig Maddox. "This will be a can't-miss event for those seeking to play professionally in 2019."

The Atlantic League Player Showcase will provide a performance platform to highly skilled baseball players wishing to advance their careers with professional baseball organizations. The purpose of the Showcase is to promote player signings by MLB organizations and Atlantic League teams. MLB clubs may sign a player at any time during the event, and at the conclusion of the showcase, each ALPB club will sign at least one Showcase player to a 2019 contract.

CLICK HERE for further details about the Player Showcase

About Prospect Dugout

Prospect Dugout provides exposure, information, and instruction for baseball players seeking to transition to the next level of diamond sports development. PD resources benefit professional, college, high school, and youth baseball players.

Founded in 2015, Prospect Dugout connects diamond sports players and coaches around the world. A digital resource initially built to help aspiring high school players get exposure for college, Prospect Dugout now directly impacts all levels of baseball, including Major League Baseball.

About the Atlantic League of Professional Baseball (ALPB)

With eight teams in the Mid-Atlantic and Texas, the ALPB is a leader in baseball innovation and a player gateway to Major League Baseball. Through its exclusive partnership with MLB, the Atlantic League tests Major League Baseball rules and equipment initiatives. The Atlantic League has sent over 900 players to MLB organizations while drawing more than 40 million fans to its affordable, family-friendly ballparks throughout its 22-year history.

For more information, please visit www.AtlanticLeague.com.

###