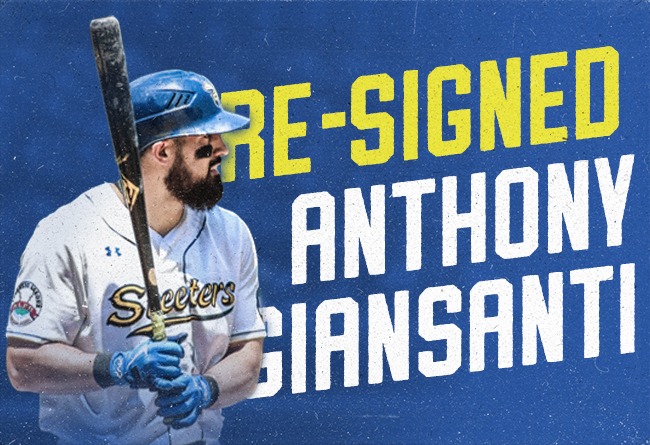 (Sugar Land, Texas, Feb. 28, 2019) - The Sugar Land Skeeters today announced that they've re-signed their 2018 Most Valuable Player, Anthony Giansanti.

Giansanti, 30, was selected as the 2018 Skeeters MVP after hitting .297/.357/.456 with 17 home runs, 58 RBIs and 35 stolen bases. He was also selected to the Atlantic League's Post-Season All-Star Team as well as the league's Red White & Blue All-Defensive Team.

The Connecticut native hit .310 with a home run and four RBIs in 10 postseason games last season as the Skeeters went on to win the 2018 Atlantic League Championship.

Giansanti ranked fifth in the Atlantic League last season in stolen bases, sixth in runs (79), seventh in home runs and was tied for 10th in slugging percentage (.456). He made 40 appearances in the outfield and infield last season and was just one of two players in the league to accomplish the feat.

"I'm really excited to be back with the Skeeters organization and to be able to play in front of this fan base once again," Giansanti said. "Last season was amazing and I can't wait to get back with the guys and bring another championship to Sugar Land."

Giansanti ranks fifth in Skeeters history in games played (243), fifth in runs scored (128), tied for fourth in hits (264), fifth in doubles (64), fifth in home runs (26), eighth in RBIs (110) and second in stolen bases (66). His 35 stolen bases in 2018 were the fourth-most in a single season in Skeeters history and his 17 home runs were tied for fifth-most.

The 2017 Atlantic League All-Star also holds the Skeeters franchise record with a 26-game hitting streak, which he accomplished in 2017. Giansanti first appeared in the Atlantic League in 2016 with the Bridgeport Bluefish.

The Oakland A's took Giansanti in the 49th round of the 2009 MLB Draft out of Sienna College. He first appeared at the professional level in 2010 with the Chicago Cubs and played within the Cubs farm system from 2010-16, peaking at Triple-A.

Through nine professional seasons, totaling 826 games, Giansanti has hit .265/.320/.381 with 53 home runs, 343 RBIs and 100 stolen bases.

The Skeeters, winners of the 2018 Atlantic League Championship, open the 2019 season April 25th at Constellation Field against the Southern Maryland Blue Crabs. Season tickets and mini plans for the 2019 season are currently available and individual tickets will soon be made available. To purchase season tickets or mini plans, or for more information on ticketing, please visit sugarlandskeeters.com or call the TDECU Ticket Office at 281-240-4487.

Visit SugarLandSkeeters.com and follow us on Facebook, Instagram and Twitter (@SL_Skeeters) for all the latest team news and the latest on events to be hosted at Constellation Field.

About the Sugar Land Skeeters

The Skeeters play at Constellation Field, a state-of-the-art stadium located at the intersection of State Highway 6 and U.S. Highway 90A in Sugar Land. The Skeeters are a member of the Atlantic League of Professional Baseball (ALPB) and play 140 regular season games. The Skeeters Baseball Foundation promotes youth education and healthy activities lifestyles by providing support to culturally, racially and economically diverse areas of the community. For more information please call 281-240-4487 or visit sugarlandskeeters.com.

About The Atlantic League of Professional Baseball (ALPB)

With eight teams in Texas and the Mid-Atlantic, the ALPB is a leader in baseball innovation and a player gateway to Major League Baseball. Through its exclusive partnership with MLB, the Atlantic League tests Major League Baseball rules and equipment initiatives. The Atlantic League has sent over 900 players to MLB organizations while drawing more than 40 million fans to its affordable, family-friendly ballparks throughout its 22-year history.

For more information, please visit www.AtlanticLeague.com.

###