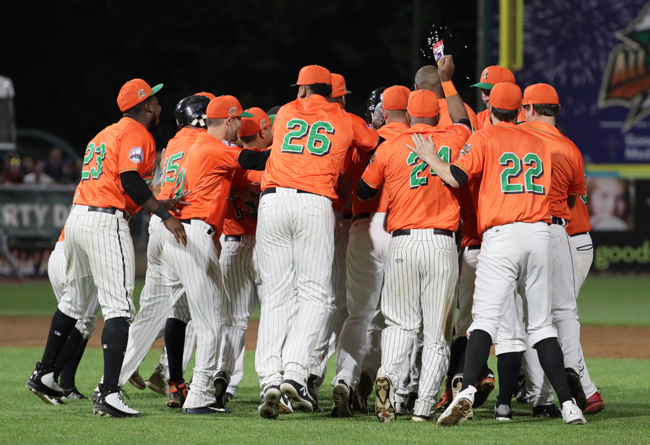 Alfredo Rodriguez's RBI single in ninth breaks 3-3 tie; shortstop claims MVP honors

(Photo courtesy of Dan DeMato)

(Central Islip, N.Y., July 11, 2018) – The Liberty Division defeated the Freedom Division 4-3 in walk-off fashion on Wednesday night in the 2018 Atlantic League All-Star Game, presented by Good Samaritan Hospital Medical Center. The game was played before a past-capacity crowd of 6,414 at Bethpage Ballpark in Central Islip, N.Y., the home of the Long Island Ducks.

The Liberty Division took an early 1-0 lead on a first inning home run to right field by Somerset Patriots outfielder Julio Borbon. The Freedom Division responded with a three-run third inning, highlighted by a two-run single from Southern Maryland's Frank Martinez and a run-scoring groundout from York's Welington Dotel.

It stayed that way until the bottom of the fifth when an RBI double by Somerset's Mike Fransoso and an RBI single by Somerset's Alfredo Rodriguez tied the ballgame at three. Neither side could push across the go-ahead run until the bottom of the ninth, when Rodriguez's two-out RBI single to left gave the Liberty Division the walk-off victory.

Neither starter factored into the decision. Long Island Ducks lefty Bennett Parry tossed a perfect inning for the Liberty Division, striking out one. York Revolution southpaw Robert Carson allowed one run on one hit in one inning for the Freedom Division. New Britain Bees righty Evan Scribner earned the win with a perfect ninth inning, striking out the side. Sugar Land Skeeters righty Felipe Paulino took the loss, yielding a run on two hits and a walk in the ninth.

Rodriguez finished the night with three hits, two RBIs and a walk. He was named the All-Star Game Most Valuable Player following the jubilant celebration.

The Long Island Ducks are members of the Atlantic League of Professional Baseball and play their home games at Bethpage Ballpark. For further information, call (631) 940-DUCK or visit www.liducks.com.

About the Atlantic League of Professional Baseball (ALPB)

The Atlantic League has been a leader in professional baseball and a gateway to Major League Baseball since 1998. Over 38 million fans have attended Atlantic League games and more than 900 players and 50 managers and coaches have joined MLB organizations directly from the ALPB. The Atlantic League emphasizes winning baseball games, showcasing the talent of top-caliber players and offering affordable family entertainment.

For more information, please visit www.atlanticleague.com.

###


Game Date: 07/11/2018
Freedom Division  3 AT Liberty Division  4

                                 YTD                                   YTD
Freedom            AB  R  H BI   AVG  Liberty            AB  R  H BI   AVG
Sandford, D CF      2  1  0  0  .000  Valdespin, J 2B     3  0  1  0  .333
 Mitchell, J RF     1  0  1  0 1.000  Borbon, J CF        4  1  1  1  .250
Martinez, F 3B      4  0  1  2  .250  Ford, L DH          3  0  1  0  .333
Dotel, W LF         3  0  0  1  .000  Rogers, J 1B        2  0  0  0  .000
 Vaughn, C CF       1  0  0  0  .000   Washington, D 1B   1  0  0  0  .000
Gailen, B LF,RF     2  0  0  0  .000  Walton, J RF        1  0  0  0  .000
Chavez, M 1B        3  0  0  0  .000   Galvez, J LF       1  0  0  0  .000
 Rodriguez, D 1B    1  0  0  0  .000  Romero, D 3B        2  1  1  0  .500
Frias, V SS         2  0  1  0  .500   Pierre, G 3B       2  1  0  0  .000
 Cordero, A 2B      2  0  0  0  .000  Fransoso, M LF,RF   4  1  2  1  .500
Hawkins, C DH       4  1  1  0  .250  Cabrera, R C        2  0  0  0  .000
Casteel, R C        3  0  0  0  .000   Wenrich, I C       2  0  0  0  .000
Garcia, E 2B,SS     3  1  1  0  .333  Rodriguez, A SS     3  0  3  2 1.000
                   31  3  5  3                           30  4  9  4

Freedom              0 0 3   0 0 0   0 0 0 -  3  5  1
Liberty              1 0 0   0 2 0   0 0 1 -  4  9  0
2B--Garcia, E 2B,SS (1), Romero, D 3B (1), Fransoso, M LF,RF (1).
HR--Borbon, J CF (1). RBI--Martinez, F 3B  2 (2), Dotel, W LF (1), TOTALS 
3 (0), Borbon, J CF (1), Fransoso, M LF,RF (1), Rodriguez, A SS  2 (2),
TOTALS  4 (0). SB--Sandford, D CF (1), Martinez, F 3B (1), Valdespin, J 2B
(1), Fransoso, M LF,RF (1). CS--Rodriguez, A SS (1). E--Casteel, R C (1). 
LOB--Freedom 4, Liberty 6. DP--A. Cordero(2B) - E. Garcia(SS) - M.
Chavez(1B), A. Cordero(2B) - E. Garcia(SS) - M. Chavez(1B), J.
Valdespin(2B) - G. Pierre(3B) - D. Washington(1B), V. Frias(SS) - K.
Wade(P) - M. Chavez(1B), R. Casteel(C) - E. Garcia(2B). 
                                                                YTD
                                 IP   H   R  ER  BB  SO  HR     ERA
 Freedom
Carson, R                       1.0   1   1   1   0   0   1    7.00
Atkins, M                       1.0   0   0   0   1   0   0    0.00
Wade, K                         1.0   2   0   0   0   0   0    0.00
Reed, N                         1.0   1   0   0   0   0   0    0.00
Runion, S                       1.0   3   2   2   0   0   0   14.00
Sides, G                        1.0   0   0   0   1   0   0    0.00
Granitz, G                      1.0   0   0   0   0   0   0    0.00
Shuman, S                       1.0   0   0   0   2   2   0    0.00
Paulino, F (L,0-1)              0.2   2   1   1   1   0   0   10.50
                              8.2     9   4   4   5   2   1
 Liberty
Parry, B                        1.0   0   0   0   0   1   0    0.00
Riordan, C                      1.0   0   0   0   0   0   0    0.00
Fisher, J                       1.0   3   3   3   2   1   0   21.00
Lara, R                         1.0   1   0   0   0   1   0    0.00
Below, D                        1.0   0   0   0   0   0   0    0.00
Cruz, L                         1.0   0   0   0   1   1   0    0.00
Perez, W                        1.0   0   0   0   0   0   0    0.00
Johnston, A                     1.0   1   0   0   0   0   0    0.00
Scribner, E (W,1-0)             1.0   0   0   0   0   3   0    0.00
                                9     5   3   3   3   7   0
WP--Shuman, S (1). SO--Sandford, D, Rodriguez, D, Cordero, A 2, Hawkins, C,
Casteel, R 2, Borbon, J, Washington, D. BB--Sandford, D, Gailen, B 2,
Valdespin, J, Washington, D, Walton, J, Galvez, J, Rodriguez, A.
BF--Carson, R 4 (4), Atkins, M 3 (3), Wade, K 4 (4), Reed, N 3 (3), Runion,
S 5 (5), Sides, G 4 (4), Granitz, G 3 (3), Shuman, S 5 (5), Paulino, F 5
(5), Parry, B 3 (3), Riordan, C 3 (3), Fisher, J 8 (8), Lara, R 4 (4),
Below, D 3 (3), Cruz, L 3 (3), Perez, W 3 (3), Johnston, A 4 (4), Scribner,
E 3 (3). P-S--Carson, R 13-7, Atkins, M 11-5, Wade, K 12-7, Reed, N 14-12,
Runion, S 14-9, Sides, G 17-10, Granitz, G 9-6, Shuman, S 22-9, Paulino, F
20-10, Parry, B 10-8, Riordan, C 10-7, Fisher, J 34-19, Lara, R 11-8,
Below, D 11-6, Cruz, L 13-8, Perez, W 11-8, Johnston, A 14-11, Scribner, E
13-10. 
T--2:36.  A--6414

Plate Umpire - Matt Kane, Field Umpire #1 - Frank Iurilli, Field Umpire #2 - John Grasso, Field Umpire #3 - Kris Engstrand