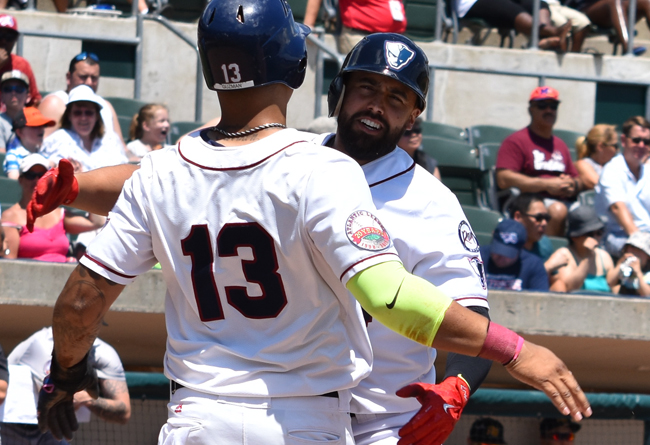 (Bridgewater, N.J., Aug. 17, 2017) - The Somerset Patriots have announced that outfielder Christian Marrero's contract has been purchased by the Philadelphia Phillies. He is expected to report to Double-A.

In his first season with the Somerset Patriots and in the Atlantic League, Marrero was hitting .295 with 43 hits, 10 doubles, three home runs and 24 RBI in 41 games before having his contract purchased.

Marrero began the 2017 season with Quintana Roo of the Mexican League, where he hit seven home runs and drove in 23 RBI in 47 games.

The Florida native was originally drafted by the Chicago White Sox in the 22nd round of the 2005 MLB June Amateur Draft out of Broward Community College. Marrero spent his first six seasons with the White Sox organization, working his way to AA-Birmingham.

Coming into this season, Marrero had service in the last eight seasons at either the AA or AAA level. This included time spent as a member of the Philadelphia Phillies, White Sox, Atlanta Braves, and Pittsburgh Pirates organizations.

His best season came in 2015 with Birmingham, where Marrero batted .282 with 13 home runs and 63 RBI. His standout season resulted in Marrero being named a 2015 Chicago White Sox Organizational All-Star as an outfielder. He continued his strong play into the post-season, earning All-Star honors again in the Southern League Playoffs.

Marrero owned a .273 career batting average with 163 home runs, 728 RBI and 609 runs scored in 1,323 career games before the 2017 season.

Marrero becomes the 11th Somerset Patriot to have his contract purchased by a Major League organization this season. Pitchers Logan Darnell (Tampa Bay Rays and Los Angeles Dodgers), Jeremy Bleich (Los Angeles Dodgers), Tyler Cloyd and Ryan Kelly (Seattle Mariners), Aaron Laffey (Arizona Diamondbacks), Vin Mazzaro (Cincinnati Reds), and Mitch Atkins (New York Mets), along with outfielder Jerry Sands (San Francisco Giants) and infielder Tyler Bortnick (Milwaukee Brewers) have all had their contracts purchased this season.

Tickets to the 2017 Somerset Patriots Season presented by Ford, which includes the team's 20th Anniversary, are on sale now. For more information, stop by the ballpark, call (908) 252-0700, or visit www.somersetpatriots.com.

About The Atlantic League of Professional Baseball (ALPB)

The Atlantic League has been a leader in professional baseball and a gateway to Major League Baseball since 1998. Over 37 million fans have attended Atlantic League games and more than 800 players and 50 managers and coaches have joined MLB organizations directly from the ALPB. The Atlantic League emphasizes winning baseball games, showcasing the talent of top-caliber players and offering affordable family entertainment to metropolitan markets serving nearly 15% of the US population.

For more information, please visit www.atlanticleague.com.

###