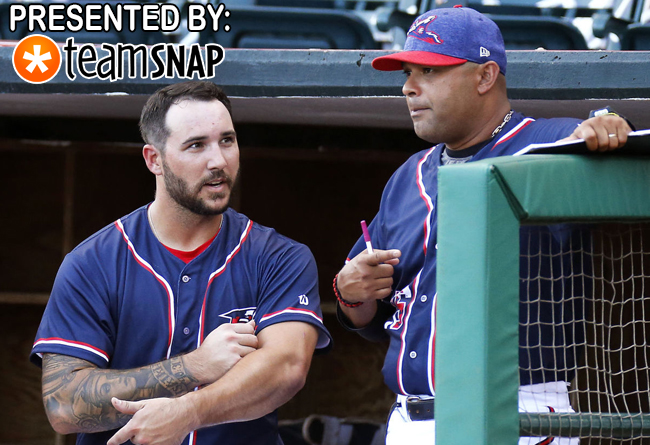 The San Francisco Giants have strengthened their minor league system with the acquisition of six Atlantic League players since the beginning of this season.

The Giants' Double-A affiliate, the Richmond Flying Squirrels, now include Jerry Sands (SOM), Cody Hall (LAN), K.C Hobson (LAN), Nate Reed (LAN), Caleb Gindl (LAN), and Jarrett Martin (YRK) on their roster.

Pitcher Cody Hall's 2.63 ERA and 2-2 record over 12 games shows promise. The former Lancaster Barnstormer has surrendered just 4 earned runs in 13.2 innings, allowing 11 hits and five walks to go with 16 strikeouts.

Jarrett Martin, a York Revolution alumnus, has appeared in 22 games since joining the ballclub. With a 3.04 ERA and 2-2 record, but with 16 walks in only 23.2 innings, Martin has struggled to find the strike zone. He has 23 strikeouts against 97 batters faced.

Nate Reed, formerly of the Barnstormers, has suited up in only five games since having his contract purchased. Reed's 8.03 ERA is due to the 35 hits he's allowed in only 24.2 innings pitched. Reed's only win came against Harrisburg on July 2nd, where he went seven innings on only two earned runs.

Outfielder Caleb Gindl has appeared in 13 games, going 11-48 with two homeruns and five RBI's. Known for his ability to drive the ball, Gindl is already putting his power on display.

In 36 games with the Flying Squirrels, Jerry Sands has 147 plate appearances where he's hitting .277/.361/.454, ranking among team's leaders'.

K.C Hobson is currently switching between first base and outfield and is hitting .237 with only 27 games played since joining the Flying Squirrels in late June. Going 23-97, Hobson has hit six homeruns, tied for third best on the ballclub.

So far this year, more than three dozen Atlantic League players have had their contracts purchased by MLB organizations, including the Giants, Dodgers, Red Sox, Rangers, Diamondbacks, Mariners, Nationals, Brewers, Twins, Astros, Rays, Mets, and Reds.

About the Atlantic League of Professional Baseball (ALPB)

The Atlantic League has been a leader in professional baseball and a gateway to Major League Baseball since 1998. Over 37 million fans have attended Atlantic League games and more than 800 players and 50 managers and coaches have joined MLB organizations directly from the ALPB. The Atlantic League emphasizes winning baseball games, showcasing the talent of top-caliber players and offering affordable family entertainment to metropolitan markets serving nearly 15% of the US population.

For more information, please visit www.AtlanticLeague.com.

Presented by TeamSnap, the Official Communications App of Atlantic League Professional Baseball