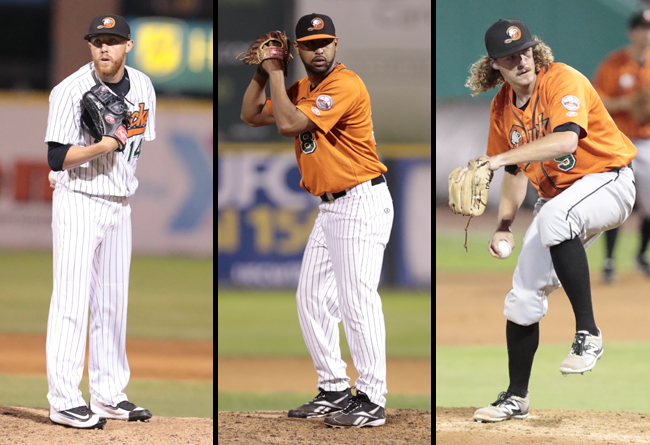 Crider, Diaz and Treece signed by Long Island

(Central Islip, N.Y., March 16, 2017) – The three-time Atlantic League champion Long Island Ducks today announced the signings of left-handed pitcher Patrick Crider and right-handed pitchers Amalio Diaz and Zac Treece. Crider and Diaz each begin their third season with Long Island, while Treece returns to the Ducks after pitching for the team in the 2016 playoffs.

"Our bullpen was one of the strongest aspects of our team this past season," said Ducks President/GM Michael Pfaff. "Patrick and Amalio have done a great job in their late-inning roles, and Zac truly impressed us in the postseason last year. We are happy to have all three of them back with the club."

Crider appeared in a team-high 61 games during the 2016 season, tied for the second-most among all Atlantic League pitchers. He compiled a 3-2 record with a 1.67 ERA and 38 strikeouts in 43 innings of work. The southpaw began the year with nine consecutive scoreless outings and did not allow an earned run in his first 15 games. He then went on to make 26 straight scoreless appearances between May 28 and August 3, yielding just six hits while striking out 18 in that span. The 29-year-old was selected to his first Atlantic League All-Star Game and later pitched in four postseason games for the Flock.

The Kentucky native also spent 2015 with Long Island and was tied with Diaz for the league lead in appearances (60). He posted a 2-1 record with a 3.44 ERA, one save and 48 strikeouts in 55 innings. His best stretch came from May 19 to June 11 when he allowed just one run in 11 games, spanning a total of 10 and one-third innings. Prior to joining the Ducks, the reliever spent five seasons in the Frontier League with the Evansville Otters and River City Rascals. During that time, he totaled a 17-7 record with a 3.00 ERA and 212 strikeouts in 195 innings of work.

Diaz pitched in 52 games for the Ducks in 2016 and led all Ducks relief pitchers with 69 strikeouts. He ended the year with a 5-2 record, a 2.09 ERA, five saves and just 10 walks allowed in 51 and two-thirds innings. In addition, he had stretches of 13 (May 17 to June 17) and nine (July 16 to August 5) consecutive games without allowing a run. The Venezuela native went on to appear in six postseason games for Long Island, yielding just three hits and two walks while striking out nine in six innings.

The 30-year-old spent the 2015 campaign with the Ducks as well. In his 60 games, he turned in a 2.77 ERA, 14 saves and 69 strikeouts to just 17 walks over 58 and one-third innings of work. He tossed 16 consecutive scoreless innings between May 30 and July 1, striking out 19 batters without allowing a single walk. Prior to joining the Ducks, the righty spent seven seasons in the Los Angeles Angels organization and one in the Los Angeles Dodgers organization. Diaz was originally signed as a free agent by the Angels in 2005.

Treece was acquired by the Ducks from the River City Rascals in September of 2016. He made four postseason appearances with Long Island, pitching three and two-thirds scoreless innings and allowing just one hit and one walk while striking out six. Before joining the Ducks, he led all Rascals pitchers with a 1.86 ERA, struck out more batters (75) than any other reliever on the team and was second in the Frontier League with 22 saves. The 27-year-old threw 48 and one-third innings over 41 games and posted a 3-1 record while walking just 15 batters. He also earned an All-Star Game selection and collected a pair of saves in two scoreless postseason outings.

The Arkansas native has spent most of the first five seasons of his career in the Frontier League. In addition to River City, he has pitched for the Gateway Grizzlies and Lake Erie Crushers, as well as making an appearance with the Gary SouthShore RailCats of the American Association. The righty earned All-Star selections in 2013 and 2014 and reached the playoffs in every season except 2013. He enters 2016 with a 19-11 career record, a 2.76 ERA, 34 saves and 318 strikeouts in 194 games (12 starts).

The Long Island Ducks are members of the Atlantic League of Professional Baseball and play their home games at Bethpage Ballpark. For further information, call (631) 940-DUCK or visit www.liducks.com.

About the Atlantic League of Professional Baseball (ALPB)

The Atlantic League has been a leader in professional baseball and a gateway to Major League Baseball since 1998. Over 36 million fans have attended Atlantic League games and more than 800 players and 50 managers and coaches have joined MLB organizations directly from the ALPB. The Atlantic League emphasizes winning baseball games, showcasing the talent of top-caliber players and offering affordable family entertainment to metropolitan markets serving nearly 15% of the US population.

For more information, please visit www.atlanticleague.com.

###