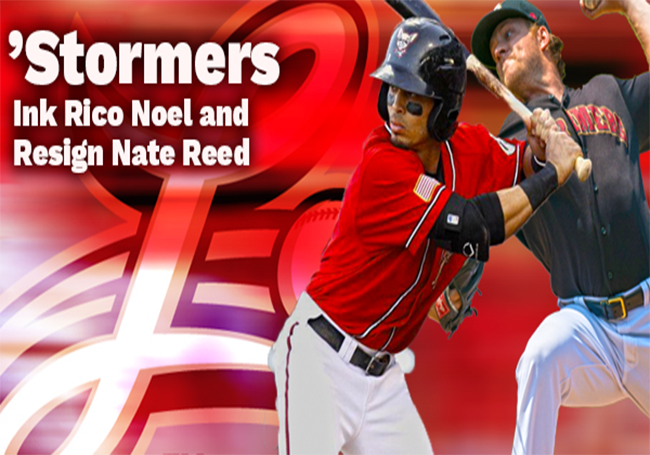 Ex-Yankee pinch runner Noel also added to roster

(Lancaster, Pa., March 9, 2017) - The Lancaster Barnstormers have reacquired left-handed pitcher Nate Reed from the York Revolution, it was announced today by manager Ross Peeples. York will receive a player at a later date.

In addition, former stolen base king Rico Noel has signed with the Barnstormers for 2017.

Reed, 29, has spent two prior seasons with the Barnstormers. The Reading-area native went 6-5 with a 2.87 ERA and one save in 45 appearances during the 2013 campaign. Following that year, the former Seattle farmhand was signed by the Boston Red Sox and appeared in 26 games in their organization in 2014.

A Kutztown product, Reed returned to Lancaster for the 2015 campaign. The left-hander made 17 starts and 15 relief appearances in his second Barnstormers tour of duty. He went 8-7 with a 3.80 ERA, striking out 110 batters in 109 innings. Reed went 7-1 with a 2.39 ERA in nine starts from July 29 thru September 10 of that season, helping to lift the Barnstormers to a franchise-best 47-23 record in the second half. He also notched the only win for Lancaster in the 2015 Division Series against Southern Maryland.

He spent a portion of the 2016 season pitching in the Mexican League before joining York late in the season. He went 1-0 with one save and a 1.64 ERA in 24 appearances for the Revolution.

"It is good to get Nate back in the Barn," said Peeples. "He has had some very successful years with us. He can both start and relieve, and, in this league, that is very valuable."

Noel, 28, has 286 steals over his seven seasons in the minor leagues. It was his ability to create havoc on the bases that earned him his lone Major League callup, a 2015 promotion to the New York Yankees. During his time there, the Oklahoma native appeared in 15 games, stealing five bags in seven attempts while only batting twice.

He signed with the San Diego Padres in 2010 out of Coastal Carolina, where he stole 120 bases in three seasons for the Chanticleers. In his first full season, the right-handed batter stole 62 bases at the Class A level. The following season with the Storm, he stole 90, finishing second to current Cincinnati Reds larceny king Billy Hamilton who stole 104.

Noel also stole 59 with Class AA San Antonio in 2013, leading the Texas League in that department.

Primarily used as an outfielder during his career, Noel has played five games in the infield and looks toward his time with the Barnstormers as a chance to add to his versatility.

"Noel will bring a lot of speed and excitement to the game," said Peeples. "He wants to come in here and play a little bit of everywhere, so we are going to give him the opportunity to do that. I don't think you can have too many utility-type players in the Atlantic League."

He is a career .252 hitter with a .343 on-base percentage.

About the Lancaster Barnstormers

The Lancaster Barnstormers are entering their 13th season as a member of the Atlantic League of Professional Baseball. Home games are played at Clipper Magazine Stadium in downtown Lancaster, Pennsylvania. Please call 717.509.HITS (4487) or visit www.lancasterbarnstormers.com for more information.

About the Atlantic League of Professional Baseball (ALPB)

The Atlantic League has been a leader in professional baseball and a gateway to Major League Baseball since 1998. Over 36 million fans have attended Atlantic League games and more than 800 players and 50 managers and coaches have joined MLB organizations directly from the ALPB. The Atlantic League emphasizes winning baseball games, showcasing the talent of top-caliber players and offering affordable family entertainment to metropolitan markets serving nearly 15% of the US population.

For more information, please visit www.atlanticleague.com.

###