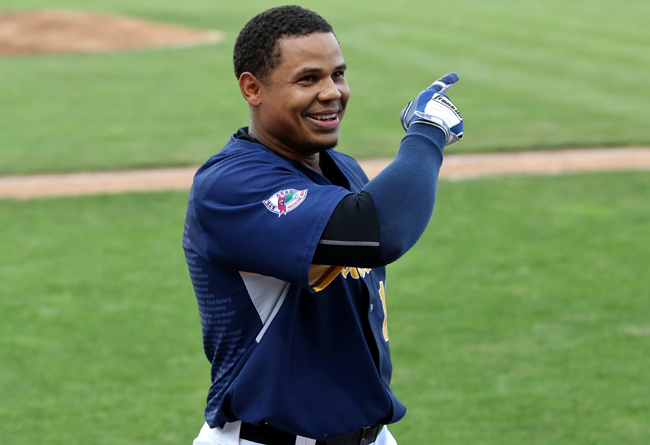 Dent and Martin also added for 2017 season

(Photo courtesy of Joe Doll)

(York, Pa., Feb. 23, 2017) - The York Revolution have announced three more signings for the 2017 season, bringing back standout catcher Isaias Tejeda, while adding infielder Ryan Dent and left-handed pitcher Jarret Martin. The signings were announced by Revs manager Mark Mason Wednesday evening on "Revs Hot Stove Weekly presented by Shipley Energy" on SportsRadio 1350 WOYK.

Tejeda returns after a spectacular 2016 campaign spanning 65 games over two stints with York that saw him post a .356 average which would have led the league with enough plate appearances. Tejeda added nine home runs, 23 doubles, 38 RBI and 32 multi-hit games and enjoyed a 28-game hitting streak (May 30-September 2) spanning his two stints. The streak was the second longest in club history and just three games shy of Chris Ashby's league-record 31-game streak in 2008.

Tejeda spent nearly two months in the Atlanta Braves organization after having his contract purchased on June 21. Prior to York, the 25-year-old spent six seasons in the New York Yankees organization. The Dominican Republic native enters his eighth pro season in 2017.

"He might be the best hitter in the league overall," said Mason on WOYK. "We're thrilled to have him back. He can do a lot of damage. He came in last year and won the catching job hands down. He did a great job handling the staff, and obviously he hit and got signed, and when he came back he really didn't miss a beat."

Dent brings 10 years of pro experience, including eight years in the Boston Red Sox organization and two more with the Chicago Cubs, reaching the Triple-A level with both clubs. Just 27 years old, the versatile infielder was a first round selection (62nd overall) of the Red Sox in the 2007 amateur draft and is a career .230 hitter with 36 home runs, 251 RBI, and 91 stolen bases. The Long Beach, CA, native was named the Red Sox Minor League Defensive Player of the Year in his third pro season in 2009.

"We know he's a fantastic defensive player," said Mason. "He can run and steal some bases. I think he can be a good hitter too. He has the pedigree, he's young. We're going to show his versatility. The conversations I've had with him have been really positive, and I know he's really excited to come on board."

Martin has pitched in the Baltimore Orioles, Los Angeles Dodgers, and Milwaukee Brewers organizations during the course of his seven pro seasons, reaching the Double-A level with the Dodgers in 2013-14. Martin was a Midwest League All-Star as a starter in 2012 and, as a reliever over two seasons at Double-A, combined to post a 3.03 ERA in 57 outings for Chattanooga, earning a spot on the Dodgers 40-man roster. The 27-year-old was an 18th round draft pick of the Orioles out of his hometown Bakersfield (CA) College in 2009.

"He has a nasty sinker, really tough on left-handed hitters," said Mason. "The sinker on film is incredible. His velocity is good. He's proven that he can get it done. He's been working hard and is ready to go. He's excited for the opportunity to get in here and show what he can do."

The Revs now have nine players signed for the upcoming season and will continue to unveil preseason signings live each week on "Revs Hot Stove Weekly presented by Shipley Energy", with the next episode set to air on Tuesday, February 28, at 6:30 p.m. immediately following "The Baltimore Baseball Show" on SportsRadio 1350 WOYK.

About the York Revolution

The York Revolution Professional Baseball Club is a member of the Atlantic League of Professional Baseball. The Revolution were Atlantic League Champions in 2010 and 2011. The 2017 season will be the team's 11th. Located at 5 Brooks Robinson Way, PeoplesBank Park hosts all 70 home games, in addition to myriad events through the entire calendar year. For tickets or more information, please call 717-801-HITS (4487) or visit the Revolution online at www.YorkRevolution.com.

About the Atlantic League of Professional Baseball (ALPB)

The Atlantic League has been a leader in professional baseball and a gateway to Major League Baseball since 1998. Over 36 million fans have attended Atlantic League games and more than 800 players and 50 managers and coaches have joined MLB organizations directly from the ALPB. The Atlantic League emphasizes winning baseball games, showcasing the talent of top-caliber players and offering affordable family entertainment to metropolitan markets serving nearly 15% of the US population.

For more information, please visit www.AtlanticLeague.com.

###