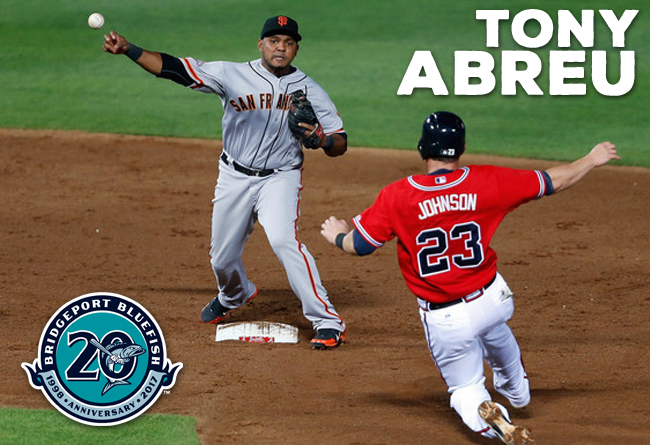 Infielder Tony Abreu makes Atlantic League debut

(Bridgeport, Conn., Feb. 21, 2017) – The Bridgeport Bluefish today announced that former MLB infielder Tony Abreu will join the team for the 2017 season.

"Tony has played with a World Champion team, so we know that he has what it takes to be successful in this league," says Bluefish General Manager Paul Herrmann. "The experience and wisdom that he will bring to our clubhouse this season will be invaluable."

Tony Abreu joins the Bluefish for his Atlantic League debut and 12th season of professional baseball. He last played in 2015 with Veracruz of the Mexican League, where he had a .284 batting average with 16 RBI and 13 runs scored across 40 games. In 2014 as a member of the San Francisco Giants organization, he spent most of the season with Triple-A Fresno of the Pacific Coast League but also made three appearances with the World Champion big league club. With Fresno, the infielder collected a .284 batting average with seven home runs, 33 RBI and 37 runs scored in 80 games.

Abreu began his professional career in 2003 with the Los Angeles Dodgers after being signed as an undrafted free agent. He spent six seasons with the Dodgers organization, making his MLB debut during the 2007 season. The 32-year-old has played six seasons in the big leagues, appearing with the Los Angeles Dodgers, Arizona Diamondbacks, Kansas City Royals, and San Francisco Giants. In 224 Major League games, he has compiled a .254 batting average, six home runs, 60 RBI, and 61 runs scored.

Over the course of 882 minor league games, Tony has comprised a .310 batting average with 60 home runs, 464 RBI, 519 runs scored, and 84 stolen bases.

About the Bridgeport Bluefish

The Bridgeport Bluefish are members of the Atlantic League of Professional Baseball and play their home games at The Ballpark at Harbor Yard. For further information, call 203-210-BLUE (2583) or visit BridgeportBluefish.com.

About the Atlantic League of Professional Baseball (ALPB)

The Atlantic League has been a leader in professional baseball and a gateway to Major League Baseball since 1998. Over 36 million fans have attended Atlantic League games and more than 800 players and 50 managers and coaches have joined MLB organizations directly from the ALPB. The Atlantic League emphasizes winning baseball games, showcasing the talent of top-caliber players and offering affordable family entertainment to metropolitan markets serving nearly 15% of the US population.

For more information, please visit www.AtlanticLeague.com.

###