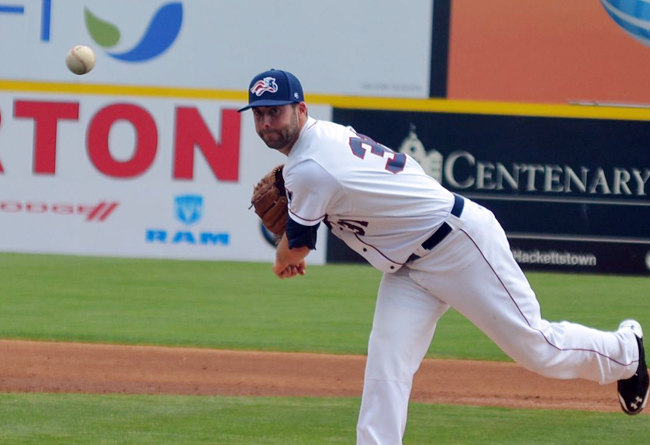 (Bridgewater, N.J., Feb. 15, 2017) – The Somerset Patriots have announced that 2014 Atlantic League Post-Season All-Star and 2015 league champion Matt Zielinski has been signed for the 2017 season.

"The Somerset Patriots are a first-class organization," said Zielinski. "I am excited for the opportunity to help replicate the success we had in 2015."

Zielinski enters his third season with the Somerset Patriots and third in the Atlantic League. He previously played for the Patriots in both 2014 and 2015. In 2014, Zielinski was named the left-handed starting pitcher on the league's Post-Season All-Star team after he posted a 10-8 record with a 3.27 ERA (sixth-best in the league). He also started in the Atlantic League All-Star Game that season.

The Southampton, Pennsylvania native followed up his strong 2014 season with an equally impressive 2015 campaign. Zielinski went 8-4 and finished second in the Atlantic League with a 2.86 ERA. Only teammate Sean Bierman, who finished with an Atlantic League-record 1.79 ERA, had a lower mark.

Additionally, the southpaw enjoyed a 17-start stretch from June 5th to September 3rd in which he suffered just one loss that season. Zielinski later earned a win in Game Three of the Atlantic League Championship Series with 6.1 innings of three-run baseball en route to winning the championship, the team's league-record sixth title.

Overall, Zielinski is 18-12 with a 3.06 ERA over 53 games (47 starts) in his two seasons with the Patriots.

"It is a pleasure to welcome Matt back," said Somerset Patriots manager Brett Jodie. "Matt had some great years for us and was a vital part of the 2015 championship season. He will again compete for a spot in our rotation where he has had so much success in the past. Matt is not only a great left-handed pitcher, but he is a tremendous addition to our locker room. He understands what it takes to win and what it means to be a Patriot."

Last year, Zielinski made 11 starts with Bologna in the Italian Baseball League. "Z" went 9-0 over his 11 starts with a 0.42 ERA (three earned runs over 64.1 innings): both of which led the league.

Zielinski spent three seasons with the Evansville Otters of the Frontier League prior to joining Somerset in 2014, including a 9-7 season in 2013 in which he led the league with 114 strikeouts.

The West Chester University of Pennsylvania alumnus owns a 35-28 record with a 3.03 ERA and 483 strikeouts over his six-year professional career.

Tickets to the 2017 Somerset Patriots Season presented by Ford, which includes the team's 20th Anniversary and the Atlantic League All-Star Game at TD Bank Ballpark, are on sale now. For more information, stop by TD Bank Ballpark, call (908) 252-0700, or visit www.somersetpatriots.com.

About the Atlantic League of Professional Baseball (ALPB)

The Atlantic League has been a leader in professional baseball and a gateway to Major League Baseball since 1998. Over 36 million fans have attended Atlantic League games and more than 800 players and 50 managers and coaches have joined MLB organizations directly from the ALPB. The Atlantic League emphasizes winning baseball games, showcasing the talent of top-caliber players and offering affordable family entertainment to metropolitan markets serving nearly 15% of the US population.

For more information, please visit www.atlanticleague.com.

###