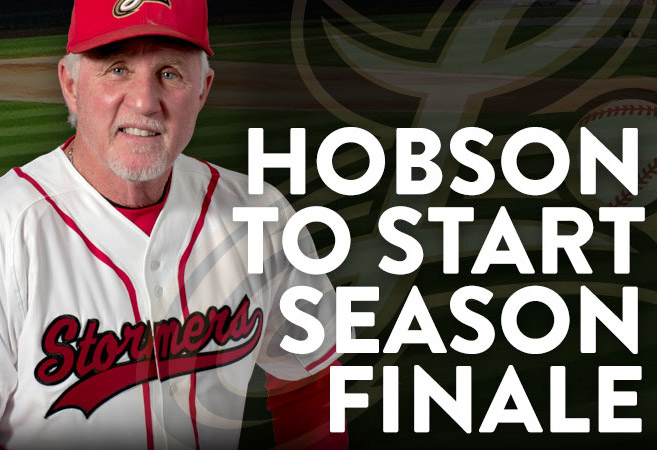 Barnstormers manager to play one inning across diamond from son

(Lancaster, Pa., Sept. 17, 2016) - Lancaster Barnstormers manager Butch Hobson is taking advantage of "a once in a lifetime opportunity" to take a professional field with his son.

Hobson, 65, will start the Barnstormers' season finale on Sunday afternoon at Bridgeport's Ballpark at Harbor Yard against the host Bluefish. The game is scheduled at 1:12 PM.

The Lancaster skipper will bat second in the Lancaster lineup for the game, taking an at bat in the top of the first inning. He will then begin the bottom of the inning at third base and remain there for one batter before coming out.

The Atlantic League's all-time leading winner as a manager is in his 15th season in the league and in his sixth with the Barnstormers. This year has provided him with a special moment, however.

His son, K.C., Toronto's sixth round draft choice in 2009, became available when he was released by the Blue Jays in late May. He joined his father's team on June 3rd and stands tied for third in the league in home runs with 24. The younger Hobson is third in the league with a .320 batting average and leads the circuit with a .575 slugging percentage.

K.C. will be at first base for the Barnstormers on Sunday afternoon.

The elder Hobson has not played a professional game since completing his career with the Class AAA Columbus (OH) Clippers. He began his managerial career with the New York Mets' Class A team in Columbia, SC in 1987.

Hobson appeared in the Major Leagues for part or all of eight seasons as a third baseman, six with Boston. He belted 30 homers and drove in 112 runs for the Red Sox in 1977.

"I've got to do this," the elder Hobson said. "How often do you get this chance?"

About the Lancaster Barnstormers

The Lancaster Barnstormers are entering their twelfth season as a member of the Atlantic League of Professional Baseball. Home games are played at Clipper Magazine Stadium in downtown Lancaster, Pennsylvania. Please call 717.509.HITS (4487) or visit www.lancasterbarnstormers.com for more information.

About The Atlantic League of Professional Baseball (ALPB)

The Atlantic League has been a leader in professional baseball and a gateway to Major League Baseball since 1998. Over 36 million fans have attended Atlantic League games and more than 800 players and 50 managers and coaches have joined MLB organizations directly from the ALPB. The Atlantic League emphasizes winning baseball games, showcasing the talent of top-caliber players and offering affordable family entertainment to metropolitan markets serving nearly 15% of the US population.

For more information, please visit www.atlanticleague.com.

###