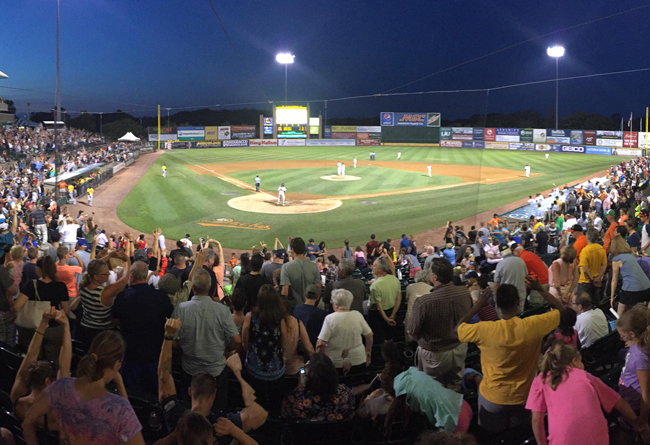 36 million fans have seen ALPB games all-time

(Denver, CO, Sept. 14, 2016) – On Monday, September 12, the Atlantic League of Professional Baseball welcomed its 2 millionth fan during the 2016 season. The league has now hosted over 36 million fans since its inception in 1998.

"Reaching these two milestones is something that we are extremely proud of," says Atlantic League President Rick White. "Fans in all eight of our cities have shown great support for our clubs and continue to enjoy high levels of baseball and family entertainment on a daily basis."

This marks the fifth consecutive season and eighth time in the past nine seasons that Atlantic League clubs have combined to welcome 2 million fans into its ballparks. Over 1.9 million fans have attended ALPB games for 12 consecutive seasons.

Through games on September 12, the Long Island Ducks lead the Atlantic League in average attendance at 5,265 in 67 openings. Should that remain the case, it would mark the 14th time in 17 seasons that they lead that category. The Ducks also became the first team in league history to reach the cumulative 7 million fan mark, doing so during their game at Bethpage Ballpark on Sunday, September 11. Long Island has also hosted a league-record 663 sellout crowds since their inaugural 2000 season. Long Island set a new franchise single game attendance record on July 3 when they welcomed a crowd of 7,602 for their game against Sugar Land.

The Somerset Patriots have welcomed more total fans than any team in the league this year at 360,755 in 69 openings, an average of 5,228. Earlier this season, they set a new Atlantic League weekend attendance record when they welcomed 22,907 fans through the gates at TD Bank Ballpark in Bridgewater, N.J. from June 17 through 19. The total surpassed the previous mark of 22,886 drawn by the Skeeters at Constellation Field in Sugar Land, Texas from September 7 to 9, 2012.

The Skeeters also set a new team record earlier this year when 19,666 fans attended games from May 20 to 22 at Constellation Field. That figure was good for their highest weekend attendance total since September 13 through 15 of the 2013 season. The Skeeters then set a single game attendance record on July 4, 2016 in a 2-1 win over the New Britain Bees, attracting 8,606 in attendance. That broke the record of 8,597 set on September 17, 2012 in a 4-0 win over Long Island.

In New Britain, the Bees have enjoyed great crowds in their inaugural season, including the franchise's first sellout during the first homestand of the season. The Bees will exceed 210,000 fans at New Britain Stadium in their first season, 50,000 more than the opening season at New Britain Stadium in 1996.

To view the current Atlantic League attendance figures for the 2016 season, please CLICK HERE.

About The Atlantic League of Professional Baseball (ALPB)

The Atlantic League has been a leader in professional baseball and a gateway to Major League Baseball since 1998. Over 36 million fans have attended Atlantic League games and more than 800 players and 50 managers and coaches have joined MLB organizations directly from the ALPB. The Atlantic League emphasizes winning baseball games, showcasing the talent of top-caliber players and offering affordable family entertainment to metropolitan markets serving nearly 15% of the US population.

For more information, please visit www.atlanticleague.com.

###