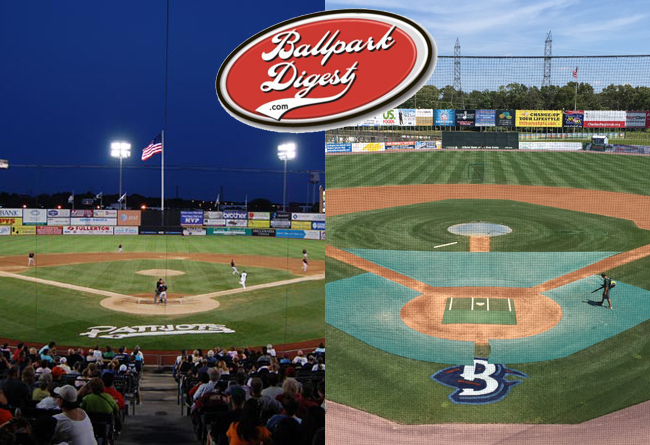 Atlantic League opponents match up to determine champion

TD Bank Ballpark, the home of the Somerset Patriots, and Regency Furniture Stadium, the home of the Southern Maryland Blue Crabs, have advanced to the finals of this year's Ballpark Digest "Best of the Ballparks" competition. Fans can vote now in the bracket-style contest by CLICKING HERE to help determine this year's winner.

Looking to win the competition for a second year in a row, TD Bank Ballpark defeated fellow ALPB park Constellation Field, the home of the Sugar Land Skeeters, in the Final Four 64% to 36% in fan voting. Regency Furniture Stadium secured its spot in the championship round by defeating another fellow ALPB park, Clipper Magazine Stadium, the home of the Lancaster Barnstormers and the 2016 Atlantic League All-Star Game, in a very tight race at 51% to 49%. TD Bank Ballpark and Regency Furniture Stadium also happen to be the two ballparks that played host to the 2015 Atlantic League Championship Series.

Overall, the Atlantic League dominated the "Best of the Ballpark" competition. Bethpage Ballpark, the home of the Long Island Ducks, which has welcomed a league record 6.75 million+ fans, advanced onto the Elite Eight before being defeated by Clipper Magazine Stadium. PeoplesBank Park, the home of the York Revolution, and New Britain Stadium, home of the New Britain Bees, both advanced to the Sweet Sixteen but were eliminated by Constellation Field and Bethpage Ballpark, respectfully. The Ballpark at Harbor Yard, home of the Bridgeport Bluefish, reached the second round of the competition but was defeated by Constellation Field.

Voting for the finals will run from now through Friday, June 24 at 11:00 p.m. EDT (10:00 p.m. CDT). Fans may CLICK HERE and cast their ballot once per day, per IP address. May the best ballpark win!

About the Atlantic League of Professional Baseball (ALPB)

The Atlantic League has been a leader in professional baseball and a gateway to Major League Baseball since 1998. Over 34 million fans have attended Atlantic League games and more than 800 players and 50 managers and coaches have joined MLB organizations directly from the ALPB. The Atlantic League emphasizes winning baseball games, showcasing the talent of top-caliber players and offering affordable family entertainment to metropolitan markets serving nearly 15% of the US population.

For more information, please visit www.atlanticleague.com.

###