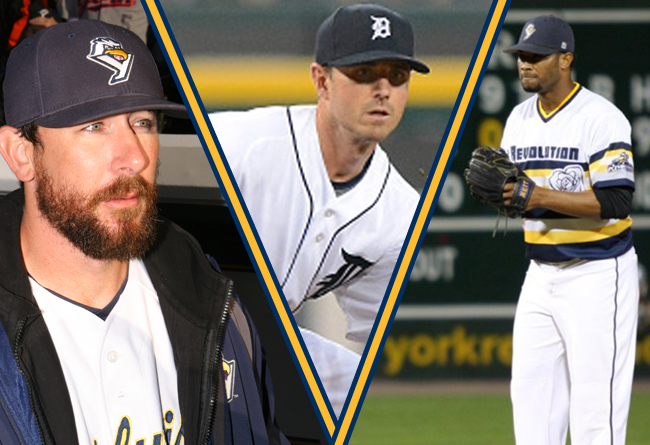 Seven added to roster including three returning stars on mound

(York, Pa., April 8, 2016) - The York Revolution have finalized their 2016 preseason roster with the addition of seven new signings including eight-year Major League veteran Josh Wilson. Pitchers Mike McClendon, Ricardo Gomez, and Mike DeMark all return to York, while the team also welcomes catcher Keith Castillo, and pitchers Kelvin De La Cruz and Wes Alsup. The signings were announced on Friday afternoon by manager Mark Mason on "Revs Hot Stove Weekly" on SportsRadio 1350 WOYK.

Wilson has appeared in 431 Major League contests for nine different clubs between the 2005 and 2015 seasons. The Pittsburgh native batted .316 in 21 games for the Detroit Tigers last season, and owns a .229 average with 54 doubles, seven triples, 10 home runs, 84 RBI, and 14 stolen bases at the big league level, having also played for the then-Florida Marlins, Washington Nationals, then-Tampa Bay Devil Rays, Arizona Diamondbacks, San Diego Padres, Seattle Mariners, Milwaukee Brewers, and Texas Rangers.

The 35-year-old played in a career-high 108 games for Seattle in 2010, eclipsing his previous high of 105 games between Washington and Tampa Bay in 2007.

Wilson has seen the bulk of his time at shortstop, while having also seen significant action at second base and third base. He has even appeared in four games on the mound in the Majors, including one appearance with the Tigers last season. Wilson is a career .272 hitter in the minors with 93 home runs, 645 RBI, and 135 steals. He was originally a third round draft pick of the Marlins in 1999.

McClendon returns to York for a third season, having pitched well as a member of the club's early season starting rotations each of the last two years. Transitioning from the bullpen early in 2014, the right-hander made five starts before earning a contract with the Colorado Rockies where he pitched at Double-A Tulsa and Triple-A Colorado Springs the remainder of the season. Last year, McClendon made four starts with York, allowing two runs or fewer in three of those four before signing to pitch in Taiwan. Overall he went 0-2 with a 4.56 ERA but walked just one batter while striking out 17. McClendon is also a veteran of Major League time, spending parts of three seasons with the Milwaukee Brewers from 2010-2012, going 5-0 with a 3.88 ERA over 35 career appearances.

Gomez returns to PeoplesBank Park for his third stint in a Revs uniform. He ranks in the top 10 in franchise history in relief wins (6, 10th) and saves (19, 5th). Gomez last pitched for York in 2014, when he made four scoreless relief appearances. In 2012 he served as the team's closer, saving 17 games and a club-record 14 in the second half. The shutdown role was part of a stellar season in which he went 4-1 with a 2.66 ERA and 60 strikeouts in 47.1 innings. Gomez played a key role in the Revs' 2011 Atlantic League championship team, making 21 relief appearances to the tune of a 2-0 record and 2.13 ERA with two saves and 30 strikeouts in 25.1 frames.

In between stops in York, Gomez spent time on Long Island and in the Mexican League, including stints with Campeche and Veracruz last season. Through 14 professional seasons, Gomez has logged 627 innings over 412 appearances (30 starts), going 40-31 with a 3.56 ERA and 595 punchouts.

A native of Puerto Plata in the Dominican Republic, Gomez originally signed with the Pittsburgh organization in time for the 1997 season, spending time in the Pirates and New York Yankees organizations for five seasons. In addition to the Revs and Ducks, Gomez has also played for Lancaster in the Atlantic League.

DeMark will don a Revs cap for the third straight season and fourth overall. His York career began in 2011 as he made 13 appearances on the hill, logging a 2.61 ERA in 10.1 innings before inking a deal in the Arizona system. He returned to PeoplesBank Park after being reacquired by Somerset late in the 2014 campaign, making six appearances without allowing an earned run.

DeMark turned in a nearly spotless effort in 2015, notching a miniscule 0.83 ERA (one earned run) in 21.2 innings over 23 appearances. He went 1-0 and saved three games, walking seven and striking out 15.

A Pennsylvania man from Jeannette, DeMark began his career with the Florence Freedom of the Frontier League in 2006 before signing with the San Diego Padres organization in time for 2007. He earned a midseason All-Star nod with San Antonio of the Texas League in 2009 and became a MiLB.com Organizational All-Star with the Diamondbacks in 2011. DeMark has made 444 appearances in his 10-year pro career, going 26-22 with a 3.17 ERA and 534 strikeouts over 531 innings of work.

Castillo returns to the Atlantic League for a third season. The 28-year-old began his pro career by signing with the Tampa Bay Rays out of the University of Southern California, spending three seasons with the Rays and reaching Double-A Montgomery. Castillo played for Long Island, Lancaster, and Southern Maryland in 2014, and batted .342 in 32 games for the Barnstormers. The switch-hitter split last season between Lancaster and Southern Maryland, and hit .304 in 37 games for the Blue Crabs. Castillo is a career .260 hitter with 15 home runs, including a .267 clip in the Atlantic League. In addition to catching, he has also seen time at corner infield and outfield positions.

De La Cruz appeared in eight games for the Somerset Patriots last season, allowing just two runs and four hits in an impressive 8.1 innings after spending most of the season in the Mexican League. A starter early in his career, the 6'5 Dominican lefty originally signed with the Cleveland Indians in 2006 and spent six seasons in the Indians farm system. De La Cruz went 12-6 with a 2.98 ERA across three levels in the Indians organization in 2008, and would also go on to pitch in the Detroit Tigers, Los Angeles Dodgers, and Baltimore Orioles organizations, reaching the Triple-A level with the Dodgers in 2013 and Orioles in 2014. At Triple-A Albuquerque in the hitter-friendly Pacific Coast League in 2013, De La Cruz went 3-1 with seven saves and a 2.89 ERA in 47 outings. He is 41-41 with a 4.28 ERA in his minor league career.

Alsup joins the Revs for his first Atlantic League season. The 29-year-old right-hander began his career in the Northern and Frontier Leagues before signing with the Atlanta Braves in 2011, and the Seattle Mariners organization in 2012. A native of Nashville, TN, Alsup has also pitched in the Frontier and United Leagues as well as the American Association before coming to York.

Right-handed pitcher Julio DePaula, originally re-signed by the Revs on March 11, has signed to pitch in the Mexican League to begin the season. With that move and Friday's signings, the Revs will enter spring training with 32 players under contract.

Following a ten-day preseason camp, the Revs will open the 2016 season on the road against the expansion New Britain Bees on Thursday, April 21. The club then kicks off its 10th anniversary season at home on Thursday, April 28 against the Sugar Land Skeeters. Full-season, partial season, mini plans, and individual tickets are on sale now at YorkRevolution.com.

About the York Revolution

The York Revolution Professional Baseball Club is a member of the Atlantic League of Professional Baseball and Atlantic League Champions in 2010 and 2011. Two thousand sixteen will be the Revolution's 10th anniversary season at 5 Brooks Robinson Way. PeoplesBank Park hosts all 70 home games, in addition to myriad events through the entire calendar year. For tickets or more information, please call 717-801-HITS (4487) or visit the Revolution online at www.YorkRevolution.com.

About the Atlantic League of Professional Baseball (ALPB)

The Atlantic League has been a leader in professional baseball and a gateway to Major League Baseball since 1998. Over 34 million fans have attended Atlantic League games and more than 800 players and 50 managers and coaches have joined MLB organizations directly from the ALPB. The Atlantic League emphasizes winning baseball games, showcasing the talent of top-caliber players and offering affordable family entertainment to metropolitan markets serving nearly 15% of the US population.

For more information, please visit www.AtlanticLeague.com.

###