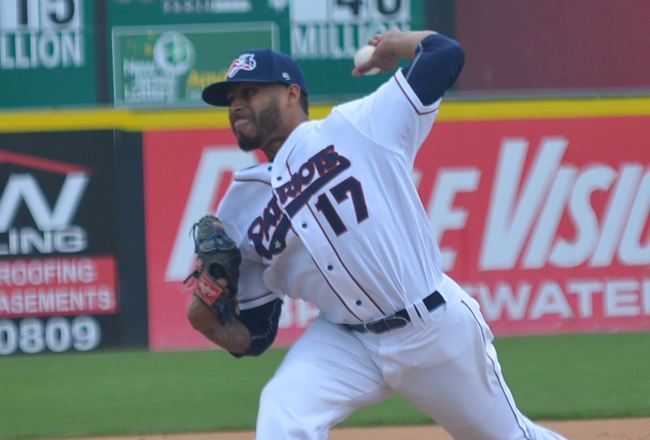 (Bridgewater, N.J., April 8, 2016) – The Somerset Patriots have announced the re-signing of left-handed pitcher Anthony Collazo.

"I am excited to be back and start the chase for those back-to-back championships," Collazo said. "I'm thankful for the coaching staff wanting me back for another season, and I am just looking forward to helping the team win games."

Collazo enters his second season with the Somerset Patriots and second in the Atlantic League. The southpaw went 3-3 with a 2.68 ERA over 45 relief appearances with the Patriots last season. He also struck out 34 batters over his 47 innings of work. Collazo later made two relief appearances for the Patriots in the postseason.

The Paterson, New Jersey native spent the first three years of his career in the Frontier League, and the latter two of those with the Evansville Otters. Collazo went 5-2 with a 2.93 ERA over 35 relief appearances in 2014 with the Otters. The year before, he went 3-0 with a 1.59 ERA over eight appearances.

"Anthony had a special season last year for the Patriots," manager Brett Jodie said. "He really showed his toughness on many occasions and his eagerness to pitch in any situation. His work ethic is strong and I think he is mentally prepared for an even better season this year. Anthony has very good stuff and he adds some deception to his pitches which makes his tough to square up."

The Passaic County Technical Institute alumnus owns a 14-7 record with a 3.01 ERA and 168 strikeouts over his four-year professional career.

The Somerset Patriots won their Atlantic League leading sixth championship during the 2015 season. Tickets are now on-sale for the upcoming 2016 season and the schedule can be viewed at www.somersetpatriots.com. For more information or to purchase tickets for the 2016 season, stop by TD Bank Ballpark, call (908) 252-0700, or visit www.somersetpatriots.com.

About the Atlantic League of Professional Baseball (ALPB)

The Atlantic League has been a leader in professional baseball and a gateway to Major League Baseball since 1998. Over 34 million fans have attended Atlantic League games and more than 800 players and 50 managers and coaches have joined MLB organizations directly from the ALPB. The Atlantic League emphasizes winning baseball games, showcasing the talent of top-caliber players and offering affordable family entertainment to metropolitan markets serving nearly 15% of the US population.

For more information, please visit www.AtlanticLeague.com.

###