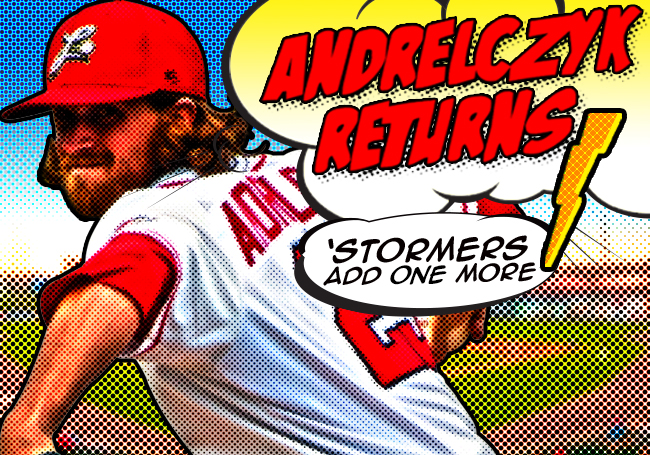 Barnstormers Round Out Pitching Staff with Bibens-Dirkx

(Lancaster, Pa., April 5, 2016) - The Lancaster Barnstormers have rounded out the pitching staff for spring training as two-time Community Man of the Year Pete Andrelczyk and Class AAA veteran Austin Bibens-Dirkx have been signed to contracts for the 2016 season, it was announced today by manager Butch Hobson.

Andrelczyk, 30, has made a huge impact both on and off the field since returning to his Lancaster roots in 2014.

On the mound, he has been a versatile reliever, handling both long and short relief situations. In 2014, the right-hander from Manheim Township set a club record by appearing in 70 games and covering 93.1 innings. He finished the season with a 5-8 mark, five saves and a 3.66 ERA.

Last year, Andrelczyk was even stronger on Hobson's staff. The former Marlins' farmhand tied for the club lead with nine wins, losing only twice. In addition, he once again recorded five saves. Over his 54 outings and 85.1 innings, he posted a marvelous 2.00 ERA and finished second in the fans vote for team MVP.

Off the field, Andrelczyk has captained many of the franchise's community initiatives, speaking to countless youth and adult groups during the winter. He works in the team's front office, even during the season, on marketing and promoting the ballclub.

Andrelczyk signed with the Marlins in 2008 and spent six seasons in their organization. The best of those seasons came in 2011 when he was a combined 9-3 with a 2.26 ERA between Class AA Jacksonville and Class AAA New Orleans.

He is a product of Coastal Carolina University.

"Pete's as important of a piece of the bullpen as you could ever have," said Hobson. "He is an intense competitor who likes to win. Plus with everything he does to help the ballclub, we would miss him terribly if he weren't here."

Bibens-Dirkx, 30, has pitched in five minor league organizations (Mariners, Cubs, Rockies, Nationals and Blue Jays), appearing at the Class AAA level with all five. The right-hander from Portland OR has made 303 appearances, including 132 starts over his 10 professional seasons, logging more than 980 innings on the hill. He has struck out 827 and walked 283 throughout his career.

He has reached double digits in wins twice, with the Cubs' system in 2010, winning five with Class AA Tennessee and five with Class AAA Iowa and with the Blue Jays in 2013, notching nine victories with Class A Dunedin and three more with Class AA New Hampshire.

The Oregon native was 7-9 with a 4.17 ERA between Class AA New Hampshire and Class AAA Buffalo last season. He was 5-4 with a 3.44 ERA in 12 starts for Aragua in the Venezuelan Winter League, where he pitches each winter.

"Bibens-Dirkx is one of those guys where every time you look up, he's out there in the seventh inning," said Hobson. "He has very good off speed stuff."

About the Lancaster Barnstormers

The Lancaster Barnstormers are entering their twelfth season as a member of the Atlantic League of Professional Baseball. Home games are played at Clipper Magazine Stadium in downtown Lancaster, Pennsylvania. Please call 717.509.HITS (4487) or visit LancasterBarnstormers.com for more information.

About the Atlantic League of Professional Baseball (ALPB)

The Atlantic League has been a leader in professional baseball and a gateway to Major League Baseball since 1998. Over 34 million fans have attended Atlantic League games and more than 800 players and 50 managers and coaches have joined MLB organizations directly from the ALPB. The Atlantic League emphasizes winning baseball games, showcasing the talent of top-caliber players and offering affordable family entertainment to metropolitan markets serving nearly 15% of the US population.

For more information, please visit www.atlanticleague.com.

###