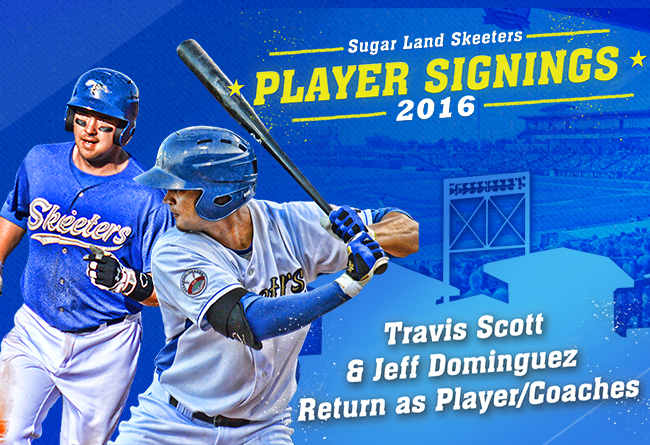 Skeeters Welcome Back Scott and Dominguez as Player/Coaches

(Sugar Land, TX, Feb. 8, 2016) – The Sugar Land Skeeters announced today that the club has added catcher Travis Scott and second baseman/outfielder Jeff Dominguez. In addition to their roles on the field, the two will also be part of the Skeeters coaching staff, joining former Major Leaguer and current Skeeters Manager Gary Gaetti and pitching coach Jeff Scott.

Scott, 30, returns to the Skeeters for his fourth-straight season and brings ten seasons of professional baseball playing experience to his new position as a player coach. Last year, Scott primarily spent time as catcher and at first base, broke the all-time home run record with the Skeeters, passing Josh Pressley's mark of 28. In Scott's three seasons with the Skeeters, he owns a .252 average with 33 home runs, 65 doubles and 161 RBI. In 2015, Scott was named the Skeeters Community Man of Year and the Atlantic League All-Star MVP after his two RBI double helped give the Freedom Division the win. Scott was originally drafted by the Seattle Mariners in 2005 and spent four seasons (2006-2010) in their system making a California League All-Star Game appearance in 2009 with the High Desert Mavericks.

Dominguez, 29, made his first appearance with the Skeeters in 2013 before returning mid-season in 2015. Drafted by the Mariners in the 2004 draft, Dominguez climbed to the Triple-A level with Seattle in 2005. Last season, Dominguez played in 51 games for the Skeeters batting .288 with 28 RBI and 21 stolen bases.

Former Major Leaguer, World Series champion and recipient of four Gold Glove Awards, Manager Gary Gaetti returns at the helm for the Skeeters for the 5th straight season. Pitching Coach Jeff Scott returns for his 4th season with the Skeeters.

The Skeeters 2016 season begins Thursday, April 21 at Constellation Field. Season tickets, eight game ticket plans and flex books are on sale now at the Skeeters ticket office or online at SugarLandSkeeters.com.

About the Sugar Land Skeeters

The Sugar Land Skeeters are led by former Major Leaguer Gary Gaetti and play at Constellation Field, a state-of-the art stadium located at the intersection of State Highway 6 and U.S. Highway 90A in Sugar Land.

The Skeeters play 140 regular season games in the Atlantic League, considered the highest level of Minor League Baseball. Atlantic League players are "Major League ready" and in the last 16 years, over 600 players have graduated from Atlantic League clubs to Major League organizations, making the League a preferred route for experienced players to be scouted by Major League Baseball.

###