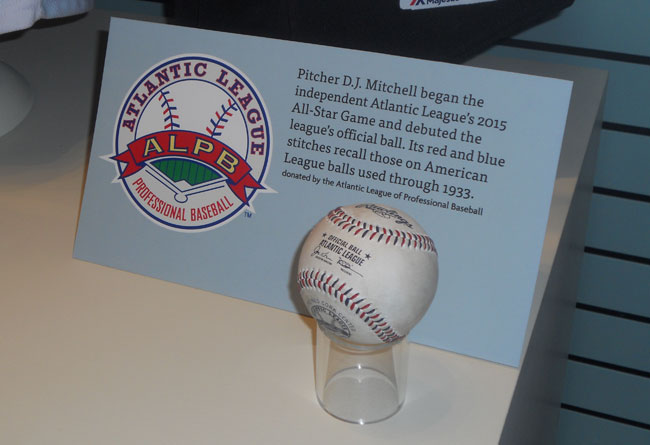 Atlantic League artifact on display in Cooperstown

(Denver, CO, Feb. 2, 2016) – The distinctive red and blue stitched official baseball used by the Atlantic League of Professional Baseball has been added to the permanent collection at the National Baseball Hall of Fame and Museum in Cooperstown, N.Y. In addition, the ball is currently on display as part of the "This Year in Baseball" exhibition.

"It is an incredible honor to have a piece of league and professional baseball history as part of the Hall of Fame's collection," says Atlantic League President Rick White. "We are profoundly appreciative of the Hall's consideration and encourage all of our fans to pay a visit to Cooperstown."

The baseball represents the first artifact from the Atlantic League to be place in the Hall of Fame. It was debuted on July 8, 2015 at the league's 18th Annual All-Star Game, held at The Ballpark at Harbor Yard in Bridgeport, Connecticut. Bridgeport Bluefish pitcher D.J. Mitchell, who was representing the Liberty Division, delivered the ball to York Revolution outfielder Brandon Boggs before the ball was removed from play.

The Atlantic League adopted the red and blue stitched baseball as a way to honor baseball's rich heritage as America's pastime. The baseballs are a tribute to the original baseballs used by the American League until 1934, when Major League Baseball adopted red stitched baseballs in both leagues.

Each baseball is created by Rawlings Sporting Goods, the Atlantic League's official supplier of baseballs since its founding in 1998. They represent a first in the game's modern era, as each of league's eight teams' baseballs bear the unique signature of their Club Director along with that of White. They are now used league-wide during all regular season and postseason games and are available for fans to purchase in all team stores.

About The Atlantic League

The Atlantic League is the most innovative league in professional baseball, offers the highest level of minor league baseball playing skills, and is a player gateway to Major League Baseball. Its mission is to bring a high level of professional baseball and affordable family entertainment to select communities not presently being served by Major League or Minor League teams. ALPB players are highly experienced professionals, having progressed through professional baseball's developmental levels (A, AA, AAA). Over 40% of all Atlantic League players have Major League service time. Like MLB, Atlantic League clubs pay their players to win baseball games, not to apprentice as in baseball's developmental levels. The following teams play in the Atlantic League: Bridgeport Bluefish, Lancaster Barnstormers, Long Island Ducks, Somerset Patriots, Southern Maryland Blue Crabs, New Britain Bees, Sugar Land Skeeters and York Revolution. For more information, please call (720) 389-6992 or visit www.atlanticleague.com.
###