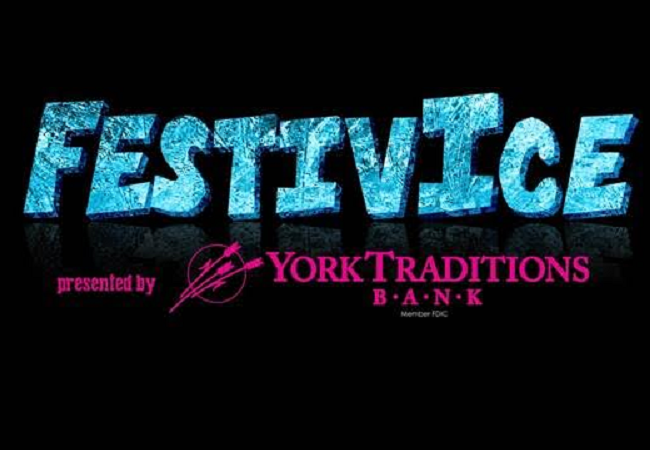 York Traditions Bank and Eventive, the events division of the York Revolution, and non-profit partner, Special Olympics York County, have released the latest entertainment information for FestivICE, "York's Winter IceFestival," hosted in downtown York.

Ice Slide - DiMartino Ice Company of Jeanette, PA will build a 40' ice slide straight through the center of Cherry Lane Park for children to toboggan down. The ice slide will be available to children with the purchase of an attraction ticket for $3 or an all-you-can-ride wristband for $8. A portion of the proceeds will benefit Special Olympics York County. In addition to the ice slide, attraction tickets and wristbands will also give children access to the inflatables on Beaver Street.

Live Ice Sculpting - DiMartino Ice Company will carve five giant ice sculptures in front of Beaver Street businesses and in Cherry Lane Park. Take a seat and smile for a photo on the hallmark of FestivICE, "The Yeti Throne" presented by CGA Law Firm located at the Beaver Street entrance of Central Market.

Special Olympics York County is back for its second year as the FestivICE non-profit partner. Special Olympics York County hosts their annual fundraiser, the Polar Bear Plunge, on February 6th. Help them start their fundraising by purchasing tickets for a 50/50 drawing and raffle prizes. You can also give a donation via custom ice sculpture in which patrons can deposit coins and bills, just like a piggy bank! All funds raised for Special Olympics York County go towards providing seventeen sports throughout the year for over 350 children and adults with intellectual disabilities in York County.

Prize Wheel - Step up to the York Traditions Bank prize wheel at the corner of Beaver Street and Clark Avenue where you can spin and win fun prizes including the pink Yeti sunglasses that have become a staple at FestivICE. No purchase necessary.

S'mores By The Fire - Toast your own s'mores over any of the four fire pits throughout Beaver Street and Cherry Lane. S'more kits may be purchased for $6 and include a full Hershey's chocolate bar, two jumbo s'moremallows, two packs of graham crackers and a roasting skewer. A portion of the proceeds benefits Special Olympics York County.

Live Music - Bands will take the stage outside of White Rose Bar & Grill on Beaver Street and Towson Steele will play outside of Mudhook Brewing Company from 11 a.m. to 2 p.m. near Cherry Lane Park.

Appearances - Look for FestivICE Yeti appearances along with the York Revolution's own, DownTown.

Yeti Stomp - If you didn't know that Yetis dance, you know now. Weary Arts Group will show you how it's done so you can stomp with the FestivICE Yeti, reigning king of cold funk.

Food - The York Jaycees are cooking up their famous chili recipe and a portion of the proceeds benefits Special Olympics. Stage Deli will be on site with their delicious specialties along with other local food vendors. Some Central Market vendors will remain open for the entire event and you can pop into local restaurants and pubs on Beaver Street and Cherry Lane.

Central Market - In addition to the local goods and fare that are popular Saturday market treats, Central Market will host caricature drawings from 11 a.m. to 1 p.m. as well as Anna and Elsa photo opportunities and a sing-along. An edible Olaf craft will provide fun for children (while supplies last).

FestivICE runs from 11 a.m. to 4 p.m. January 16 on Beaver Street and Cherry Lane in the "Market District" of downtown York. It is a free admission community event. Food, drink and entertainment are pay-as-you-go.
For more info, check in at FestivIce.com.

Eventive is the event planning and production division of the York Revolution. Partnering with York Traditions Bank, Eventive hosts four annual community events in downtown York, including "July4York," "York Halloween Parade," "FestivICE: York's Winter Ice Festival," and "Brews & Skews: A Carnival of Food". Eventive produces exciting events for a new generation of Yorkers while building on the traditions that York County has cherished for decades. Eventive offers services and support to York-based non-profits giving their staff access to the marketing, sales and event production expertise of the York Revolution. For more information, please call 717-801-4489 or visit EventiveYork.com.

York Traditions Bank was created to provide a new and innovative approach to banking that is built on solid traditional values, and on leading edge and customer-friendly technology. Founded on October 28, 2002, York Traditions values its ties to the community and partnership with clients. The Bank's senior management team has nearly 200 years of combined experience in banking and financial services. York Traditions' vision statement reflects the Bank's commitment: "to provide businesses, professionals, leaders of businesses, and individual clients with solutions to achieve growth and prosperity.

Special Olympics York County (SOYC) provides year-round sports training and competition in a variety of Olympic-type sports for children and adults with intellectual disabilities, giving them continuing opportunities to develop physical fitness, demonstrate courage, experience joy, and participate in a sharing of gifts, skills, and friendship with their families, other Special Olympics athletes, and the community.
All training and competition opportunities are provided free of charge to the athletes and their families, enabling everyone to experience the benefits of Special Olympics that extend well beyond the playing field.
Special Olympics York County currently has over 350 athletes participating in 17 sports programs. Our programs are supported by hundreds of volunteers, giving their time and talents and by the generous contributions from individuals, companies and organizations in the local community.