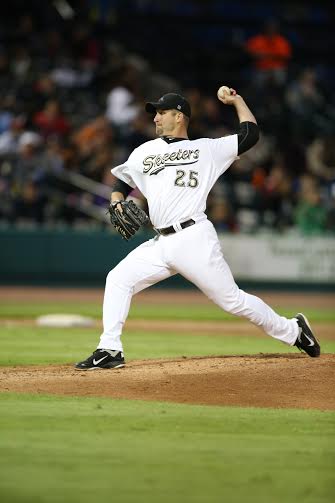 By Bob Wirz
Another of the Atlantic League's prized player-reconstruction standouts has landed a new major league job, and he won't have to worry about being designated for assignment this time.
Jason Lane, the onetime Houston outfielder who re-invented himself as a pitcher to keep his playing career alive, has landed on the Milwaukee Brewers' coaching staff.
"All I (ever) wanted was to be a part of the big leagues," Lane told The Milwaukee Journal Sentinel. "Everybody in the game has a dream to be in the big leagues. If I can't be there as a player, I can be there to help guys."
The onetime University of Southern California star, who turns 40 in less than two weeks (December 22), was a reasonably prominent major league player, especially from 2004-7 when he was in 432 games for the Astros, highlighted by hitting 26 homers and driving in 78 runs in 145 games during their pennant-winning '05 season.
Lane was out of the majors completely by '08, played briefly at Southern Maryland in 2010, then converted to pitching while with the Sugar Land Skeeters in '12-13 (combined 17-9 record with an ERA slightly above 3.00) although he continued to swing the bat on a part-time basis. Lane made it back to the majors for two pitching stints with San Diego in 2014, but both trips were brief before he was designated for assignment.
"I wasn't just playing to play in Triple-A," the California native told veteran Journal Sentinel baseball writer Tom Haudricourt. "It seemed as I got older it was tougher to get those (major league) opportunities."
In his new duties, Lane said "the majority of it will be as assistant hitting coach. I would hope to impact guys in other ways. My passion in the game was in both hitting and pitching. That helped me convert to pitcher. It was a great experience and gave me a lot of insight about what's going on, on both sides of the ball."
Previously the chief spokesman for Commissioners Bowie Kuhn and Peter Ueberroth, Bob Wirz has been writing extensively about the Atlantic League and Independent Baseball since 2003.