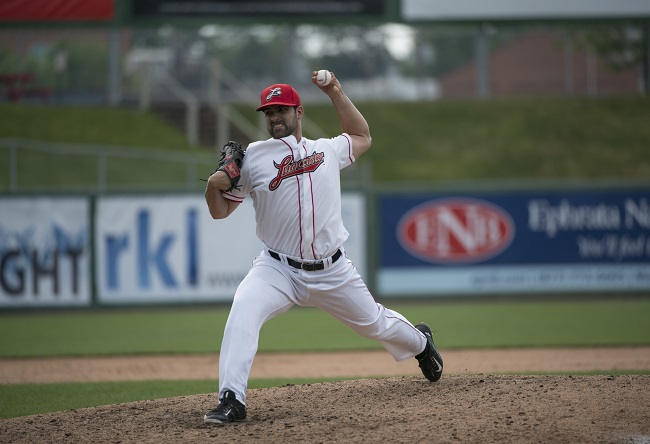 By Bob Wirz
This is the time of year when reality often hits home as major league organizations release a good many of their minor league players--especially the six-year free agents--and start adjusting rosters for next season. Former Atlantic Leaguers have not been immune, but more than a half dozen of them have been rewarded with new contracts, which gives new life to the major league dream.
The best news might be that of outfielder Chris Marrero, who hit .311 with 12 doubles, six homers and 22 runs batted in during a 37-game stint for eventual champion Somerset last season. Only 27, Marrero, who also spent time in both the Chicago White Sox and Boston farm systems during the season, has a new Triple-A contract from the Red Sox. He has had two stints in the majors, both with Washington. On a down note, Marrero is off to a slow start in Venezuela, hitting only .219
Others with new contracts include right-handed pitchers Carlos Alvarado (Lancaster, Newark), who San Francisco re-signed and elevated from Class A to Double-A, Jaye Chapman (Bridgeport) with Milwaukee, Nick Green (York, Southern Maryland) and Jorge Marban (Southern Maryland) with Boston. Chapman and Marban have Triple-A deals, leaving them only one step from the majors.
Outfielder Adam Godwin (Lancaster, Southern Maryland, Sugar Land) was elevated to AA in his new deal with Pittsburgh, lefty Kieran Mattison (Camden, Road Warriors) had his AA deal renewed by the Pirates and catcher Ian Vasquez had his AA contract renewed by Colorado.
Braves Pick Up Lefty Bryan Morgado
Arm soreness which kept him off the mound for Lancaster after September 2 has not prevented lefty Bryan Morgado from getting signed to a Double-A deal by Atlanta. The strikeout-an-inning work of the 26-year-old, who already has some major league time with Philadelphia, obviously helped out. Morgado also has pitched for York and Camden.
Dotel Sizzles, Many Others Playing in Offseason
A great many recent Atlantic Leaguers are getting work in the offseason. Player of the Year Welington Dotel (Bridgeport) continues to lead the Mexican League with a blazing .433 average and a .469 on-base percentage while driving in 20 runs in 28 games. C. J. Retherford (Bridgeport) is at .337 with 18 RBI in 28 games in Mexico.
In Venezuela, Luis Antonio Rodriguez (Bridgeport) is hitting .315, Jose Gil (Camden) is at .280, Daniel Mayora (Bridgeport) .288 and Brian Burgamy (Sugar Land, York, Camden) .284. Outfielder Felix Pie (Camden) is hitting .255 in the Dominican Republic.
Previously the chief spokesman for Commissioners Bowie Kuhn and Peter Ueberroth, Bob Wirz has been writing extensively about the Atlantic League and Independent Baseball since 2003.